Health | Home / coronavirus
Coronavirus
Differents world map will present the actual status (4 may 2020) of the Coronavirus pandemic (covid-19), some analysis and indicators will try to give an overview of this propagations across the world.
World map of the coronavirus cases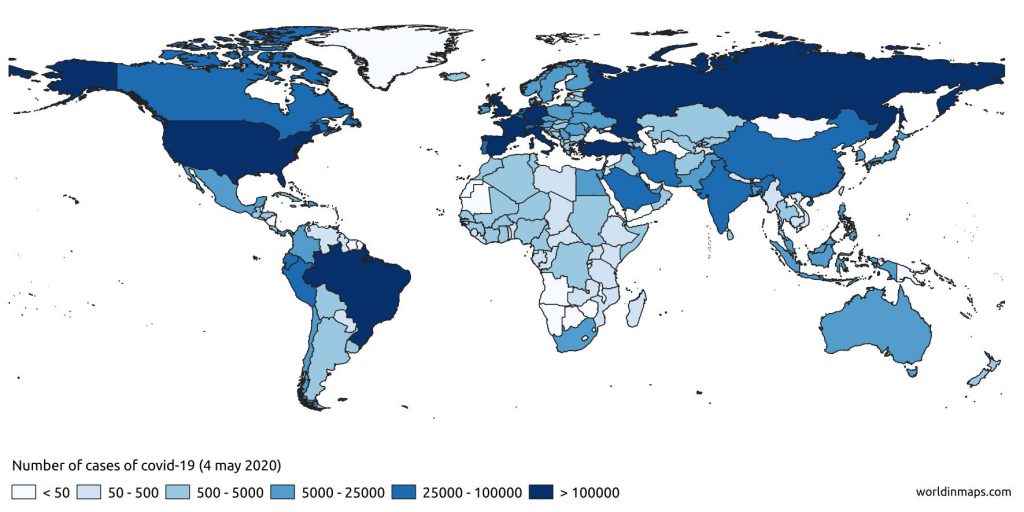 The world map of the coronavirus cases show that the most impacted regions are Europe, US, Brazil and Russia. In contrast, we see less cases in Africa.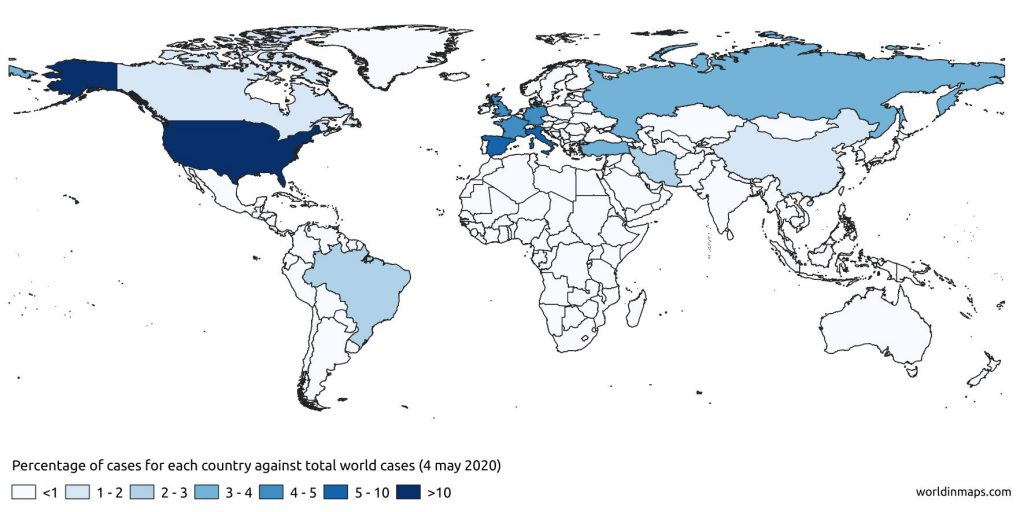 The map of the number of cases in function of the total number of cases in the world, show that USA host the biggest part of the cases (30% of the world cases). Germany, France, Italie, Spain and UK have also a big proportion of the world cases (between 4 and 6%).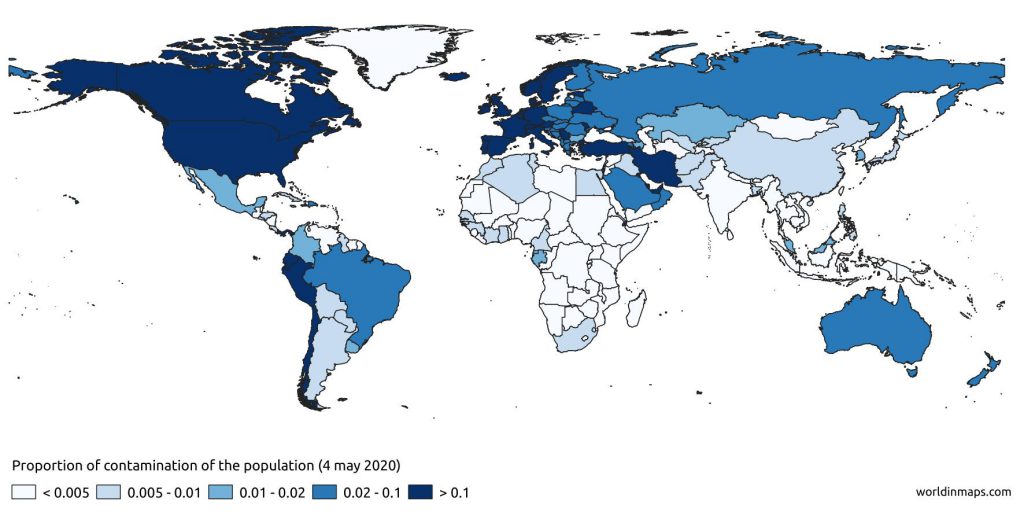 The number of cases for each country is not representative because the number of cases is influenced by the population of each country. However, when the proportion of the population infected by the coronavirus is put in a map, Europe and North America have still the region of the world with high contamination.
World map of the coronavirus deaths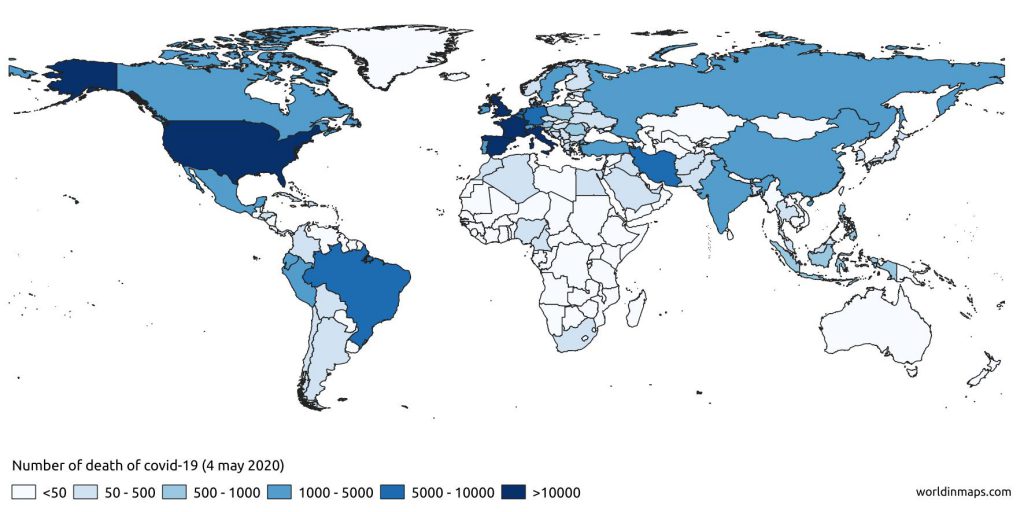 The number of death reflect the number of case but it is important to note that the pandemic have start first in Asia and have moved to Europe and America.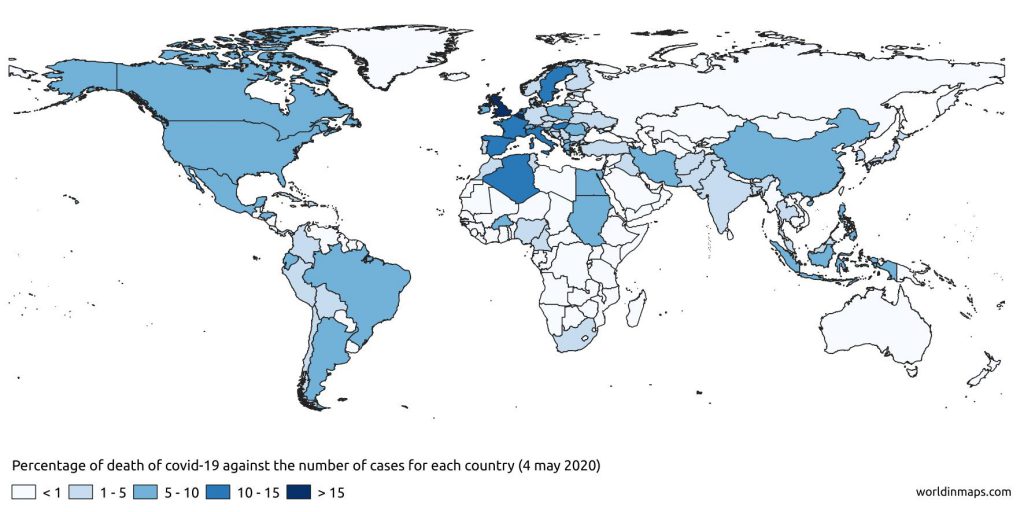 The map of the percentage of death against the total cases of covid-19 for each country show big difference between countries. Europe seems to have bigger mortality. To have a better understanding, we will take a look to the recovered and still active cases.
World map of the coronavirus recovered cases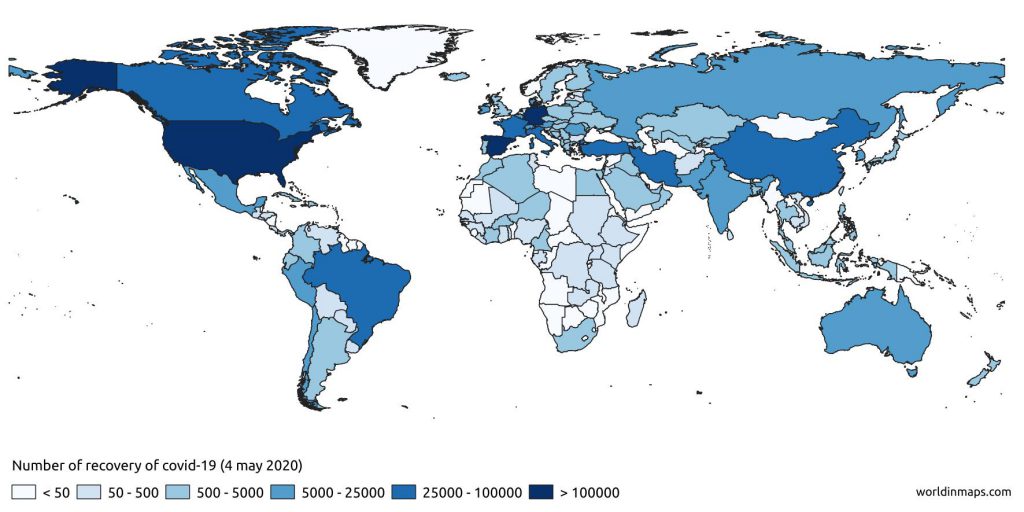 By looking to the recovered cases, there is no big difference between Asia, Europe and America. This is not consistent with the number of cases. One explanation is that the pandemic start in Asia and that the percentage of recovery of the population is higher.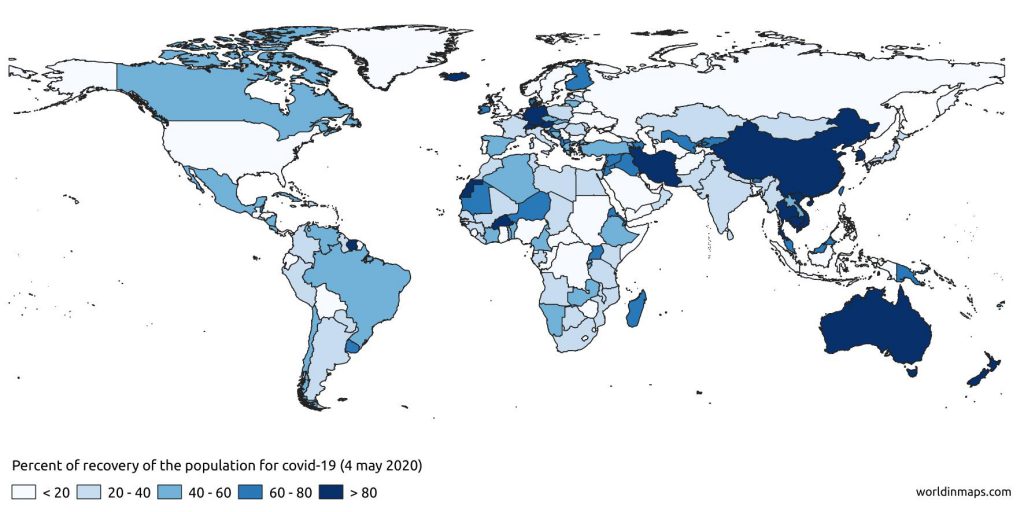 The percentage of recovered population show that the region in the world where the pandemic have start is also the regions with the highest number of recovery. This show that the number of death in Europe and America is still going to evolve dramatically because of the low number of recovered patients.
World map of the coronavirus active cases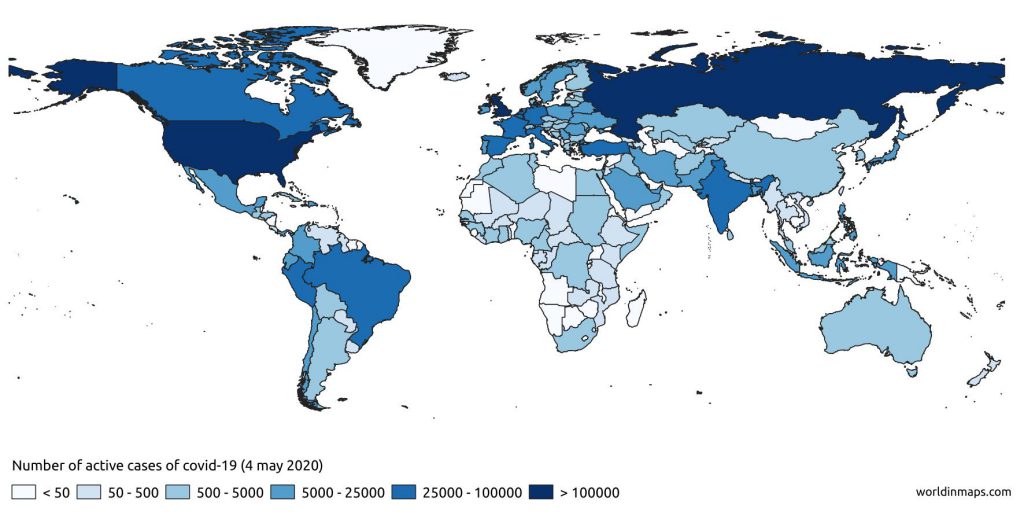 The map the active cases of coronavirus show indeed that there is still a lot of active cases in Europe, America but also Russia.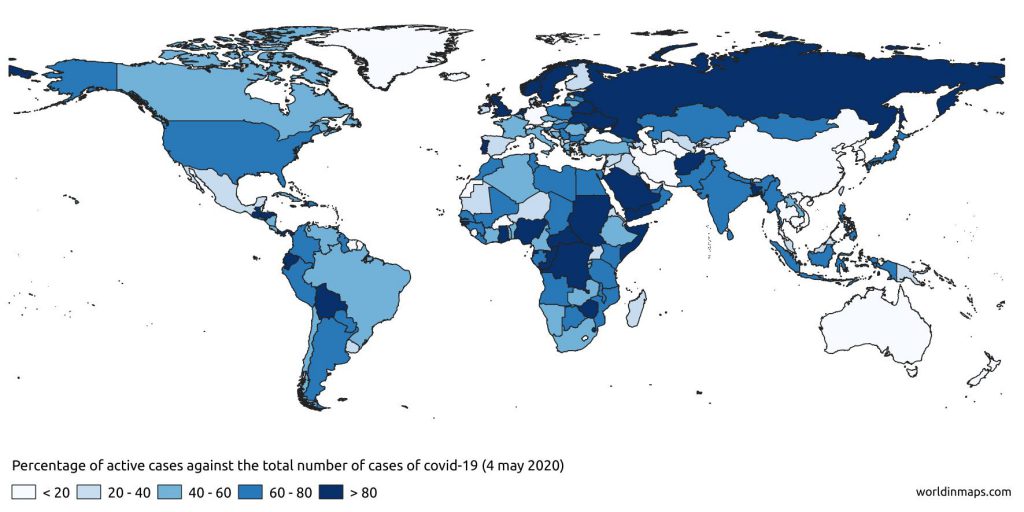 The last map show the percentage of the still active case of the total covid-19 cases. On this map, we can see that the number of active cases is still high in most part of the world. We can notice that China, Iran, Australia, South Europe and Central Europe show less number of active cases. These countries where also the most quickly hit by the pandemic. Russia, America, Africa and north Europe still show very high level of active cases.
Table with data
The data are coming from:
Other interesting link to explore:
| Country | cases | %cases | %contamination | Deaths | %death | Recovered | %Recovered | Active | %active case |
| --- | --- | --- | --- | --- | --- | --- | --- | --- | --- |
| United States | 1166083 | 33 | 0.35 | 1166083 | 5.05 | 180303 | 15.46 | 926923 | 79 |
| Spain | 217466 | 6 | 0.47 | 217466 | 11.62 | 118902 | 54.68 | 73300 | 34 |
| Italy | 210717 | 6 | 0.35 | 210717 | 13.8 | 81654 | 38.75 | 99984 | 47 |
| United Kingdom | 187842 | 5 | 0.28 | 187842 | 15.32 | 902 | 0.48 | 158165 | 84 |
| France | 168925 | 5 | 0.26 | 168925 | 14.72 | 50885 | 30.12 | 93176 | 55 |
| Germany | 165745 | 5 | 0.2 | 165745 | 4.14 | 132700 | 80.06 | 26179 | 16 |
| Russia | 145268 | 4 | 0.1 | 145268 | 0.93 | 18095 | 12.46 | 125817 | 87 |
| Turkey | 126045 | 4 | 0.15 | 126045 | 2.7 | 63151 | 50.1 | 59497 | 47 |
| Brazil | 101826 | 3 | 0.05 | 101826 | 6.92 | 42991 | 42.22 | 51784 | 51 |
| Iran | 98647 | 3 | 0.12 | 98647 | 6.36 | 79379 | 80.47 | 12991 | 13 |
| China | 83965 | 2 | 0.01 | 83965 | 5.37 | 78709 | 93.74 | 744 | 1 |
| Canada | 60557 | 2 | 0.16 | 60557 | 6.2 | 25421 | 41.98 | 31381 | 52 |
| Belgium | 50267 | 1 | 0.43 | 50267 | 15.76 | 12378 | 24.62 | 29965 | 60 |
| Peru | 45928 | 1 | 0.14 | 45928 | 2.8 | 13550 | 29.5 | 31092 | 68 |
| India | 42836 | 1 | 0 | 42836 | 3.26 | 11782 | 27.5 | 29659 | 69 |
| Netherlands | 40968 | 1 | 0.24 | 40968 | 12.4 | 138 | 0.34 | 35748 | 87 |
| Switzerland | 29981 | 1 | 0.35 | 29981 | 5.93 | 24500 | 81.72 | 3702 | 12 |
| Ecuador | 29538 | 1 | 0.17 | 29538 | 5.29 | 3300 | 11.17 | 24674 | 84 |
| Saudi Arabia | 28656 | 1 | 0.08 | 28656 | 0.67 | 4476 | 15.62 | 23989 | 84 |
| Portugal | 25524 | 1 | 0.25 | 25524 | 4.16 | 1712 | 6.71 | 22749 | 89 |
| Mexico | 23471 | 1 | 0.02 | 23471 | 9.18 | 13447 | 57.29 | 7870 | 34 |
| Sweden | 22721 | 1 | 0.22 | 22721 | 12.19 | 1005 | 4.42 | 18947 | 83 |
| Ireland | 21506 | 1 | 0.44 | 21506 | 6.06 | 13386 | 62.24 | 6817 | 32 |
| Pakistan | 20884 | 1 | 0.01 | 20884 | 2.28 | 5635 | 26.98 | 14773 | 71 |
| Chile | 20643 | 1 | 0.11 | 20643 | 1.31 | 10415 | 50.45 | 9958 | 48 |
| Singapore | 18778 | 1 | 0.32 | 18778 | / | 1457 | 7.76 | 17321 | 92 |
| Belarus | 17489 | <1 | 0.19 | 17489 | 0.59 | 3259 | 18.63 | 14127 | 81 |
| Israel | 16237 | <1 | 0.19 | 16237 | 1.44 | 9858 | 60.71 | 6145 | 38 |
| Qatar | 16191 | <1 | 0.56 | 16191 | / | 1810 | 11.18 | 14381 | 89 |
| Austria | 15621 | <1 | 0.17 | 15621 | 3.84 | 13316 | 85.24 | 1705 | 11 |
| Japan | 15589 | <1 | 0.01 | 15589 | 3.12 | 4626 | 29.67 | 10476 | 67 |
| United Arab Emirates | 14163 | <1 | 0.14 | 14163 | 0.89 | 2763 | 19.51 | 11274 | 80 |
| Poland | 13937 | <1 | 0.04 | 13937 | 5.01 | 4095 | 29.38 | 9144 | 66 |
| Romania | 13512 | <1 | 0.07 | 13512 | 5.94 | 5269 | 38.99 | 7440 | 55 |
| Ukraine | 12331 | <1 | 0.03 | 12331 | 2.46 | 1619 | 13.13 | 10409 | 84 |
| Indonesia | 11587 | <1 | 0 | 11587 | 7.46 | 1954 | 16.86 | 8769 | 76 |
| South Korea | 10801 | <1 | 0.02 | 10801 | 2.33 | 9217 | 85.33 | 1332 | 12 |
| Serbia | 10315 | <1 | 0.12 | 10315 | 1.87 | 1932 | 18.73 | 8190 | 79 |
| Bangladesh | 10143 | <1 | 0.01 | 10143 | 1.79 | 1209 | 11.92 | 8752 | 86 |
| Denmark | 9868 | <1 | 0.17 | 9868 | 5 | 7284 | 73.81 | 2091 | 21 |
| Philippines | 9485 | <1 | 0.01 | 9485 | 6.57 | 1315 | 13.86 | 7547 | 80 |
| Dominican Republic | 8235 | <1 | 0.08 | 8235 | 4.2 | 1771 | 21.51 | 6118 | 74 |
| Norway | 7884 | <1 | 0.15 | 7884 | 2.71 | 32 | 0.41 | 7638 | 97 |
| Czech Republic | 7781 | <1 | 0.07 | 7781 | 3.23 | 3592 | 46.16 | 3938 | 51 |
| Colombia | 7668 | <1 | 0.02 | 7668 | 4.43 | 1722 | 22.46 | 5606 | 73 |
| Panama | 7197 | <1 | 0.17 | 7197 | 2.78 | 641 | 8.91 | 6356 | 88 |
| Australia | 6823 | <1 | 0.03 | 6823 | 0.63 | 5863 | 85.93 | 917 | 13 |
| South Africa | 6783 | <1 | 0.01 | 6783 | 1.93 | 2549 | 37.58 | 4103 | 60 |
| Egypt | 6465 | <1 | 0.01 | 6465 | 6.64 | 1562 | 24.16 | 4474 | 69 |
| Malaysia | 6353 | <1 | 0.02 | 6353 | 1.65 | 4484 | 70.58 | 1764 | 28 |
| Finland | 5327 | <1 | 0.1 | 5327 | 4.51 | 3500 | 65.7 | 1587 | 30 |
| Kuwait | 5278 | <1 | 0.12 | 5278 | 0.76 | 1947 | 36.89 | 3291 | 62 |
| Morocco | 5000 | <1 | 0.01 | 5000 | 3.54 | 1565 | 31.3 | 3258 | 65 |
| Argentina | 4783 | <1 | 0.01 | 4783 | 5.14 | 1354 | 28.31 | 3183 | 67 |
| Algeria | 4474 | <1 | 0.01 | 4474 | 10.39 | 1998 | 44.66 | 2011 | 45 |
| Moldova | 4248 | <1 | 0.11 | 4248 | 3.01 | 1423 | 33.5 | 2697 | 63 |
| Kazakhstan | 4028 | <1 | 0.02 | 4028 | / | 1134 | 28.15 | 2894 | 72 |
| Luxembourg | 3824 | <1 | 0.61 | 3824 | 2.51 | 3379 | 88.36 | 349 | 9 |
| Bahrain | 3383 | <1 | 0.2 | 3383 | / | 1718 | 50.78 | 1665 | 49 |
| Hungary | 3035 | <1 | 0.03 | 3035 | 11.57 | 630 | 20.76 | 2054 | 68 |
| Thailand | 2987 | <1 | 0 | 2987 | 1.81 | 2740 | 91.73 | 193 | 6 |
| Afghanistan | 2894 | <1 | 0.01 | 2894 | 3.11 | 397 | 13.72 | 2407 | 83 |
| Oman | 2637 | <1 | 0.05 | 2637 | / | 816 | 30.94 | 1821 | 69 |
| Greece | 2632 | <1 | 0.03 | 2632 | 5.55 | 1374 | 52.2 | 1112 | 42 |
| Nigeria | 2558 | <1 | 0 | 2558 | 3.4 | 400 | 15.64 | 2071 | 81 |
| Armenia | 2507 | <1 | 0.08 | 2507 | / | 1071 | 42.72 | 1436 | 57 |
| Iraq | 2296 | <1 | 0.01 | 2296 | 4.22 | 1490 | 64.9 | 709 | 31 |
| Uzbekistan | 2181 | <1 | 0.01 | 2181 | / | 1370 | 62.82 | 811 | 37 |
| Ghana | 2169 | <1 | 0.01 | 2169 | / | 229 | 10.56 | 1940 | 89 |
| Croatia | 2101 | <1 | 0.05 | 2101 | 3.81 | 1522 | 72.44 | 499 | 24 |
| Cameroon | 2077 | <1 | 0.01 | 2077 | 3.08 | 953 | 45.88 | 1060 | 51 |
| Azerbaijan | 1932 | <1 | 0.02 | 1932 | / | 1441 | 74.59 | 491 | 25 |
| Bosnia and Herzegovina | 1926 | <1 | 0.06 | 1926 | 4.05 | 855 | 44.39 | 993 | 52 |
| Iceland | 1799 | <1 | 0.53 | 1799 | / | 1717 | 95.44 | 82 | 5 |
| Estonia | 1703 | <1 | 0.13 | 1703 | 3.23 | 259 | 15.21 | 1389 | 82 |
| Bulgaria | 1652 | <1 | 0.02 | 1652 | 4.72 | 321 | 19.43 | 1253 | 76 |
| Cuba | 1649 | <1 | 0.01 | 1649 | 4.18 | 827 | 50.15 | 753 | 46 |
| Bolivia | 1594 | <1 | 0.01 | 1594 | 4.77 | 166 | 10.41 | 1352 | 85 |
| Guinea | 1586 | <1 | 0.01 | 1586 | / | 405 | 25.54 | 1181 | 74 |
| Macedonia | 1518 | <1 | 0.07 | 1518 | 5.6 | 992 | 65.35 | 441 | 29 |
| New Zealand | 1487 | <1 | 0.03 | 1487 | / | 1276 | 85.81 | 211 | 14 |
| Slovenia | 1439 | <1 | 0.07 | 1439 | 6.74 | 241 | 16.75 | 1101 | 77 |
| Lithuania | 1419 | <1 | 0.05 | 1419 | 3.24 | 638 | 44.96 | 735 | 52 |
| Slovakia | 1413 | <1 | 0.03 | 1413 | / | 643 | 45.51 | 770 | 54 |
| Ivory Coast | 1398 | <1 | 0.01 | 1398 | / | 653 | 46.71 | 745 | 53 |
| Senegal | 1271 | <1 | 0.01 | 1271 | / | 415 | 32.65 | 856 | 67 |
| Djibouti | 1116 | <1 | 0.11 | 1116 | / | 713 | 63.89 | 403 | 36 |
| Honduras | 1055 | <1 | 0.01 | 1055 | 7.77 | 118 | 11.18 | 855 | 81 |
| Tunisia | 1013 | <1 | 0.01 | 1013 | 4.15 | 328 | 32.38 | 643 | 63 |
| Latvia | 896 | <1 | 0.05 | 896 | / | 348 | 38.84 | 548 | 61 |
| Cyprus | 874 | <1 | 0.07 | 874 | / | 296 | 33.87 | 578 | 66 |
| Kyrgyzstan | 830 | <1 | 0.01 | 830 | / | 575 | 69.28 | 255 | 31 |
| Albania | 803 | <1 | 0.03 | 803 | / | 543 | 67.62 | 260 | 32 |
| Niger | 750 | <1 | 0 | 750 | / | 518 | 69.07 | 232 | 31 |
| Andorra | 748 | <1 | 0.97 | 748 | 6.02 | 493 | 65.91 | 210 | 28 |
| Lebanon | 740 | <1 | 0.01 | 740 | / | 200 | 27.03 | 540 | 73 |
| Costa Rica | 739 | <1 | 0.01 | 739 | / | 386 | 52.23 | 353 | 48 |
| Somalia | 722 | <1 | 0 | 722 | / | 44 | 6.09 | 678 | 94 |
| Sri Lanka | 721 | <1 | 0 | 721 | / | 194 | 26.91 | 527 | 73 |
| Guatemala | 703 | <1 | 0 | 703 | / | 72 | 10.24 | 631 | 90 |
| Democratic Republic of the Congo | 682 | <1 | 0 | 682 | / | 80 | 11.73 | 602 | 88 |
| Sudan | 678 | <1 | 0 | 678 | 6.05 | 61 | 9 | 576 | 85 |
| Burkina Faso | 662 | <1 | 0 | 662 | 6.8 | 540 | 81.57 | 77 | 12 |
| Uruguay | 655 | <1 | 0.02 | 655 | / | 442 | 67.48 | 213 | 33 |
| Georgia | 593 | <1 | 0.01 | 593 | / | 223 | 37.61 | 370 | 62 |
| San Marino | 593 | <1 | 1.75 | 593 | 6.91 | 86 | 14.5 | 466 | 79 |
| Mali | 580 | <1 | 0 | 580 | / | 223 | 38.45 | 357 | 62 |
| El Salvador | 555 | <1 | 0.01 | 555 | / | 180 | 32.43 | 375 | 68 |
| Maldives | 527 | <1 | 0.1 | 527 | / | 18 | 3.42 | 509 | 97 |
| Kenya | 490 | <1 | 0 | 490 | / | 173 | 35.31 | 317 | 65 |
| Malta | 480 | <1 | 0.11 | 480 | / | 399 | 83.13 | 81 | 17 |
| Tanzania | 480 | <1 | 0 | 480 | / | 167 | 34.79 | 313 | 65 |
| Jamaica | 469 | <1 | 0.02 | 469 | / | 38 | 8.1 | 431 | 92 |
| Jordan | 465 | <1 | 0 | 465 | / | 370 | 79.57 | 95 | 20 |
| Taiwan | 438 | <1 | 0 | 438 | / | 334 | 76.26 | 104 | 24 |
| Paraguay | 369 | <1 | 0.01 | 369 | / | 126 | 34.15 | 243 | 66 |
| Venezuela | 357 | <1 | 0 | 357 | / | 158 | 44.26 | 199 | 56 |
| Gaza Strip | 354 | <1 | 0.01 | 354 | / | 102 | 28.81 | 252 | 71 |
| Gabon | 335 | <1 | 0.02 | 335 | / | 85 | 25.37 | 250 | 75 |
| Mauritius | 332 | <1 | 0.03 | 332 | / | 316 | 95.18 | 16 | 5 |
| Montenegro | 323 | <1 | 0.05 | 323 | / | 253 | 78.33 | 70 | 22 |
| Equatorial Guinea | 315 | <1 | 0.02 | 315 | / | 13 | 4.13 | 302 | 96 |
| Vietnam | 271 | <1 | 0 | 271 | / | 219 | 80.81 | 52 | 19 |
| Rwanda | 259 | <1 | 0 | 259 | / | 124 | 47.88 | 135 | 52 |
| Guinea-Bissau | 257 | <1 | 0.01 | 257 | / | 19 | 7.39 | 238 | 93 |
| Tajikistan | 230 | <1 | 0 | 230 | / | / | / | / | / |
| Congo | 229 | <1 | 0 | 229 | / | 25 | 10.92 | 204 | 89 |
| Sierra Leone | 178 | <1 | 0 | 178 | / | / | / | / | / |
| Cape Verde | 175 | <1 | 0.03 | 175 | / | 37 | 21.14 | 138 | 79 |
| Liberia | 166 | <1 | 0 | 166 | / | 58 | 34.94 | 108 | 65 |
| Myanmar (Burma) | 161 | <1 | 0 | 161 | / | 49 | 30.43 | 112 | 70 |
| Madagascar | 149 | <1 | 0 | 149 | / | 99 | 66.44 | 50 | 34 |
| Ethiopia | 140 | <1 | 0 | 140 | / | 75 | 53.57 | 65 | 46 |
| Brunei | 138 | <1 | 0.03 | 138 | / | 130 | 94.2 | 8 | 6 |
| Zambia | 137 | <1 | 0 | 137 | / | 78 | 56.93 | 59 | 43 |
| Togo | 126 | <1 | 0 | 126 | / | 74 | 58.73 | 52 | 41 |
| Cambodia | 122 | <1 | 0 | 122 | / | 120 | 98.36 | 2 | 2 |
| Chad | 117 | <1 | 0 | 117 | / | 39 | 33.33 | 78 | 67 |
| Trinidad and Tobago | 116 | <1 | 0.01 | 116 | / | 96 | 82.76 | 20 | 17 |
| Eswatini | 112 | <1 | 0.01 | 112 | / | 12 | 10.71 | 100 | 89 |
| Benin | 96 | <1 | 0 | 96 | / | 50 | 52.08 | 46 | 48 |
| Monaco | 95 | <1 | 0.24 | 95 | / | 78 | 82.11 | 17 | 18 |
| Uganda | 89 | <1 | 0 | 89 | / | 55 | 61.8 | 34 | 38 |
| Haiti | 88 | <1 | 0 | 88 | / | 10 | 11.36 | 78 | 89 |
| Central African Republic | 85 | <1 | 0 | 85 | / | 10 | 11.76 | 75 | 88 |
| Bahamas | 83 | <1 | 0.02 | 83 | / | 24 | 28.92 | 59 | 71 |
| Barbados | 82 | <1 | 0.03 | 82 | / | 44 | 53.66 | 38 | 46 |
| Guyana | 82 | <1 | 0.01 | 82 | / | 22 | 26.83 | 60 | 73 |
| Liechtenstein | 82 | <1 | 0.22 | 82 | / | 55 | 67.07 | 27 | 33 |
| Mozambique | 80 | <1 | 0 | 80 | / | 19 | 23.75 | 61 | 76 |
| Nepal | 75 | <1 | 0 | 75 | / | 16 | 21.33 | 59 | 79 |
| Libya | 63 | <1 | 0 | 63 | / | 22 | 34.92 | 41 | 65 |
| South Sudan | 46 | <1 | 0 | 46 | / | / | / | / | / |
| Syria | 44 | <1 | 0 | 44 | / | 27 | 61.36 | 17 | 39 |
| Malawi | 41 | <1 | 0 | 41 | / | 9 | 21.95 | 32 | 78 |
| Mongolia | 40 | <1 | 0 | 40 | / | 12 | 30 | 28 | 70 |
| Eritrea | 39 | <1 | 0 | 39 | / | 26 | 66.67 | 13 | 33 |
| Angola | 35 | <1 | 0 | 35 | / | 11 | 31.43 | 24 | 69 |
| Zimbabwe | 34 | <1 | 0 | 34 | / | 5 | 14.71 | 29 | 85 |
| Antigua and Barbuda | 25 | <1 | 0.03 | 25 | / | 15 | 60 | 10 | 40 |
| Botswana | 23 | <1 | 0 | 23 | / | 8 | 34.78 | 15 | 65 |
| Grenada | 21 | <1 | 0.02 | 21 | / | 13 | 61.9 | 8 | 38 |
| Laos | 19 | <1 | 0 | 19 | / | 9 | 47.37 | 10 | 53 |
| Belize | 18 | <1 | 0 | 18 | / | 13 | 72.22 | 5 | 28 |
| Fiji | 18 | <1 | 0 | 18 | / | 14 | 77.78 | 4 | 22 |
| St. Lucia | 18 | <1 | 0.01 | 18 | / | 15 | 83.33 | 3 | 17 |
| Gambia | 17 | <1 | 0 | 17 | / | 9 | 52.94 | 8 | 47 |
| St. Vincent and the Grenadines | 17 | <1 | 0.02 | 17 | / | 9 | 52.94 | 8 | 47 |
| Dominica | 16 | <1 | 0.02 | 16 | / | 13 | 81.25 | 3 | 19 |
| Sao Tome and Principe | 16 | <1 | 0.01 | 16 | / | 4 | 25 | 12 | 75 |
| Namibia | 16 | <1 | 0 | 16 | / | 8 | 50 | 8 | 50 |
| Burundi | 15 | <1 | 0 | 15 | / | 7 | 46.67 | 8 | 53 |
| Nicaragua | 15 | <1 | 0 | 15 | / | 7 | 46.67 | 8 | 53 |
| St. Kitts and Nevis | 15 | <1 | 0.03 | 15 | / | 8 | 53.33 | 7 | 47 |
| Seychelles | 11 | <1 | 0.01 | 11 | / | 6 | 54.55 | 5 | 45 |
| Suriname | 10 | <1 | 0 | 10 | / | 9 | 90 | 1 | 10 |
| Yemen | 10 | <1 | 0 | 10 | / | 1 | 10 | 9 | 90 |
| Mauritania | 8 | <1 | 0 | 8 | / | 6 | 75 | 2 | 25 |
| Papua New Guinea | 8 | <1 | 0 | 8 | / | 6 | 75 | 2 | 25 |
| Bhutan | 7 | <1 | 0 | 7 | / | 5 | 71.43 | 2 | 29 |
| Western Sahara | 6 | <1 | 0 | 6 | / | 5 | 83.33 | 1 | 17 |
| Comoros | 3 | <1 | 0 | 3 | / | / | / | / | / |
| Aruba | 0 | / | / | 0 | / | / | / | / | / |
| American Samoa | 0 | / | / | 0 | / | / | / | / | / |
| Anguilla | 0 | / | / | 0 | / | / | / | / | / |
| Antarctica | 0 | / | / | 0 | / | / | / | / | / |
| Bermuda | 0 | / | / | 0 | / | / | / | / | / |
| Solomon Islands | 0 | / | / | 0 | / | / | / | / | / |
| Bouvet Island | 0 | / | / | 0 | / | / | / | / | / |
| Cayman Islands | 0 | / | / | 0 | / | / | / | / | / |
| Cocos (Keeling) Islands | 0 | / | / | 0 | / | / | / | / | / |
| Northern Mariana Islands | 0 | / | / | 0 | / | / | / | / | / |
| Cook Islands | 0 | / | / | 0 | / | / | / | / | / |
| Jarvis Island | 0 | / | / | 0 | / | / | / | / | / |
| French Guiana | 0 | / | / | 0 | / | / | / | / | / |
| Falkland Islands (Islas Malvinas) | 0 | / | / | 0 | / | / | / | / | / |
| Federated States of Micronesia | 0 | / | / | 0 | / | / | / | / | / |
| Faroe Islands | 0 | / | / | 0 | / | / | / | / | / |
| French Polynesia | 0 | / | / | 0 | / | / | / | / | / |
| Baker Island | 0 | / | / | 0 | / | / | / | / | / |
| French Southern & Antarctic Lands | / | / | / | / | / | / | / | / | / |
| Gibraltar | 0 | / | / | 0 | / | / | / | / | / |
| Guernsey | 0 | / | / | 0 | / | / | / | / | / |
| Greenland | 0 | / | / | 0 | / | / | / | / | / |
| Glorioso Islands | 0 | / | / | 0 | / | / | / | / | / |
| Guadeloupe | 0 | / | / | 0 | / | / | / | / | / |
| Guam | 0 | / | / | 0 | / | / | / | / | / |
| Heard Island & McDonald Islands | 0 | / | / | 0 | / | / | / | / | / |
| Howland Island | 0 | / | / | 0 | / | / | / | / | / |
| Isle of Man | 0 | / | / | 0 | / | / | / | / | / |
| British Indian Ocean Territory | 0 | / | / | 0 | / | / | / | / | / |
| Jersey | 0 | / | / | 0 | / | / | / | / | / |
| Jan Mayen | 0 | / | / | 0 | / | / | / | / | / |
| Johnston Atoll | 0 | / | / | 0 | / | / | / | / | / |
| Juan De Nova Island | 0 | / | / | 0 | / | / | / | / | / |
| North Korea | 0 | / | / | 0 | / | / | / | / | / |
| Kiribati | 0 | / | / | 0 | / | / | / | / | / |
| Christmas Island | 0 | / | / | 0 | / | / | / | / | / |
| Lesotho | 0 | / | / | 0 | / | / | / | / | / |
| Martinique | 0 | / | / | 0 | / | / | / | / | / |
| Macau | 0 | / | / | 0 | / | / | / | / | / |
| Mayotte | 0 | / | / | 0 | / | / | / | / | / |
| Montserrat | 0 | / | / | 0 | / | / | / | / | / |
| Midway Islands | 0 | / | / | 0 | / | / | / | / | / |
| New Caledonia | 0 | / | / | 0 | / | / | / | / | / |
| Niue | 0 | / | / | 0 | / | / | / | / | / |
| Norfolk Island | 0 | / | / | 0 | / | / | / | / | / |
| Vanuatu | 0 | / | / | 0 | / | / | / | / | / |
| Nauru | 0 | / | / | 0 | / | / | / | / | / |
| Netherlands Antilles | / | / | / | / | / | / | / | / | / |
| Pitcairn Islands | 0 | / | / | 0 | / | / | / | / | / |
| Paracel Islands | 0 | / | / | 0 | / | / | / | / | / |
| Spratly Islands | 0 | / | / | 0 | / | / | / | / | / |
| Pacific Islands (Palau) | 0 | / | / | 0 | / | / | / | / | / |
| Reunion | 0 | / | / | 0 | / | / | / | / | / |
| Marshall Islands | 0 | / | / | 0 | / | / | / | / | / |
| Puerto Rico | / | / | / | / | / | / | / | / | / |
| St. Pierre and Miquelon | / | / | / | / | / | / | / | / | / |
| St. Helena | 0 | / | / | 0 | / | / | / | / | / |
| Svalbard | 0 | / | / | 0 | / | / | / | / | / |
| South Georgia and the South Sandwich Is | 0 | / | / | 0 | / | / | / | / | / |
| Turks and Caicos Islands | 0 | / | / | 0 | / | / | / | / | / |
| Tokelau | 0 | / | / | 0 | / | / | / | / | / |
| Tonga | 0 | / | / | 0 | / | / | / | / | / |
| Tuvalu | 0 | / | / | 0 | / | / | / | / | / |
| Turkmenistan | 0 | / | / | 0 | / | / | / | / | / |
| British Virgin Islands | 0 | / | / | 0 | / | / | / | / | / |
| Virgin Islands | 0 | / | / | 0 | / | / | / | / | / |
| West Bank | 0 | / | / | 0 | / | / | / | / | / |
| Wallis and Futuna | 0 | / | / | 0 | / | / | / | / | / |
| Wake Island | 0 | / | / | 0 | / | / | / | / | / |
| Samoa | / | / | / | / | / | / | / | / | / |