Marshall Islands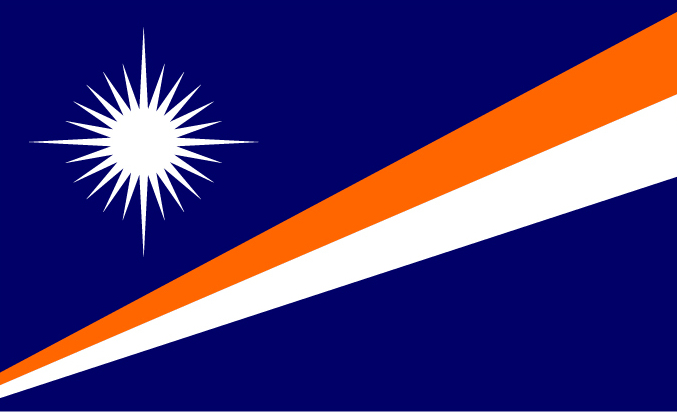 Government
Name
Republic of the Marshall Islands
Marshallese
Aolepān Aorōkin Ṃajeḷ
Government type
mixed presidential-parliamentary system in free association with the US
Capital
Majuro (27,797 (2011))
Currency
United States dollar (USD)
People
Population (2020)
59,194 (211th)
Density of population
293.0 P/km2 (28th)
Nationality
Marshallese
Official languages
Marshallese
English
Ethnic groups (2006)
Marshallese
92.1%
mixed Marshallese
5.9%
other
2%
Religions (2011)
Protestant
80.5%
United Church of Christ
47%
Assembly of God
16.2%
Bukot Nan Jesus
5.4%
Full Gospel
3.3%
Reformed Congressional Church
3%
Salvation Army
1.9%
Seventh Day Adventist
1.4%
Meram in Jesus
1.2%
other Protestant
1.1%
Roman Catholic
8.5%
Mormon
7%
Jehovah's Witness
1.7%
other
1.2%
none
1.1%
Life expectancy (2020)
Male
71.8 years
Female
76.5 years
Total population
74.1 years (135th)
Homicides
Total (1994)
4.0 per 100,000 people (74th)
Geography
Land area
181 km2
water area
0 km2
total area
181 km2 (217th)
Mean elevation
2 m
Lowest point
Pacific Ocean
0 m
Highest point
East-central Airik Island, Maloelap Atoll
14 m
Land use (2011)
Agricultural land
50.7%
Arable land
7.8%
Permanent crops
31.2%
Permanent pasture
11.7%
Forest
49.3%
Other
0%
Urbanization
Urban population (2020)
77.8%
Rate of urbanization
0.61% annual rate of change (2015 – 2020)
Economy
Labor force (2013)
10,670 (217th)
Labor force by occupation (2011)
Agriculture
11%
Industry
16.3%
Services
72.7%
Unemployment rate (2006)
36% (212th)
GDP (PPP) (estimate 2019)
Total
$215 million
Per capita
$3,789
GDP (nominal) (estimate 2019)
Total
$220 million
Per capita
$3,866
GDP by sector (estimate 2013)
Agriculture
4.4%
Industry
9.9%
Services
85.7%
Exports
NA
Exports partners
NA
Imports (2016)
$103.8 million (216th)
Imports partners
NA
Marshall Islands on the world map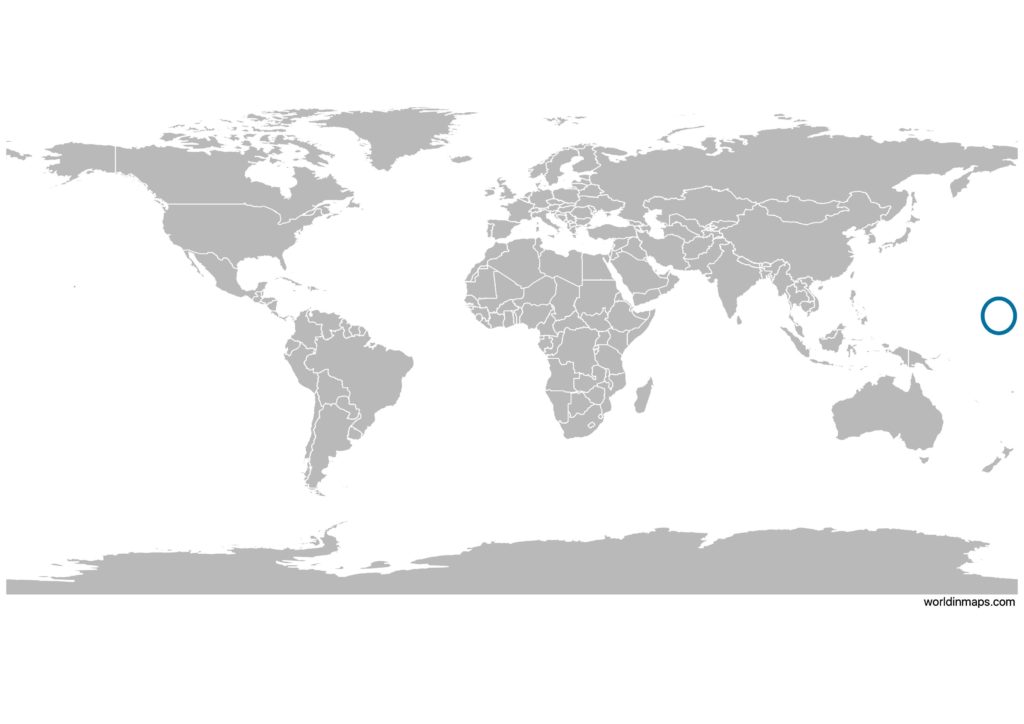 Demography
Age structure data
Estimate for 2020:
0-14 years: 32.94% (male 13,090/female 12,575)
15-24 years: 19.09% (male 7,568/female 7,308)
25-54 years: 37.35% (male 14,834/female 14,270)
55-64 years: 5.92% (male 2,269/female 2,341)
65 years and over: 4.7% (male 1,805/female 1,857)
Remark: the age structure of a population affects a nation's key socioeconomic issues. Countries with young populations (high percentage under age 15) need to invest more in schools, while countries with older populations (high percentage ages 65 and over) need to invest more in the health sector. The age structure can also be used to help predict potential political issues. For example, the rapid growth of a young adult population unable to find employment can lead to unrest.
Population from 1950 to 2020
Source: United Nations, Department of Economic and Social Affairs, Population Division (2019). World Population Prospects 2019, Online Edition. Rev. 1.
Economy
Agriculture:
coconuts, tomatoes, melons, taro, breadfruit, fruits, pigs, chickens
Industries:
copra, tuna processing, tourism, craft items (from seashells, wood, and pearls)
Exports – commodities:
copra cake, coconut oil, handicrafts, fish
Imports – commodities:
foodstuffs, machinery and equipment, fuels, beverages, tobacco
Time zone and current time in Marshall Islands
Go to our interactive map to get the current time in Marshall Islands
Sources: