States | Home / countries / United States / Alabama
Alabama
---
Table of contents
Where is Alabama located?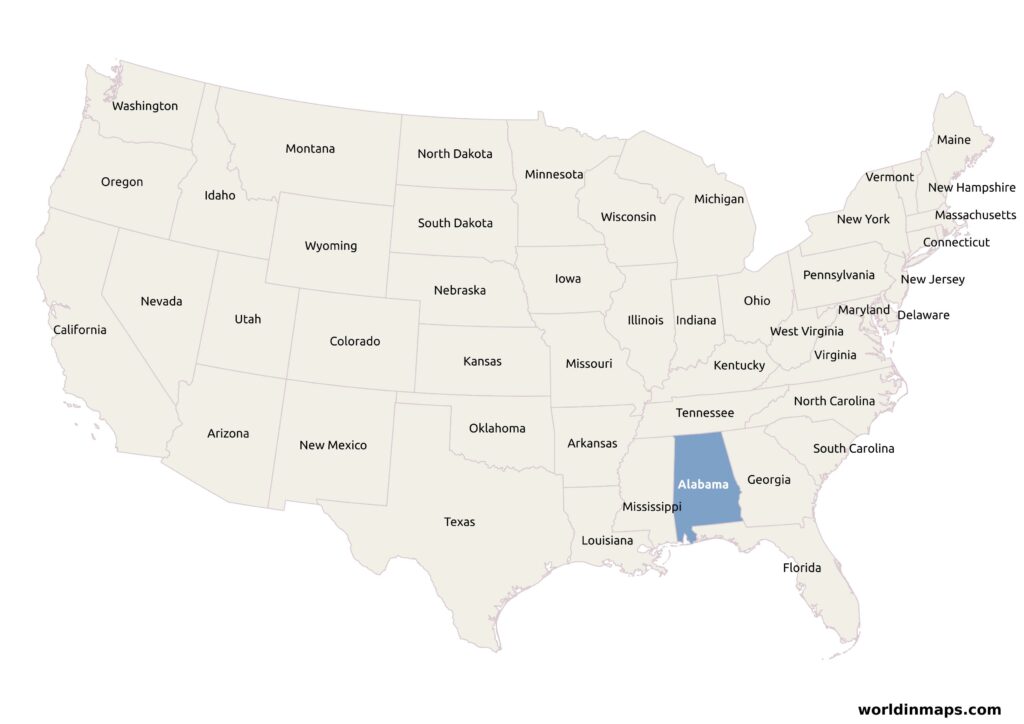 Alabama is a state located in the southeastern region of the United States. It is bordered on the north by Tennessee, on the west by Mississippi on the south by Florida and a little seashore on the Gulf of Mexico, and finally on the east by Georgia.
Map of Alabama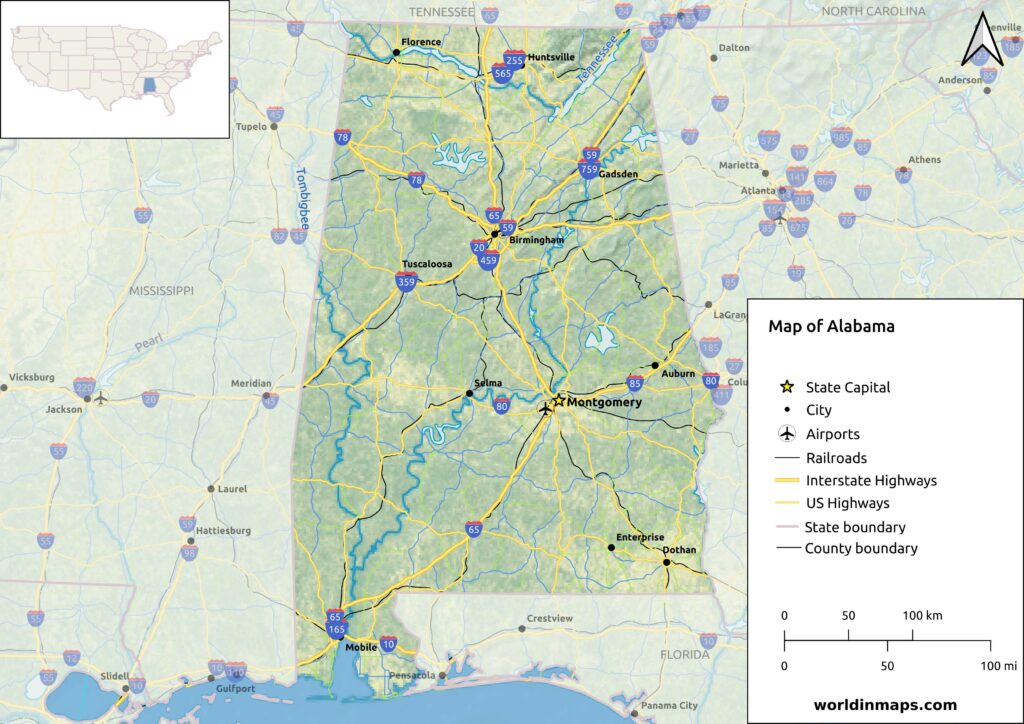 Alabama counties map with the county seat cities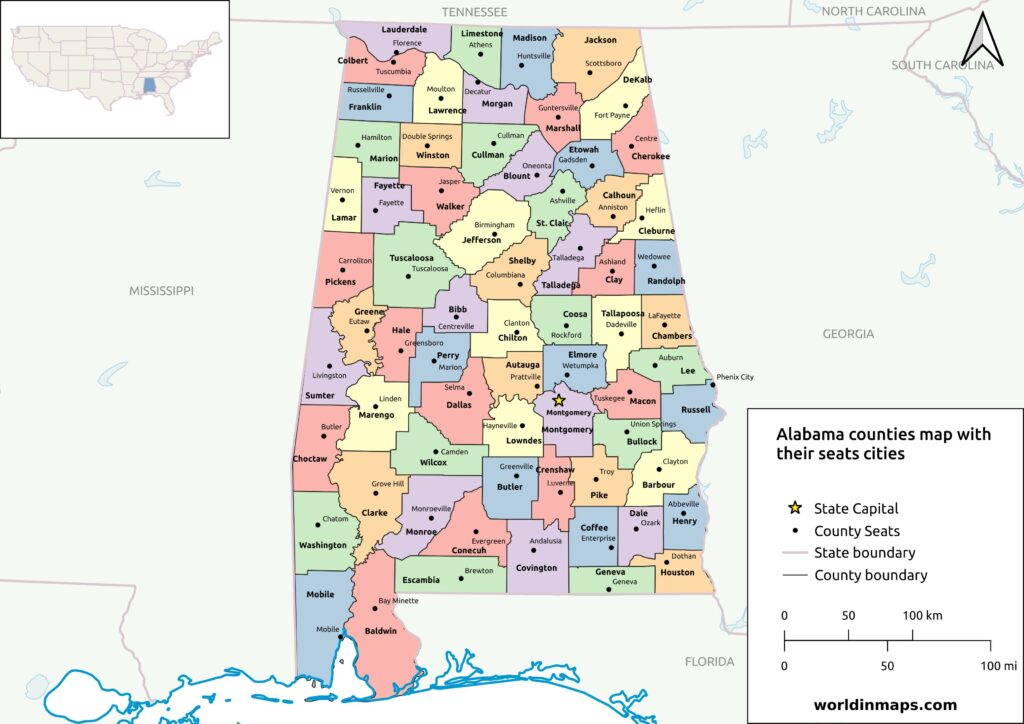 The U.S. state of Alabama has 67 counties. The table below lists all of them alphabetically with their County seat, their population and their area.
County
County seat
Population
Area
Autauga County
Prattville
58,805
594.44 sq mi
(1,540 km²)
Baldwin County
Bay Minette
231,767
1,589.78 sq mi
(4,118 km²)
Barbour County
Clayton
25,223
884.88 sq mi
(2,292 km²)
Bibb County
Centreville
22,293
622.58 sq mi
(1,612 km²)
Blount County
Oneonta
59,134
644.78 sq mi
(1,670 km²)
Bullock County
Union Springs
10,357
622.80 sq mi
(1,613 km²)
Butler County
Greenville
19,051
776.83 sq mi
(2,012 km²)
Calhoun County
Anniston
116,441
605.87 sq mi
(1,569 km²)
Chambers County
LaFayette
34,772
596.53 sq mi
(1,545 km²)
Cherokee County
Centre
24,971
553.70 sq mi
(1,434 km²)
Chilton County
Clanton
45,014
692,85 sq mi
(1,794 km²)
Choctaw County
Butler
12,665
913.50 sq mi
(2,366 km²)
Clarke County
Grove Hill
23,087
1,238.46 sq mi
(3,208 km²)
Clay County
Ashland
14,236
603.96 sq mi
(1,564 km²)
Cleburne County
Heflin
15,056
560.10 sq mi
(1,451 km²)
Coffee County
Elba and Enterprise
53,465
678.97 sq mi
(1,759 km²)
Colbert County
Tuscumbia
57,227
592.62 sq mi
(1,535 km²)
Conecuh County
Evergreen
11,597
850.16 sq mi
(2,202 km²)
Coosa County
Rockford
10,387
650.93 sq mi
(1,686 km²)
Covington County
Andalusia
37,570
1,030.46 sq mi
(2,669 km²)
Crenshaw County
Luverne
13,194
608.84 sq mi
(1,577 km²)
Cullman County
Cullman
87,866
734.84 sq mi
(1,903 km²)
Dale County
Ozark
49,326
561.15 sq mi
(1,453 km²)
Dallas County
Selma
38,462
978.69 sq mi
(2,535 km²)
DeKalb County
Fort Payne
71,608
777.09 sq mi
(2,013 km²)
Elmore County
Wetumpka
87,977
618.48 sq mi
(1,602 km²)
Escambia County
Brewton
36,757
945.08 sq mi
(2,448 km²)
Etowah County
Gadsden
103,436
534.99 sq mi
(1,386 km²)
Fayette County
Fayette
16,321
627.66 sq mi
(1,626 km²)
Franklin County
Russelville
32,113
633.82 sq mi
(1,642 km²)
Geneva County
Geneva
26,659
574.41 sq mi
(1,488 km²)
Greene County
Eutaw
7,730
647.11 sq mi
(1,676 km²)
Hale County
Greensboro
14,785
643.94 sq mi
(1,668 km²)
Henry County
Abbeville
17,146
561.75 sq mi
(1,455 km²)
Houston County
Dothan
107,202
579.82 sq mi
(1,502 km²)
Jackson County
Scottsboro
52,579
1,077.87 sq mi
(2,792 km²)
Jefferson County
Birmingham
674,721
1,111.28 sq mi
(2,878 km²)
Lamar County
Vernon
13,972
604.85 sq mi
(1,567 km²)
Lauderdale County
Florence
93,564
667.70 sq mi
(1,729 km²)
Lawrence County
Moulton
33,073
690.68 sq mi
(1,789 km²)
Lee County
Opelika
174,241
607.54 sq mi
(1,574 km²)
Limestone County
Athens
103,570
559.94 sq mi
(1,450 km²)
Lowndes County
Hayneville
10,311
715.91 sq mi
(1,854 km²)
Macon County
Tuskegee
19,532
608.89 sq mi
(1,577 km²)
Madison County
Huntsville
388,153
801.59 sq mi
(2,076 km²)
Marengo County
Linden
19,323
976.88 sq mi
(2,530 km²)
Marion County
Hamilton
29,341
742.29 sq mi
(1,923 km²)
Marshall County
Guntersville
97,612
565.84 sq mi
(1,466 km²)
Mobile County
Mobile
414,809
1,229.44 sq mi
(3.184 km²)
Monroe County
Monroeville
19,772
1,025.67 sq mi
(2,656 km²)
Montgomery County
Montgomery
228,954
784.25 sq mi
(2,031 km²)
Morgan County
Decatur
123,421
579.34 sq mi
(1,500 km²)
Perry County
Marion
8,511
719.66 sq mi
(1,864 km²)
Pickens County
Carrollton
19,123
881.41 sq mi
(2,283 km²)
Pike County
Troy
33,009
672.09 sq mi
(1,741 km²)
Randolph County
Wedowee
21,967
580.55 sq mi
(1,504 km²)
Russell County
Phenix City
59,183
641.14 sq mi
(1,661 km²)
St. Clair County
Ashville and Pell City
91,103
631.90 sq mi
(1,637 km²)
Shelby County
Columbiana
223,024
784.93 sq mi
(2,033 km²)
Sumter County
Livingston
12,345
903.89 sq mi
(2,341 km²)
Talladega County
Talladega
82,149
736.78 sq mi
(1,908 km²)
Tallapoosa County
Dadeville
41,311
716.52 sq mi
(1,856 km²)
Tuscaloosa County
Tuscaloosa
227,036
1,321.75 sq mi
(3,423 km²)
Walker County
Jasper
65,342
791.19 sq mi
(2,049 km²)
Washington County
Chatom
15,388
1,080.21 sq mi
(2,798 km²)
Wilcox County
Camden
10,600
888.50 sq mi
(2,301 km²)
Winston County
Double Springs
23,540
612.98 sq mi
(1,588 km²)
Protected areas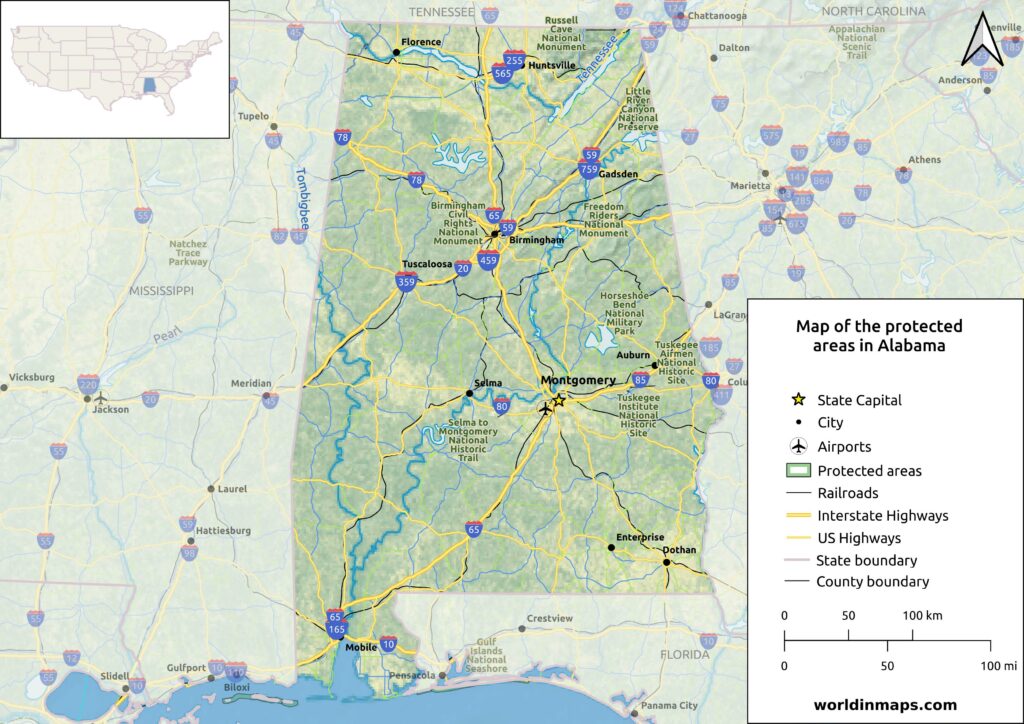 Birmingham Civil Rights National Monument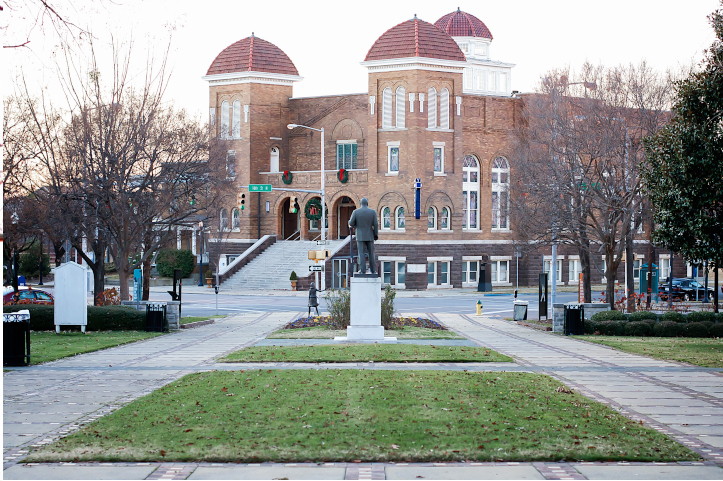 The Birmingham Civil Rights National Monument is located in Birmingham. It was established in 2017 to protect and commemorate the Civil Rights Movement. This movement was active between 1954 and 1968 to end legalized racial discrimination and segregation in the United States. Birmingham is indeed an important place of the anti racial movements. Birmingham was called nothing less than the most segregated city in the country by Martin Luther King Jr. It is from this city that he also write the Letter from Birmingham Jail.
Freedom Riders National Monument
The Freedom Riders National Monument is located in Anniston. It was also established in 2017 to preserve and commemorate the Freedom Riders during the Civil Rights Movement. The Freedom Riders were civil rights activists who rode interstate buses with mixed racial groups, which was against local laws. The National Monument is made of the former Greyhound bus depot in the downtown of Anniston where a bus of the Freedom Riders was attacked on May 14, 1961 and the second place is the site where the bus was finally burned, outside the town.
Horseshoe Bend National Military Park
The Horseshoe Bend National Military Park is located in the Tallapoosa County in Alabama on the place of the last battle of the Creek War on March 27, 1814. This battle (called the Battle of Horseshoe Bend) was opposing Tennessee militia, U.S. Infantry, Cherokee and Lower Creek who won from the Upper Creek Red Stick Nation.
Little River Canyon National Preserve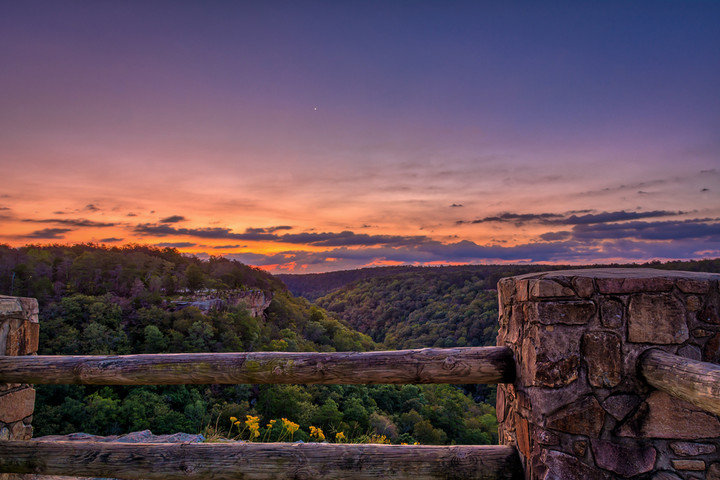 The Little River Canyon National Preserve is a United States National Preserve located in the Cherokee and DeKalb Counties. The preserve is 15,288 acres (61.87 km²). The Little River flows in this preserve and formed a Canyon. The river is known to be among the cleanest and wildest river in South of the U.S. The river has three major waterfalls: DeSoto Falls, Little River Falls and the seasonal Grace's High Falls.
Russell Cave National Monument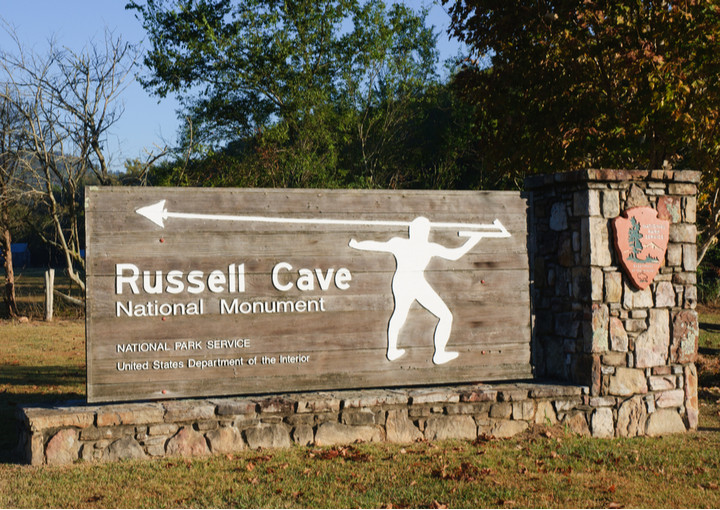 The Russell Cave National Monument is located northeast of Alabama close to the town of Bridgeport, in the Jackson County. The Russell Cave is exceptional by his very large main entrance and it was used as a shelter by prehistoric Indians for thousands of years.
Selma to Montgomery National Historical Trail
The Selma to Montgomery National Historical Trail is also a commemoration of the racial segregation in this part of the U.S. The trail is 54 mil (87 km) and it commemorates the Selma to Montgomery marches that happens in 1965 to support the Voting Rights Acts that prohibits the racial segregation.
Tuskegee Airmen National Historic Site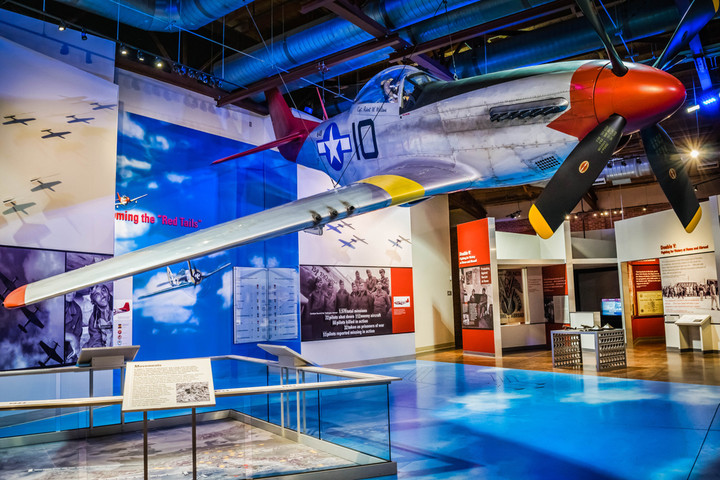 This historical site is located in the city of Tuskegee in the Macon County. This site commemorates the primary flight training site of African-American airmen in the World War II
Tuskegee Institute National Historic Site
This site, also called the Tuskegee University, is a private University that has played a big role in the higher education of African-American.
National Forests
The state of Alabama has also 3 National Forests: Conecuh National Forest, Talladega National Forest and William B. Bankhead National Forest.
Must see in Alabama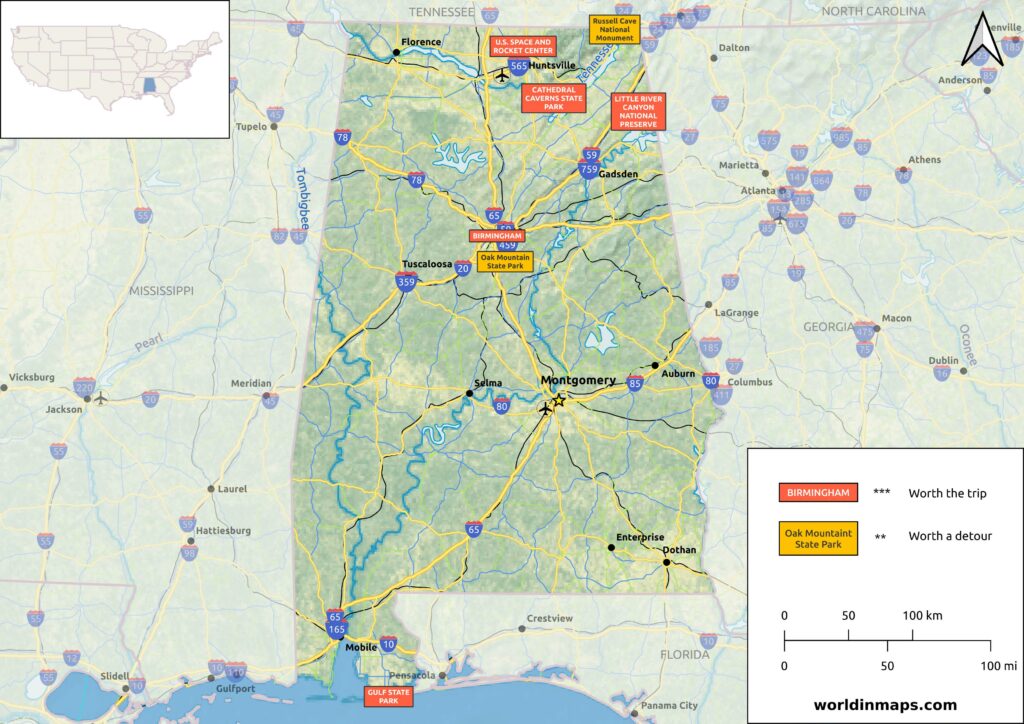 Birmingham ***
Birmingham Museum of Art ***
The Birmingham Museum of Art has one of the most impressive collections int the Southeastern United States of paintings, sculptures… of different cultures, including African, American, Asian, European, Native American and Pre-Columbian. Among other is the collection of Asian art of particular interest.
Birmingham Civil Rights Institute **
The Birmingham Civil Rights Institute is a museum and research center dedicated on the Civil Rights Movements of the 1950s and 1960s that fight to end the racial segregation.
Birmingham Zoo **
The zoo of Birmingham is small in comparison to big city zoos, but has a wide variety of animals with approximately 550 animals of 195 species, which include among others sea lions, rhinos, elephants and lions.
Cathedral Caverns State Park ***
Cathedral Cavern was originally called the Bat Cave, but was renamed because of its cathedral-like appearance. Cathedral Caverns has many amazing features that are really unique. Its huge opening measures 126 feet (38,4 m) wide and 25 feet (7,6 m) high, which make it very unique. The cave is considered to have the largest stalagmites in the world with 45 feet (13,7 m) tall and 243 feet (74 m) in circumference.
Gulf State Park ***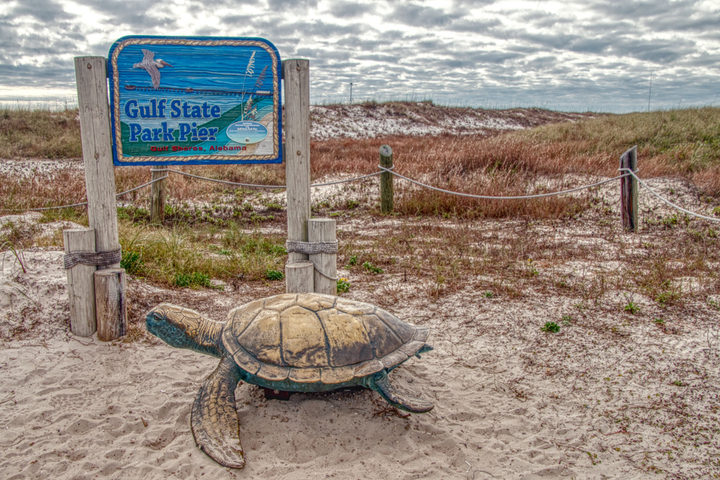 Gulf State Park is the place to visit for great outdoor vacations. The park is located on the Gulf of Mexico and is composed of a large beach area, marshland, boggy streams, pine forest and spring-fed, freshwater, lakes.
Little River Canyon National Preserve ***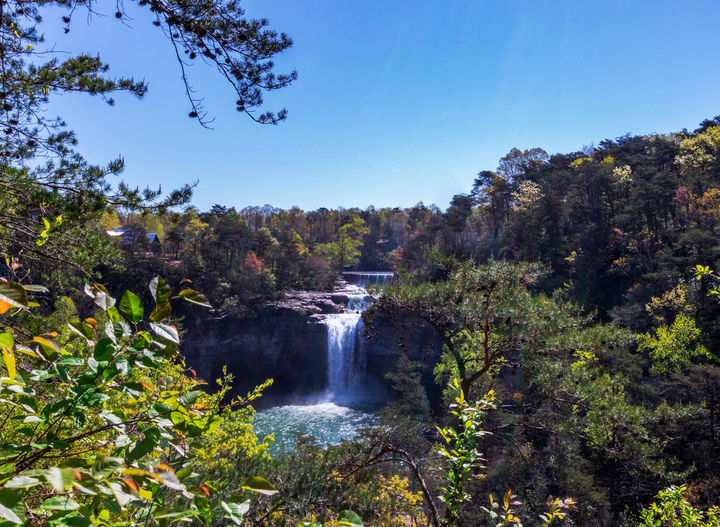 Like is name let it understand this National Preserve is composed of a Canyon, but it has also 3 waterfalls. The DeSoto waterfall located in the DeSoto State Park is worth the walk. More information in the protected area section.
U.S. Space and Rocket Center ***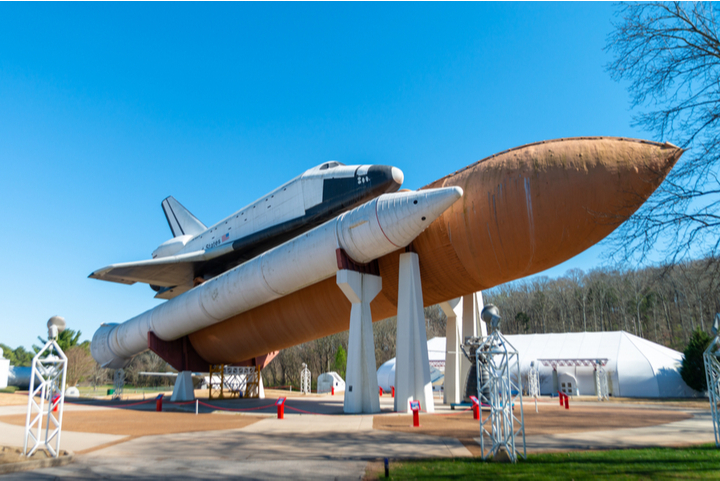 The U.S. Space and Rocket Center is a museum showcasing rockets, achievements and artifacts of the U.S. space program. The place is really a must to visit for anyone who is interested in space and rocketry.
Oak Mountain State Park **
The Oak Mountain State Park is located around 20 miles (32 km) south of Birmingham and it is the largest park in the state. The park has gorgeous views and includes a lot of activities like, among others, horseback riding, golf, kayak, paddle and swimming area.
Russell Cave National Monument **