States | Home / countries / United States / Utah
Utah
---
Table of contents
Where is Utah located?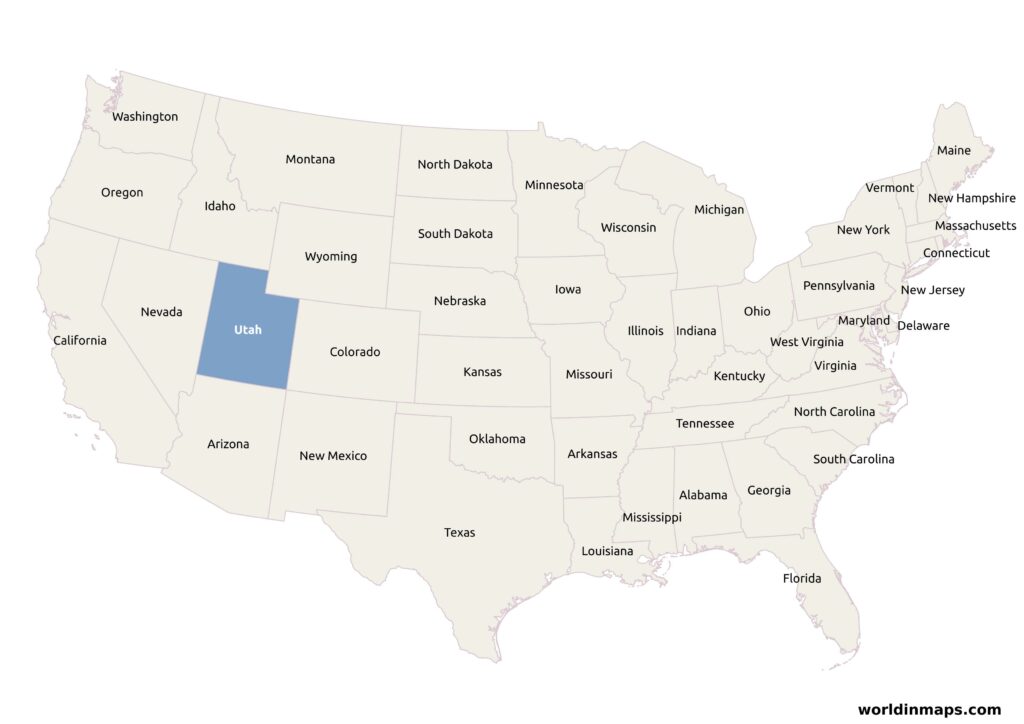 Utah is located in the Western United States region. It is bordered on the north by Idaho and Wyoming, on the east by Colorado, on the southeast by New Mexico, on the south by Arizona and on the west by Nevada.
Map of Utah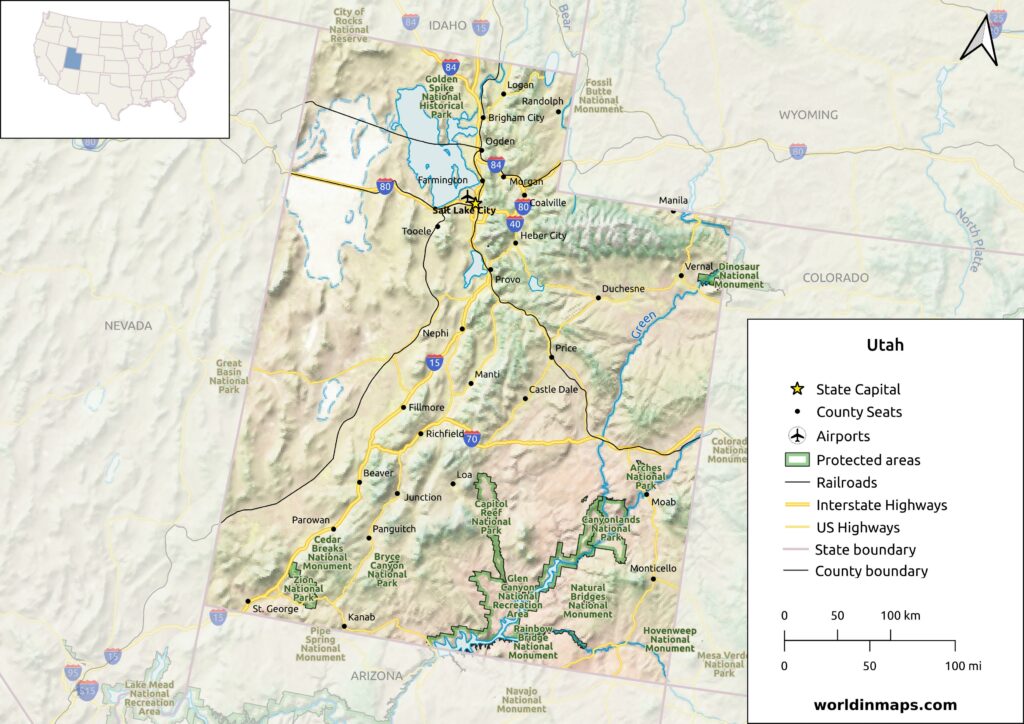 Utah counties map with the county seat cities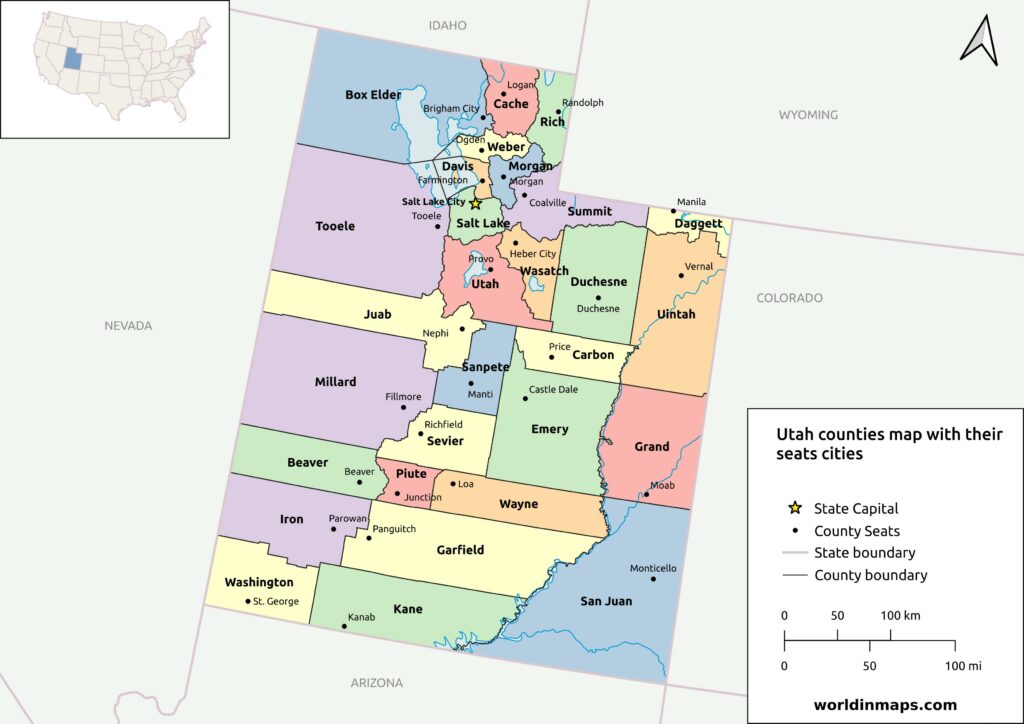 The U.S. state of Utah has 29 counties. The table below lists all of them alphabetically with their County seat, their population and area.
County
County seat
Population
Area
Beaver County
Beaver
7,072
2,590 sq mi
(6,708 km²)
Box Elder County
Brigham City
57,666
5,746 sq mi
(14,882 km²)
Cache County
Logan
133,154
1,165 sq mi
(3,017 km²)
Carbon County
Price
20,412
1,478 sq mi
(3,828 km²)
Daggett County
Manila
935
697 sq mi
(1,805 km²)
Davis County
Farmington
362,679
299 sq mi
(774 km²)
Duchesne County
Duchesne
19,596
3,241 sq mi
(8,394 km²)
Emery County
Castle Dale
9,825
4,462 sq mi
(11,557 km²)
Garfield County
Panguitch
5,051
5,083 sq mi
(13,165 km²)
Grand County
Moab
9,669
3,672 sq mi
(9,510 km²)
Iron County
Parowan
57,289
3,297 sq mi
(8,539 km²)
Juab County
Nephi
11,786
3,392 sq mi
(8,785 km²)
Kane County
Kanab
7,667
3,990 sq mi
(10,334 km²)
Millard County
Fillmore
12,975
6,572 sq mi
(17,021 km²)
Morgan County
Morgan
12,295
609 sq mi
(1,577 km²)
Piute County
Junction
1,438
758 sq mi
(1,963 km²)
Rich County
Randolph
2,510
1,029 sq mi
(2,665 km²)
Salt Lake County
Salt Lake City
1,185,238
742 sq mi
(1,922 km²)
San Juan County
Monticello
14,518
7,820 sq mi
(20,254 km²)
Sanpete County
Manti
28,437
1,590 sq mi
(4,118 km²)
Sevier County
Richfield
21,522
1,911 sq mi
(4,949 km²)
Summit County
Coalville
42,357
1,872 sq mi
(4,848 km²)
Tooele County
Tooele
72,698
6,941 sq mi
(17,977 km²)
Uintah County
Vernal
35,620
4,480 sq mi
(11,603 km²)
Utah County
Provo
659,399
2,003 sq mi
(5,188 km²)
Wasatch County
Heber City
34,788
1,176 sq mi
(3,046 km²)
Washington County
St. George
180,279
2,426 sq mi
(6,283 km²)
Wayne County
Loa
2,486
2,461 sq mi
(6,374 km²)
Weber County
Ogden
262,223
576 sq mi
(1,492 km²)
Protected areas
National Parks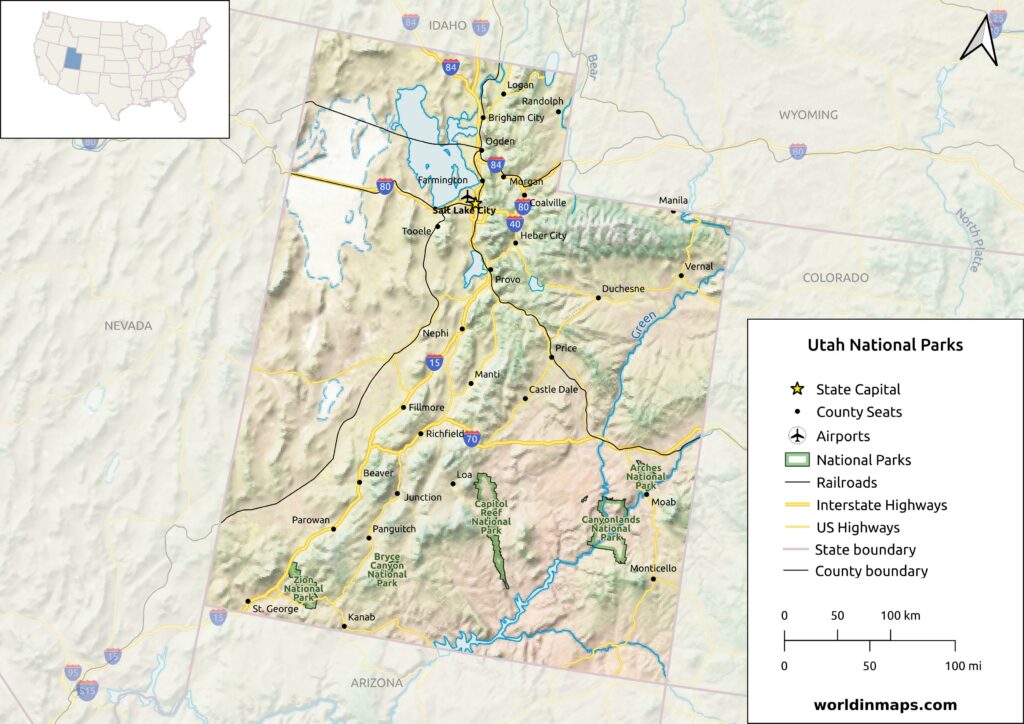 With 5 national parks, Utah has the third most national parks, after Alaska and California. All the National parks in Utah are located on the southern part of Utah, along the Colorado River.
Arches National Park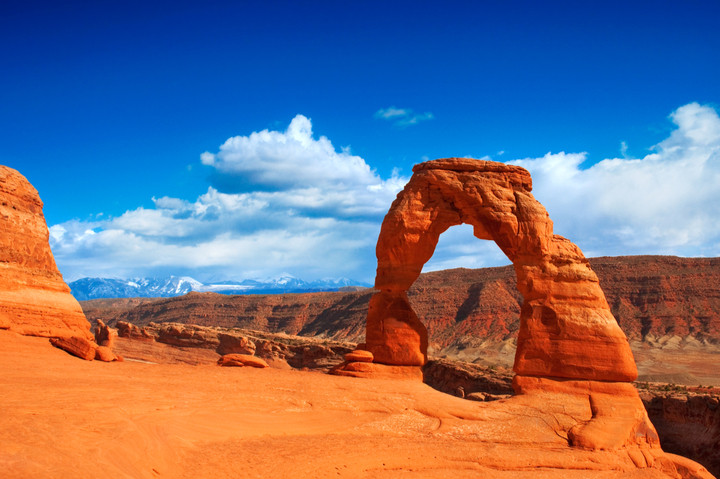 The Arches National Park is located in the southeast of Utah, along the Colorado river and 4 miles (6 km) north of the city of Moab. With more than 2000 natural sandstone arches, it is the highest density of natural arches in the world. The well know Delicate Arch can be admired in this park.
Bryce Canyon National Park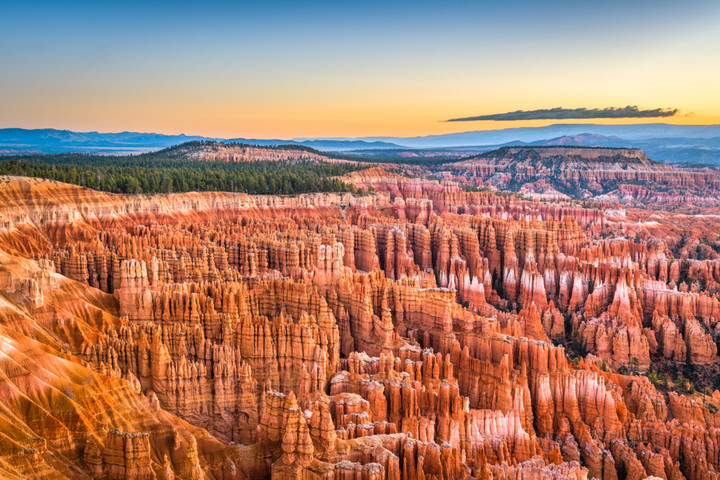 The Bryce Canyon National Park is located in the southwest of Utah. Despite its name, the Bryce Canyon National Park is not a canyon, but a collection of giant natural amphitheatres. The red, orange and white colors gives a spectacular view to the visitors.
Canyonlands National Park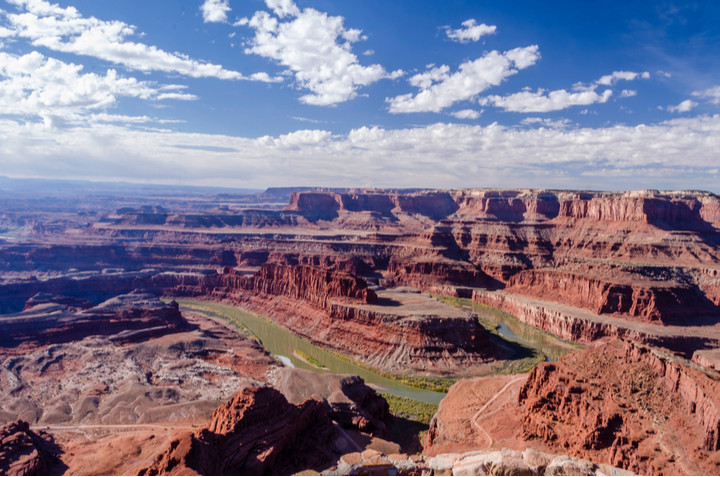 The Canyonlands National Park is in the southeast of Utah near the town Moab. The canyons were formed by the erosion of the Colorado plateau by the Green and the Colorado rivers and their tributaries.
Capitol Reef National Park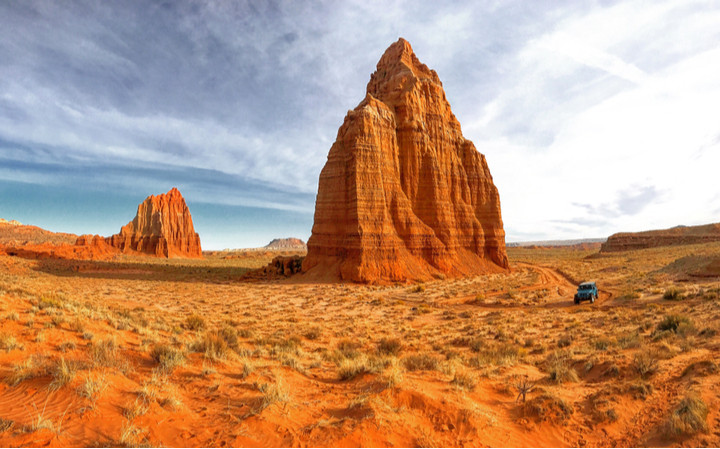 This national park is located in the central south part of Utah. The park was established in 1971 to protect this desert landscape.
Zion National Park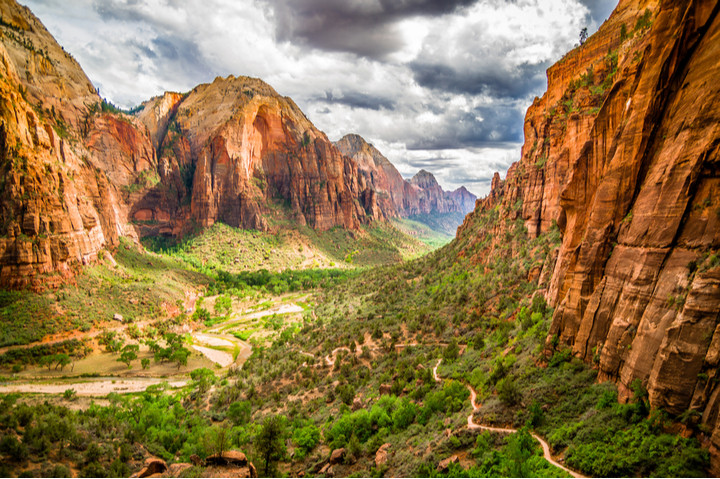 The Zion National Park is located in southwestern Utah. Its most spectacular feature is the Zion Canyon with its 15 miles (24 km) long and up to 2,640 ft (800 m) deep.
National Monuments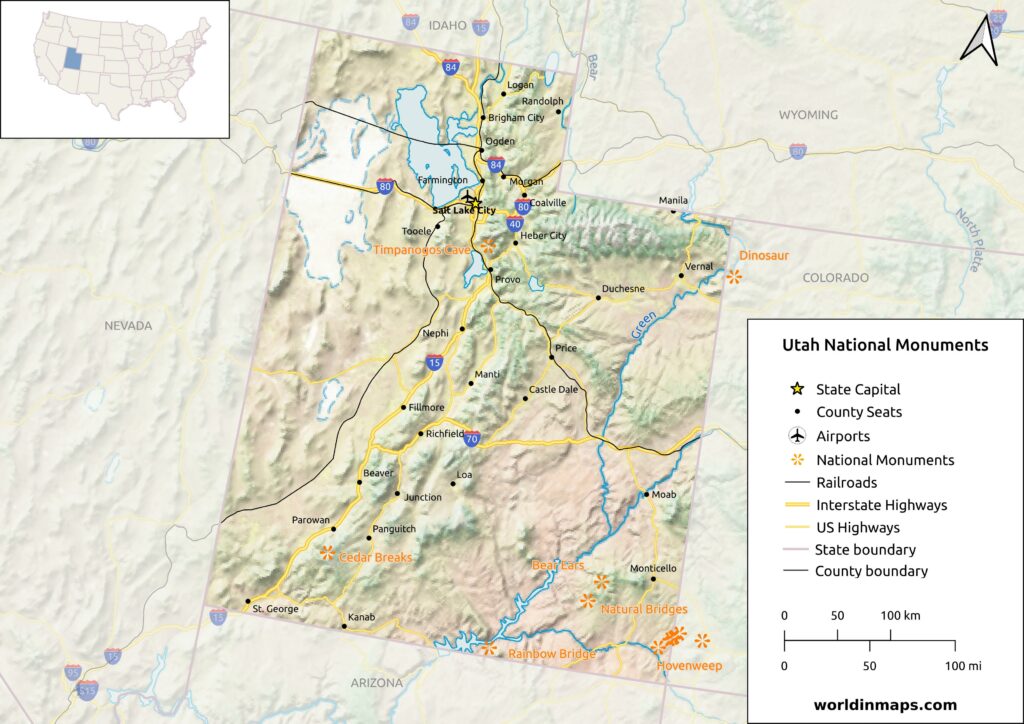 Utah also counts 8 national monuments in its territory.
Bear Ears National Monument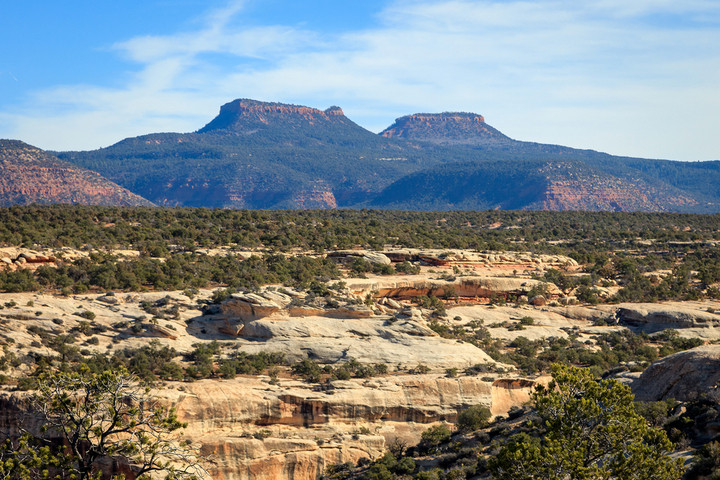 The monument is located in southeastern Utah and it was established in 2016 to protect the land surrounding the Bears Ears and the Indian Creek canyon.
Cedar Breaks National Monument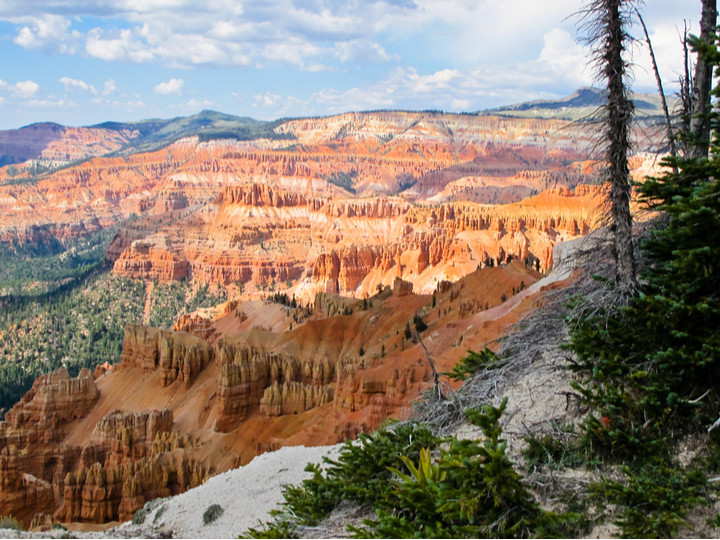 The Cedar Breaks National Monument is located near Cedar City. It is a natural amphitheater of 3 miles (4.8 km) and with a depth of over 2,000 feet (610 m).
Dinosaur National Monument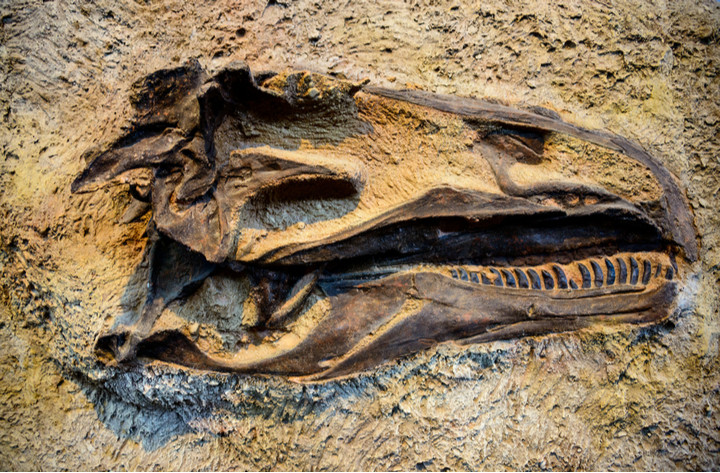 The Dinosaur National Monument is located in the Colorado and Utah. Like say in its name, the Dinosaur National Monument is famous for its Dinosaur Quarry. The park contains over 800 paleontological sites with numerous fossils of dinosaurs.
Grand Staircase-Escalante National Monument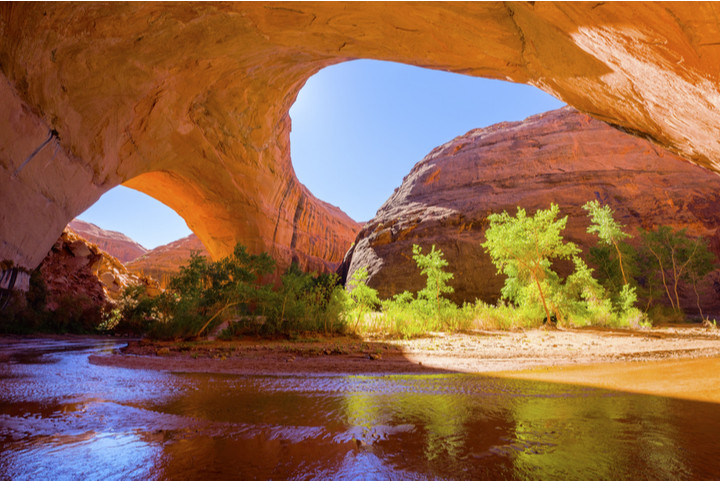 This U.S. national monument is established to protect its spectacular Grand staircase of cliffs and terraces. The monument is composed of different geologic features like monoliths, slot canyons, natural bridges and arches. This place was one of the last parts of the United States to be mapped because of its remote location and rugged landscape.
Hovenweep National Monument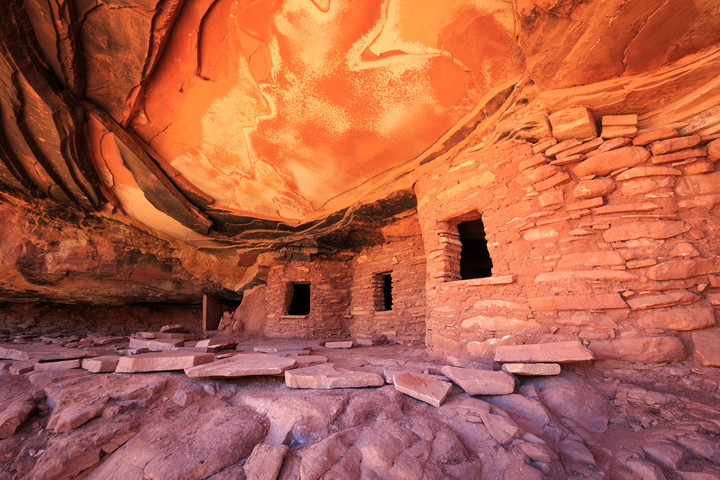 The Hovenweep National Monument is located in southwestern Colorado and southeastern Utah. This monument is famous for its 6 Ancestral Puebloans villages (also known as the Anasazi).
Natural Bridges National Monument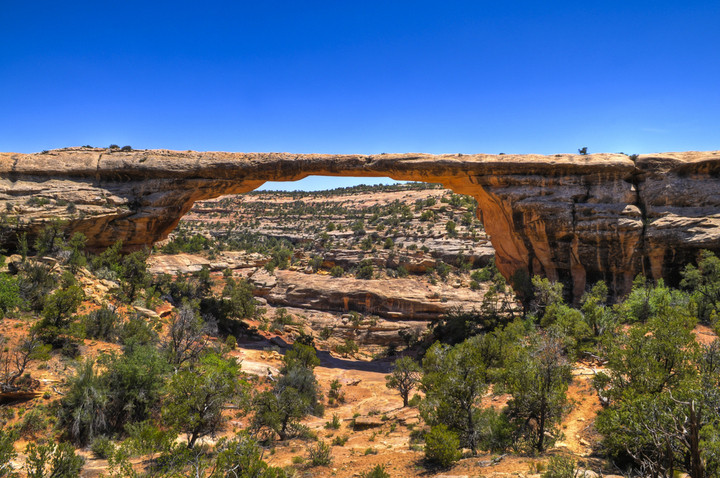 This U.S. national monument is located in southeast Utah and it is well known for its three natural bridges: Kachina, Owachomo and Sipapu.
Rainbow Bridge National Monument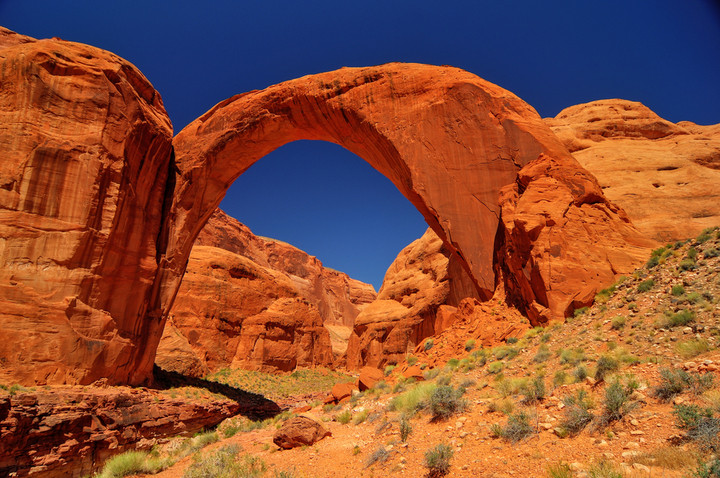 This natural bridge is located in southern Utah and it is often considered as the world's highest natural bridge with its 234 feet (71 m)
Timpanogos Cave National Monument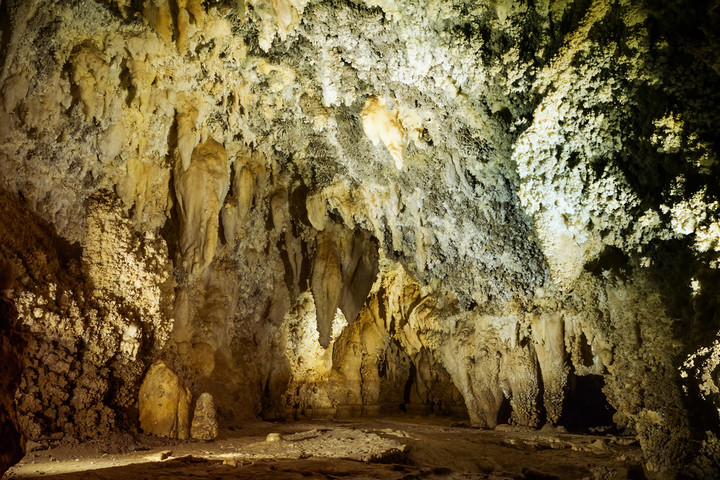 This monument is located in the Wasatch Range. The cave is composed of 3 spectacularly decorated caverns.
National Recreation Areas
2 national recreation areas are located in Utah: Flaming Gorge and Glen Canyon.
The Flaming Gorge is located in Utah but also in Wyoming.
The Glen canyon is located in Utah and also in Arizona. It encompasses the area around the Lake Powell and the lower Cataract Canyon.
National Forests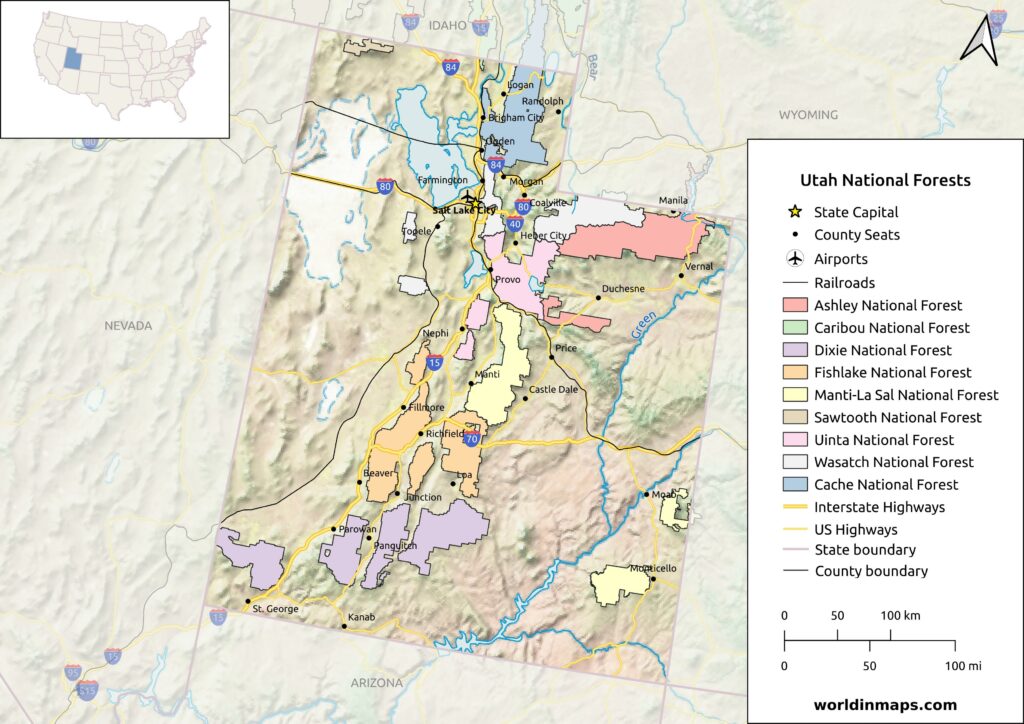 The Utah state also has seven national forests: Ashley, Caribou-Targhee, Dixie, Fishlake, Manti-La Sal, Sawtooth and Uinta-Wasatch-Cache.