Bays | Home / Seas / English Channel
English Channel
---
The English Channel, also called the Channel and La Manche in French, is a narrow sea of the Atlantic Ocean between the southern coast of England and the northern coast of France. Eastward the Channel is connected to the North Sea at the Strait of Dover (Pas de Calais in French).
Table of contents
Location on the world map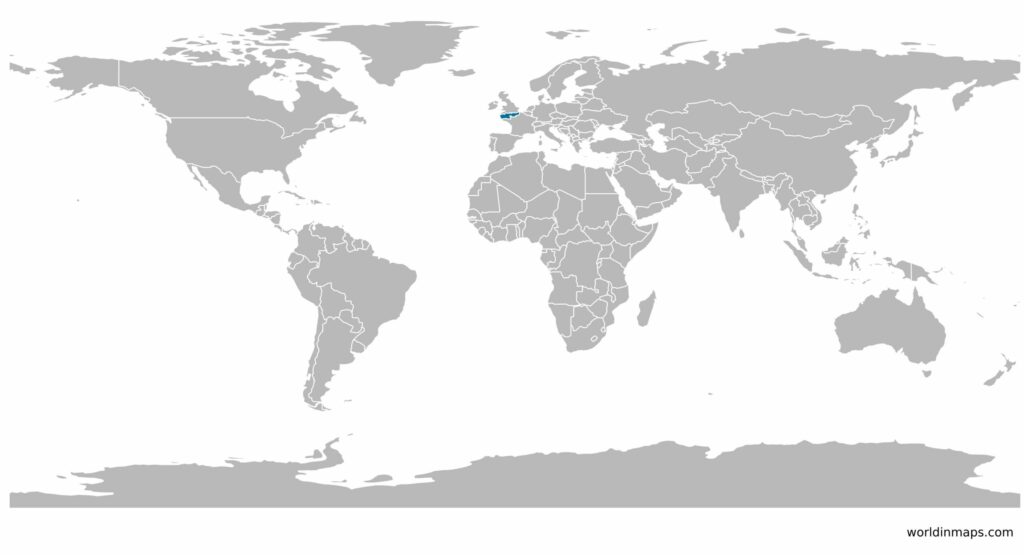 Map of the English Channel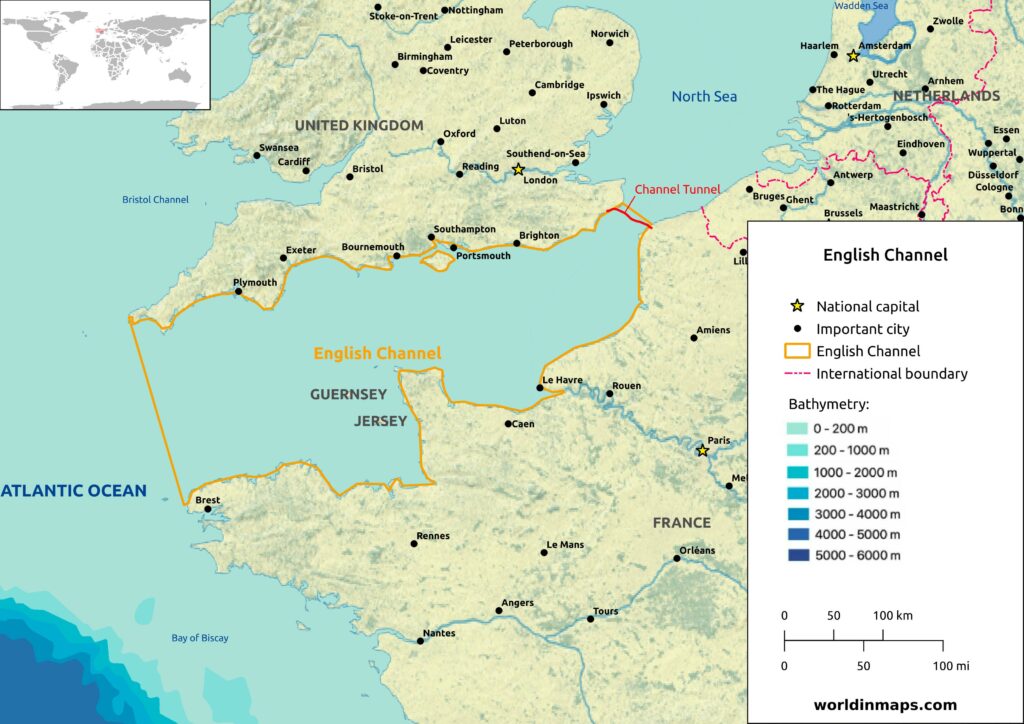 Main features
| | |
| --- | --- |
| Max. length | 560 km (350 mi) |
| Max. width | 240 km (150 mi) |
| Min. width | 34 km (21 mi) |
| Surface Area | 75,000 km2 (29,000 sq mi |
| Average Depth | 63 m (207 ft) |
| Max. Depth | 174 m (571 ft) at Hurd's Deep |
| Salinity | 3.4–3.5% |
| Max. Temperature | 20 °C (68 °F) |
| Min. Temperature | 5 °C (41 °F) |
English Channel width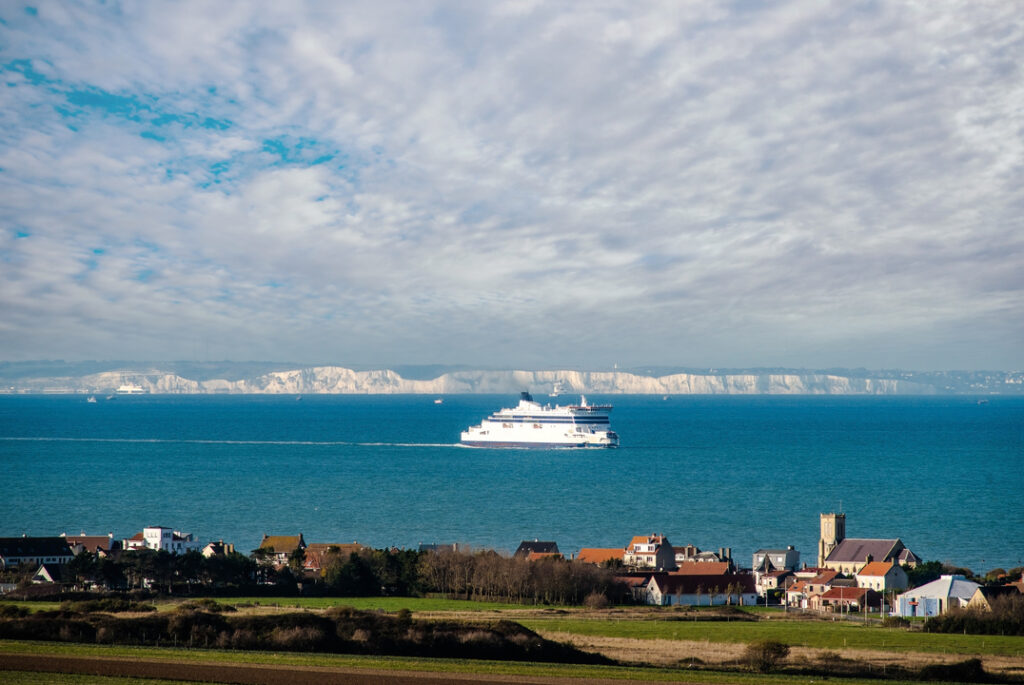 The width of the Channel is at is widest 240 km (150 mi) and 34 km (21 mi) at its narrowest place. This narrow distance is located at the strait of Dover. When the weather allows it, it is possible to see the English coast from France and the French coast from England.
Shipping traffic
The English Channel is the busiest international seaway in the world, with 400 commercial vessels daily. Indeed, the boats have to cross the strait of Dover to travel between the Atlantic Ocean and the North Sea to join, under others, Antwerp and Rotterdam, which are among the biggest port in the world.
The English Channel is also crossed transversely by ferries that connect the United Kingdom with France. Prior to 1994 and except air transport, it was the only way of transport between these 2 countries.
The Channel Tunnel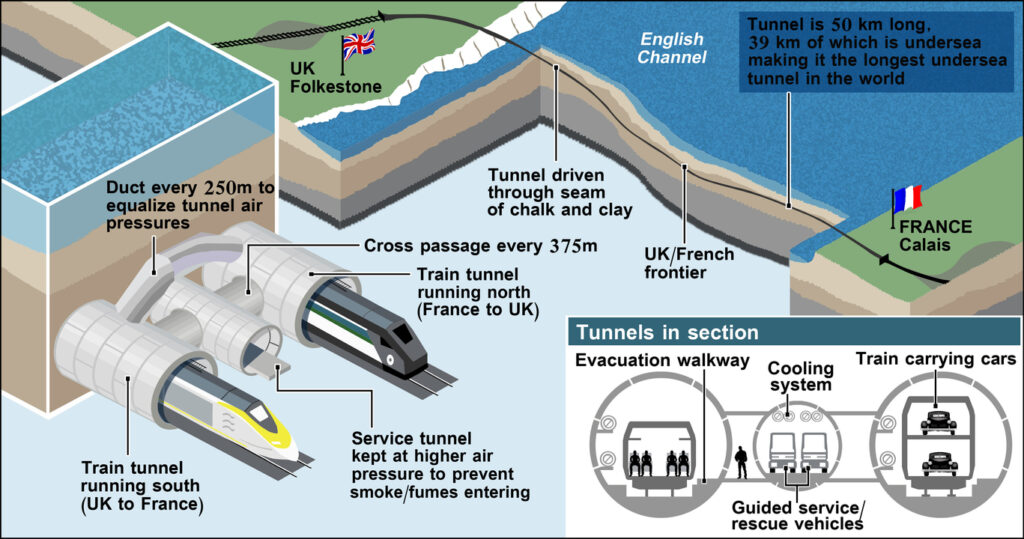 The Channel Tunnel (also call the Chunnel) is the name of the underwater railroad tunnel that goes from Folkestone in the southeast of the United Kingdom to Coquelles, near Calais, in the north of France. The tunnel was built between 1987 and 1994 to link the United Kingdom with the European continent. The Channel Tunnel is the tunnel with the longest underwater section in the world with a total length of 50,5 km (31 mi) and 38 km (23.5 mi) of it underwater. At its deepest point, it is located 75 m (250 ft) below the sea bed and 115 m (380 ft) below sea level. The tunnel is composed of 2 lateral tubes for the trains and 1 central for service. The speed limit for the trains in the tunnel is 160 km/h (100 mph).