Andorra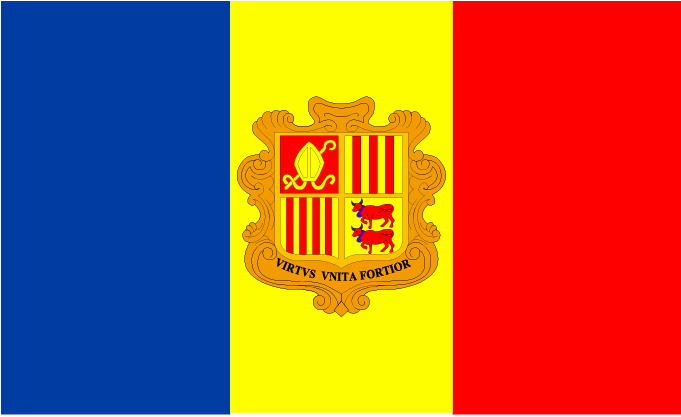 Government
Name
Principality of Andorra
Catalan
Principat d'Andorra
Government type
Principat d'Andorra1
Capital
Andorra la Vella (23,000 (2018))
Currency
Euro (EUR)
People
Population (2020)
77,265 (203rd)
Density of population
179.8 P/km2 (71st)
Nationality
Andorran
Official languages
Catalan
Ethnic groups (2017)
Andorran
48.8%
Spanish
25.1%
Portuguese
12%
French
4.4%
Other
9.7%
Religion
Roman Catholic
Predominant
Life expectancy (2020)
Male
80.8 years
Female
85.4 years
Total population
83 years (9st)
Homicides
Total (2015)
0 per 100,000 people (174th)
Literacy (2016)
Definition: age 15 and over can read and write
Male
100%
Female
100%
Total population
100%
Geography
Land area
468 km2
water area
0 km2
total area
468 km2 (196th)
Mean elevation
1996 m
Lowest point
Riu Runer
840 m
Highest point
Pic de Coma Pedrosa
2,946 m
Land use (2016)
Agricultural land
40%
Arable land
1.7%
Permanent crops
0%
Permanent pasture
38.3%
Forest
34%
Other
26%
Urbanization
Urban population (2020)
87.9%
Rate of urbanization
-0.31% annual rate of change (2015 – 2020)
Economy
Labor force (2016)
39,750 (196th)
Agriculture (2015)
0.5%
Industry (2015)
4.4%
Services (2015)
95.1%
Unemployment rate (2016)
3.7% (44th)
GDP (nominal) (estimate 2018)
Total
$3.237 billion
Per capita
$42,035
GDP by sector (estimate 2015)
Agriculture
11.9%
Industrie
33.6%
Services
54.5%
Exports (2015)
$78.71 million (200th)
Imports (2015)
$1.257 billion (178th)
Andorra on the world map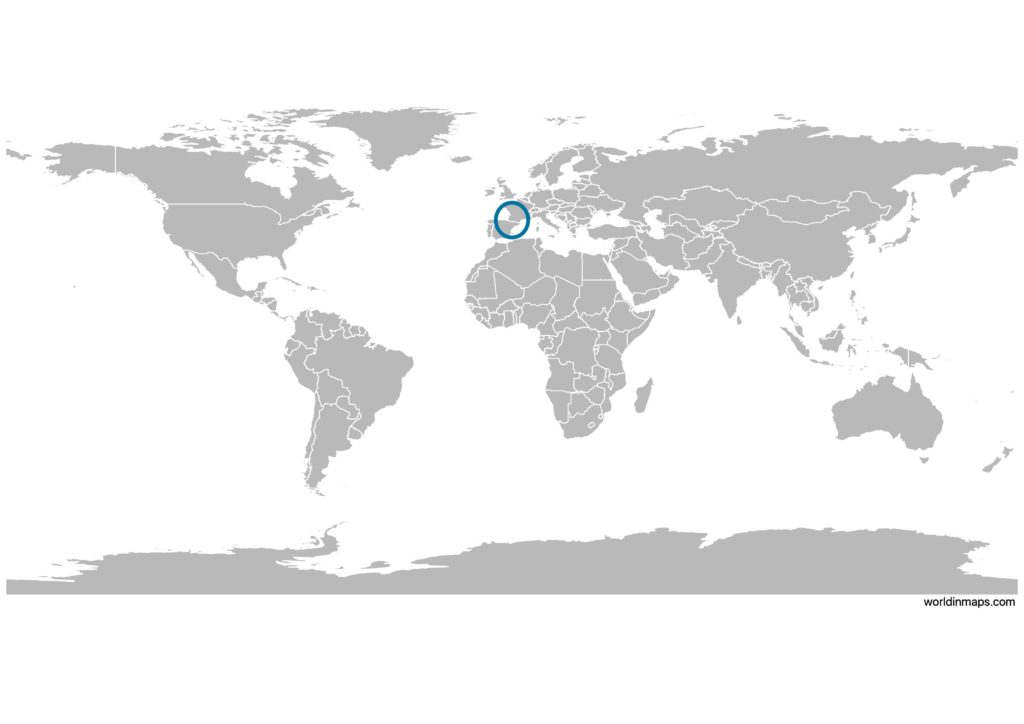 Andorra is a little country located in Europe between France and Spain. It is part of the Iberian Peninsula region.
Political map of Andorra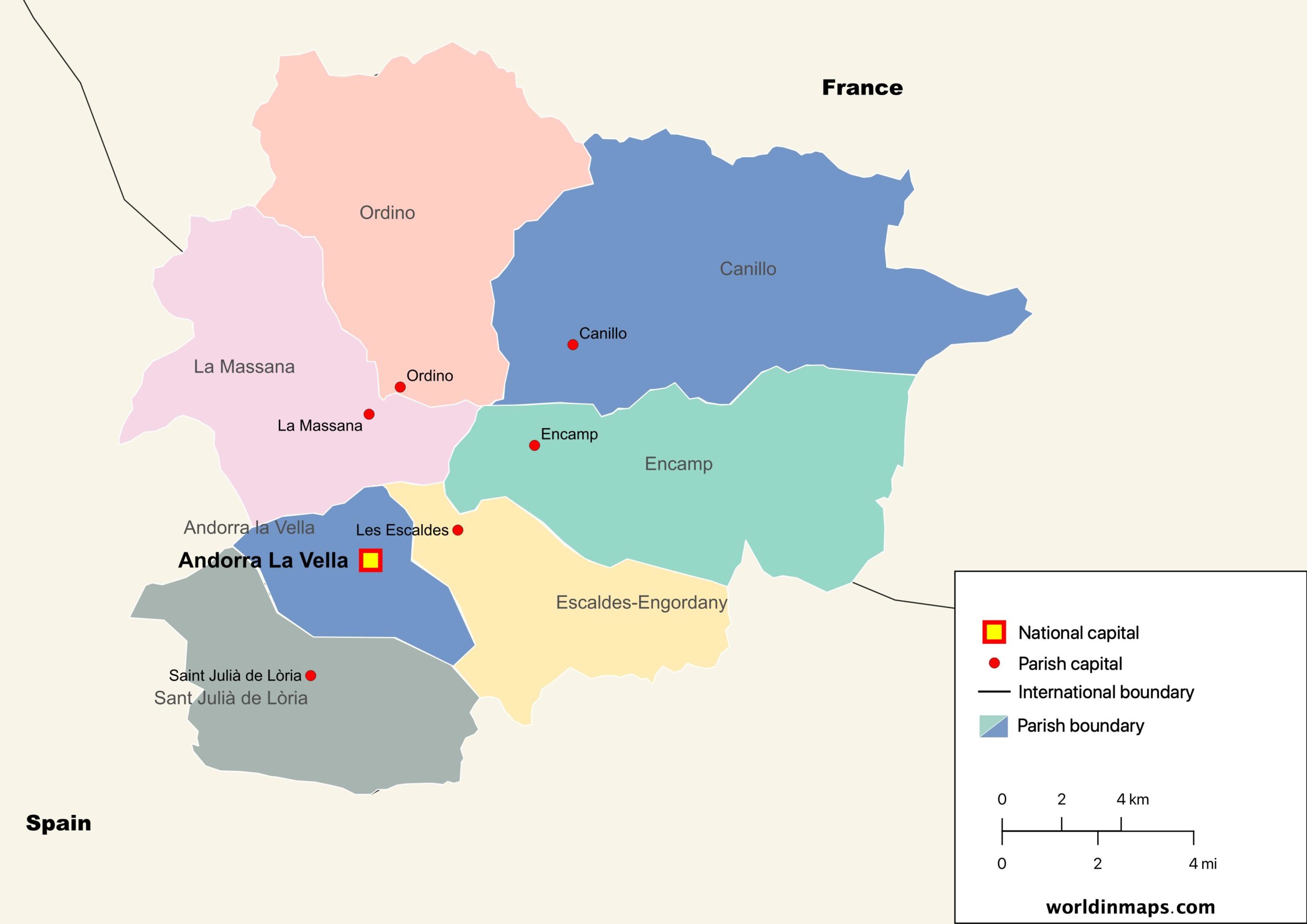 Andorra is located in Southwestern Europe in the Pyrenees mountains, between Spain and France.
Andorra has 7 administrative divisions or parishes: Andorra la Vella, Canillo, Encamp, Escaldes-Engordany, La Massana, Ordino, Sant Julia de Loria.
Physical map of Andorra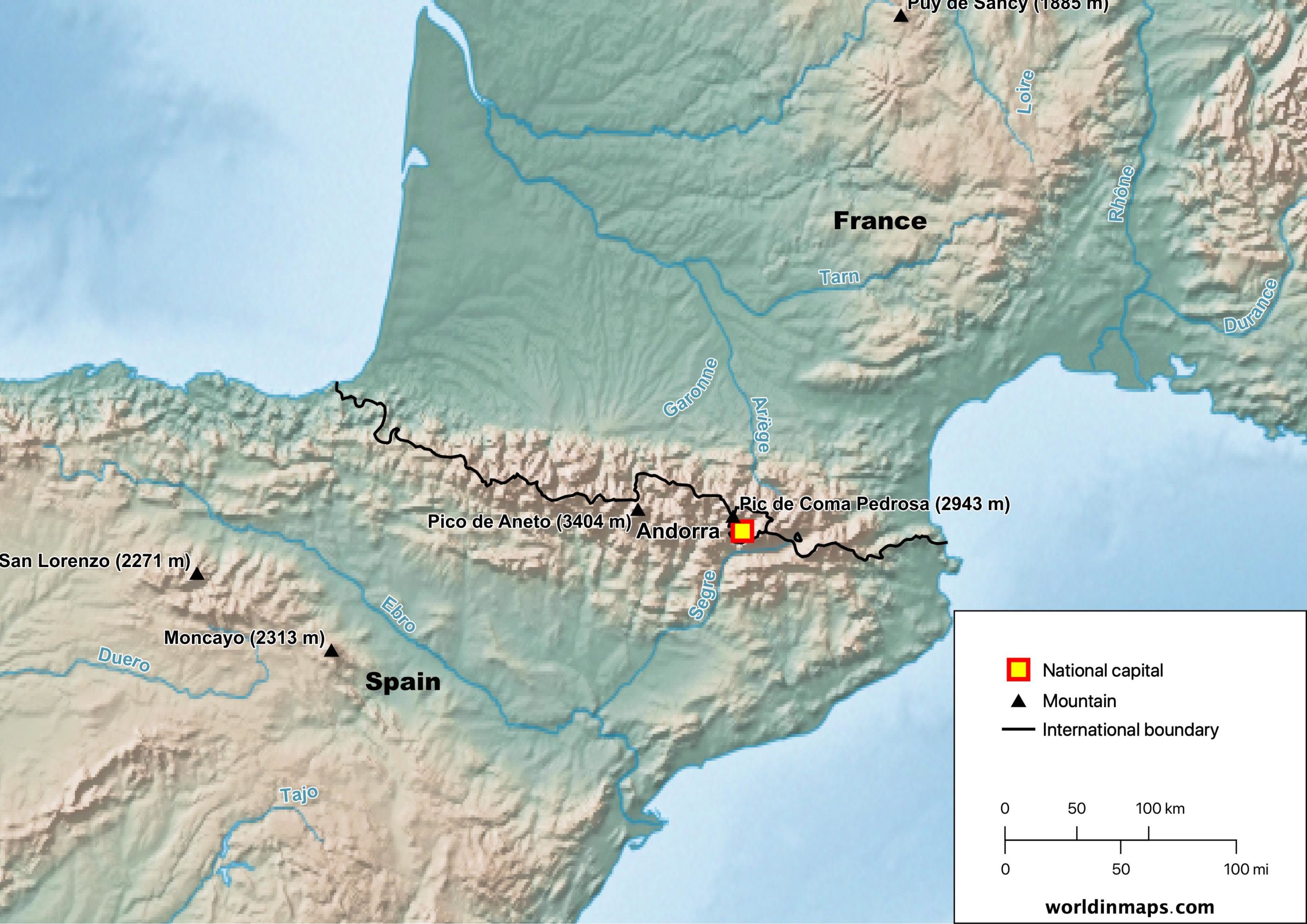 Cities, airports, ports, railroads, ferries and road map of Andorra and the surrounding areas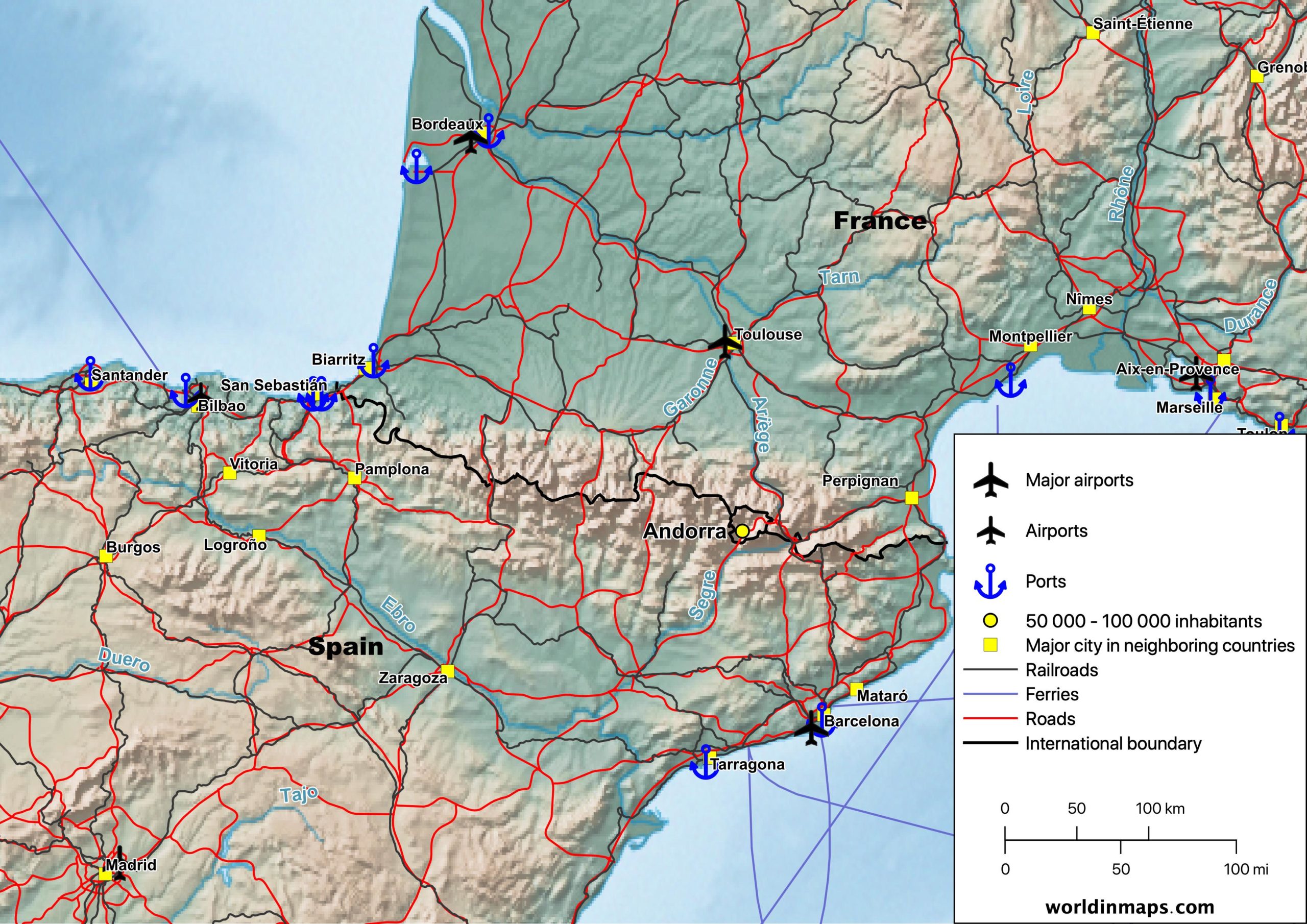 Demography
Age structure
Estimation for 2020:
0-14 years: 13.37% (male 5,901/female 5,551)
15-24 years: 10.16% (male 4,474/female 4,227)
25-54 years: 43.19% (male 18,857/female 18,131)
55-64 years: 15.91% (male 7,184/female 6,443)
65 years and over: 17.36% (male 7,544/female 7,323)
Remark: the age structure of a population affects a nation's key socioeconomic issues. Countries with young populations (high percentage under age 15) need to invest more in schools, while countries with older populations (high percentage ages 65 and over) need to invest more in the health sector. The age structure can also be used to help predict potential political issues. For example, the rapid growth of a young adult population unable to find employment can lead to unrest.
Population from 1950 to 2020
Source: World Development Indicators, The World Bank
Economy
Agriculture:
small quantities of rye, wheat, barley, oats, vegetables, tobacco, sheep, cattle
Industries:
tourism (particularly skiing), banking, timber, furniture
Exports – commodities:
tobacco products, furniture
Imports – commodities:
consumer goods, food, fuel, electricity
Time in Andorra
Go to our interactive map to get the current time in Andorra.
History
Source:
1 The two princes are the President of France and Bishop of Seu d'Urgell, Spain