North Korea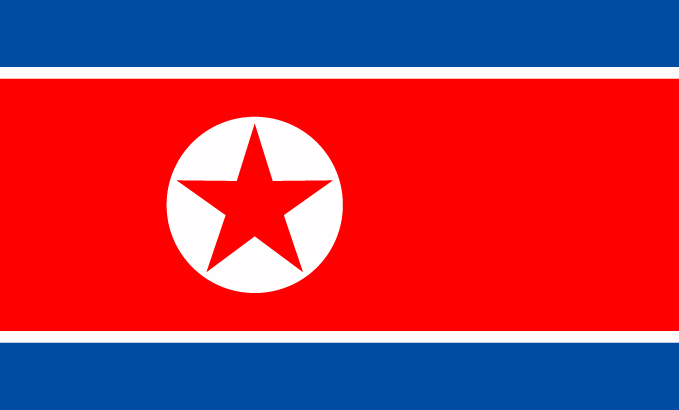 Government
Name
Democratic People's Republic of Korea
Korean
조선민주주의인민공화국
Chosŏn Minjujuŭi Inmin Konghwaguk
Government type
dictatorship – single-party state
Capital
Pyongyang(3,255,288 (2008))
Currency
Korean People's won (KPW)
People
Population (2020)
25,778,815 (55th)
Density of population
212 P/km2 (65th)
Nationality
Korean
Official languages
Korean
Ethnic groups
racially homogeneous (only small Chinese community and a few ethnic Japanese)

Religions
traditionally Buddhist and Confucianist, some Christian and syncretic Chondogyo (Religion of the Heavenly Way)
note: autonomous religious activities now almost nonexistent; government-sponsored religious groups exist to provide illusion of religious freedom
Life expectancy (2020)
Male
67.7 years
Female
75.6 years
Total population
71.6 years (161st)
Homicides
n.a.
Geography
Land area
120,408 km2
water area
130 km2
total area
120,538 km2 (100th)
Mean elevation
600 m
Lowest point
Sea of Japan
0 m
Highest point
Paektu-san
2,744 m
Land use (2011)
Agricultural land
21.8%
Arable land
19.5%
Permanent crops
1.9%
Permanent pasture
0.4%
Forest
46%
Other
32.2%
Urbanization
Urban population (2020)
62.4%
Rate of urbanization
0.82% annual rate of change (2015 – 2020)
Economy
Labor force (2014)
14 million (41st)
Labor force by occupation (2008)
Agriculture
37%
Industry and services
63%
Unemployment rate (2013)
25.6% (197th)
GDP (PPP) (estimate 2014)
Total
$40 billion
Per capita
$1,800
GDP (nominal) (estimate 2017)
Total
$30 billion
Per capita
$1,300
GDP by sector (estimate 2017)
Agriculture
22.5%
Industry
47.6%
Services
29.9%
Exports (2017)
$4.582 billion
Exports partners (2017)
China
86.3%
Imports (2018)
$2.32 billion (160th)
Imports partners (2017)
China
91.9%
North Korea on the world map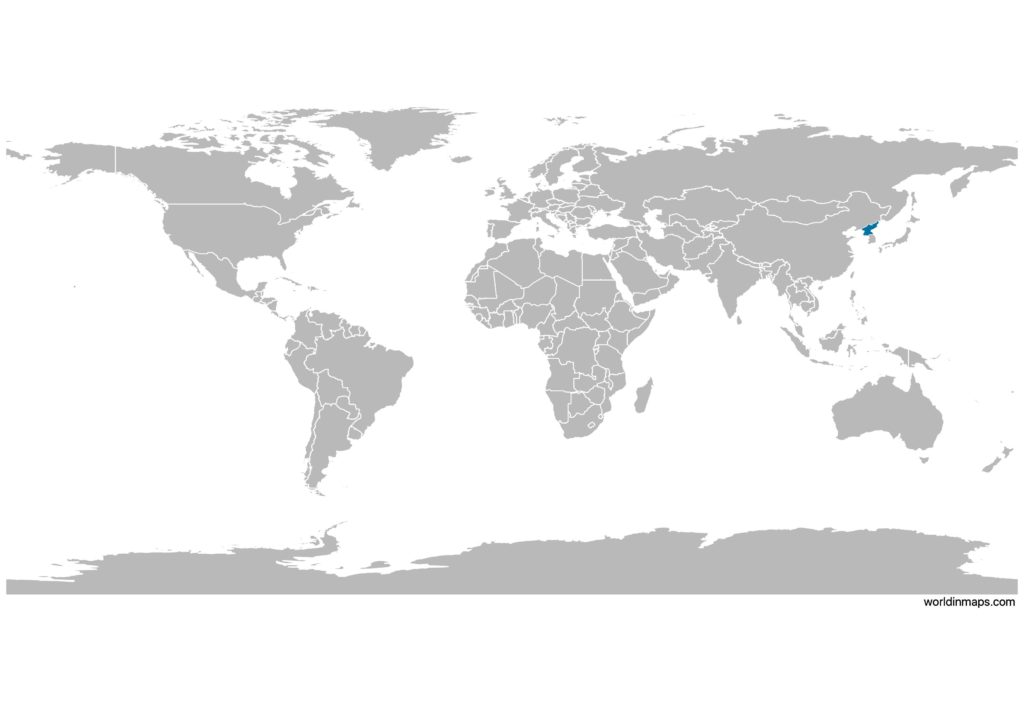 North Korea top 10 largest cities (2008)
Pyongyang (3,255,288)
Hamhung (768,551)
Chongjin (667,929)
Nampo (366,815)
Wonsan (363,127)
Sinuiju (359,341)
Tanchon (345,875)
Kaechon (319,554)
Kaesong (308,440)
Sariwon (307,764)
Demography
Population pyramid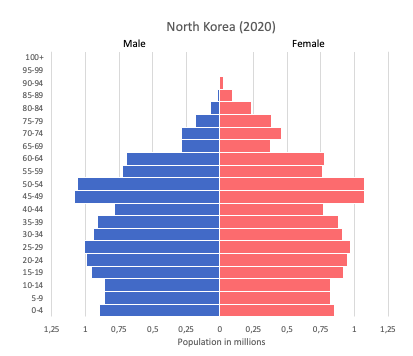 Age structure data
Estimate for 2020:
0-14 years: 20.47% (male 2,677,578/female 2,571,118)
15-24 years: 14.68% (male 1,894,091/female 1,869,799)
25-54 years: 44% (male 5,659,446/female 5,624,034)
55-64 years: 11.2% (male 1,369,199/female 1,503,086)
65 years and over: 9.65% (male 859,151/female 1,615,964)
Remark: the age structure of a population affects a nation's key socioeconomic issues. Countries with young populations (high percentage under age 15) need to invest more in schools, while countries with older populations (high percentage ages 65 and over) need to invest more in the health sector. The age structure can also be used to help predict potential political issues. For example, the rapid growth of a young adult population unable to find employment can lead to unrest.
Population from 1950 to 2020
Source: United Nations, Department of Economic and Social Affairs, Population Division (2019). World Population Prospects 2019, Online Edition. Rev. 1.

Evolution of the life expectancy from 1960 to 2018
Source: World Development Indicators, The World Bank
Economy
Agriculture:
rice, corn, potatoes, wheat, soybeans, pulses, beef, pork, eggs, fruit, nuts
Industries:
military products; machine building, electric power, chemicals; mining (coal, iron ore, limestone, magnesite, graphite, copper, zinc, lead, and precious metals), metallurgy; textiles, food processing; tourism
Exports – commodities:
minerals, metallurgical products, manufactures (including armaments), textiles, agricultural and fishery products
Imports – commodities:
petroleum, coking coal, machinery and equipment, textiles, grain
Time zone and current time in North Korea
Go to our interactive map to get the current time in North Korea
Sources: