Eswatini (Swaziland)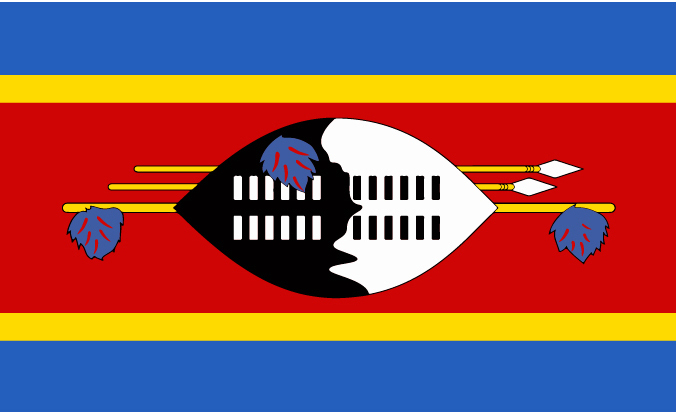 Government
Name
Kingdom of Eswatini
Swazi
Umbuso weSwatini
Government type
absolute monarchy
Executive capital
Mbabane (76,218 (2005))
Legislative and royal capital
Lobamba (4,557 (2005))
Currency
Swazi lilangeni (SZL)
South African rand (ZAR)
Organization
Member State
Commonwealth of Nations
People
Population (2020)
1,160,164 (155th)
Density of population
68.2 P/km2 (135th)
Nationality
Swati / Swazi
Official languages
English
siSwati
Ethnic groups
predominantly Swazi
small populations of other African ethnic groups, including the Zulu, and people of European ancestry
Religions (2015)
Christian
90%
Zionist – a blend of Christianity and indigenous ancestral worship
40%
Roman Catholic
20%
other
30%
Muslim
2%
other
8%
Life expectancy (2020)
Male
56.5 years
Female
60.7 years
Total population
58.6 years (220th)
Homicides
Total (2017)
11.6 per 100,000 people (28th)
Geography
Land area
17,204 km2
water area
160 km2
total area
17,364 km2 (159th)
Mean elevation
305 m
Lowest point
Great Usutu River
21 m
Highest point
Emlembe
1,862 m
Land use (2011)
Agricultural land
68.3%
Arable land
9.8%
Permanent crops
0.8%
Permanent pasture
57.7%
Forest
31.7%
Other
0%
Urbanization
Urban population (2020)
24.2%
Rate of urbanization
2.46% annual rate of change (2015 – 2020)
Economy
Labor force (2016)
427,900 (157th)
Labor force by occupation (2014)
Agriculture
10.7%
Industry
30.4%
Services
58.9%
Unemployment rate (2014)
28% (203rd)
GDP (PPP) (estimate 2019)
Total
$12.293 billion
Per capita
$11,089
GDP (nominal) (estimate 2019)
Total
$4.662 billion
Per capita
$4,146
GDP by sector (estimate 2017)
Agriculture
6.5%
Industry
45%
Services
48.6%
Exports (2017)
$1.83 billion (145th)
Exports partners (2017)
South Africa
94%
Imports (2017)
$1.451 billion (175th)
Imports partners (2017)
South Africa
81.6%
China
5.2%
Eswatini (Swaziland) on the world map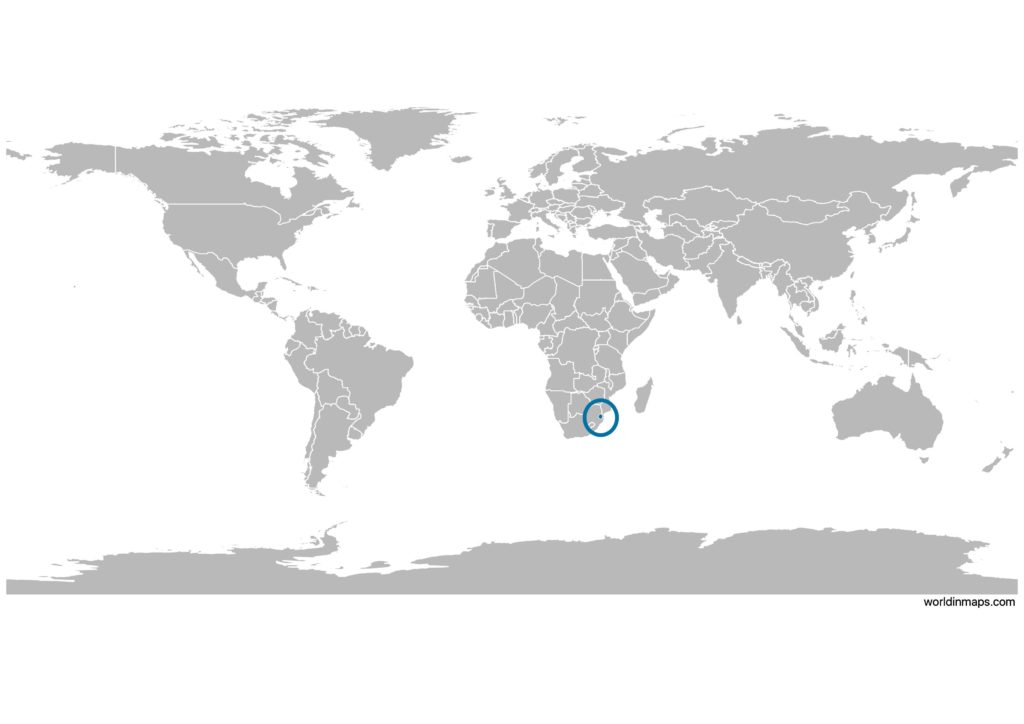 Eswatini (Swaziland) top 10 largest cities (2005)
Manzini (110,537)
Mbabane (76,218)
Big Bend (10,342)
Malkerns (9,724)
Nhlangano (9,016)
Mhlume (8,652)
Hluti (6,763)
Simunye (6,512)
Siteki (6,152)
Piggs Peak (5,750)
Demography
Population pyramid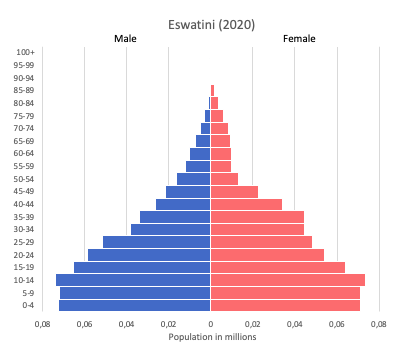 Age structure data
Estimate for 2020:
0-14 years: 33.63% (male 185,640/female 185,808)
15-24 years: 18.71% (male 98,029/female 108,654)
25-54 years: 39.46% (male 202,536/female 233,275)
55-64 years: 4.36% (male 20,529/female 27,672)
65 years and over: 3.83% (male 15,833/female 26,503)
Remark: the age structure of a population affects a nation's key socioeconomic issues. Countries with young populations (high percentage under age 15) need to invest more in schools, while countries with older populations (high percentage ages 65 and over) need to invest more in the health sector. The age structure can also be used to help predict potential political issues. For example, the rapid growth of a young adult population unable to find employment can lead to unrest.
Population from 1950 to 2020
Source: United Nations, Department of Economic and Social Affairs, Population Division (2019). World Population Prospects 2019, Online Edition. Rev. 1.

Evolution of the life expectancy from 1960 to 2018
Source: World Development Indicators, The World Bank
Economy
Agriculture:
sugarcane, corn, cotton, citrus, pineapples, cattle, goats
Industries:
soft drink concentrates, coal, forestry, sugar processing, textiles, and apparel
Exports – commodities:
soft drink concentrates, sugar, timber, cotton yarn, refrigerators, citrus, and canned fruit
Imports – commodities:
motor vehicles, machinery, transport equipment, foodstuffs, petroleum products, chemicals
Time zone and current time in Eswatini (Swaziland)
Go to our interactive map to get the current time in Eswatini (Swaziland)
Sources: