Afghanistan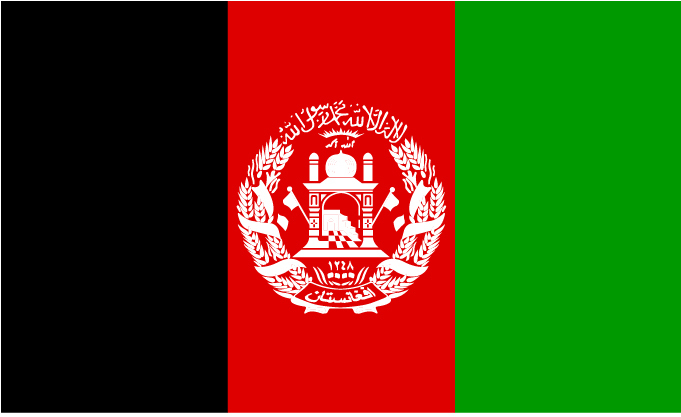 Government
Name
Islamic Republic of Aghanistan
Pashto
د أفغانستان اسلامي جمهوریت
Da Afġānistān Islāmī Jomhouriyet
Dari
جمهوری اسلامی أفغانستان
Jomhūrī-ye Eslāmī-ye Afġānestān
Government type
Presidential Islamic republic
Capital
Kabul (4,273,200 (2020))
Currency
Afghani (AFN)
Organization
Member State
South Asian Association for Regional Cooperation (SAARC)
Observer State
Commonwealth of Independent States (CIS)
People
Population (2020)
38,928,346 (39th)
Density of population
60 P/km2

Nationality
Afghan
Official languages1
Dari
77%
Pashto
48%
Ethnic groups
Pashtun
42%
Tajik
27%
Hazara
9%
Uzbek
9%
Aimaq
4%
Turkmen
3%
Baloch
2%
Others
4%
Religion
Muslim
99.7%
Sunni
84.7 – 89.7%
Shia
10 – 15%)
Other
0.3%
Life expectancy (2020)
Male
51.4 years
Female
54.4 years
Total population
52.8 years (228th)
Homicides
Total (2018)
6.7 per 100,000 people (49th)
Literacy
Definition: age 15 and over can read and write
Male
55.5%
Female
29.8%
Total population
43%
Geography
Land area
652,230 km2
water area
0 km2
total area
652,230 km2 (42th)
Mean elevation
1,884 m
Lowest point
Amu Darya
258 m
Highest point
Noshak
7,492 m
Land use (2016)
Agricultural land
58.1%
Arable land
11.8%
Permanent crops
0.3%
Permanent pasture
46%
Forest
2.07%
Other
39%
Urbanization
Urban population (2020)
26%
Rate of urbanization
3.37% annual rate of change (2015 – 2020)
Economy
Labor force (2017)
8.478 million (61th)
Agriculture
44.3%
Industry
18.1%
Services
37.6%
Unemployment rate (2017)
23.9% (194th)
GDP (PPP) (estimate 2018)
Total
$72.911 billion (96th)
Per capita
$2,024 (169th)
GDP (nominal) (estimate 2018)
Total
$21.657 billion (111st)
Per capita
$601 (177th)
GDP by sector (estimate 2016)
Agriculture
23%
Industrie
21.1%
Services
55.9%
Exports (2017)
$784 million (170th)
Exports partners (2017)
India
56.5%
Pakistan
29.6%
Imports (2017)
$7.616 billion (113th)
Imports partners (2017)
China
21%
Iran
20.5%
Pakistan
11.8%
Kazakhstan
11%
Uzbekistan
6.8%
Malaysia
5.3%
Afghanistan on the world map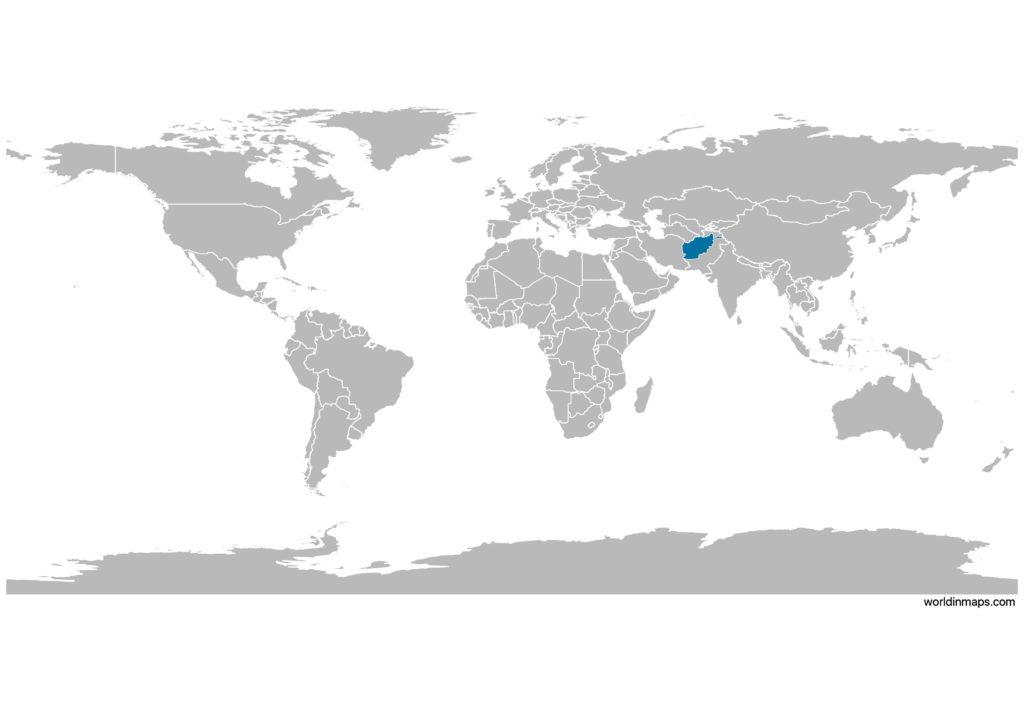 States and political map of Afghanistan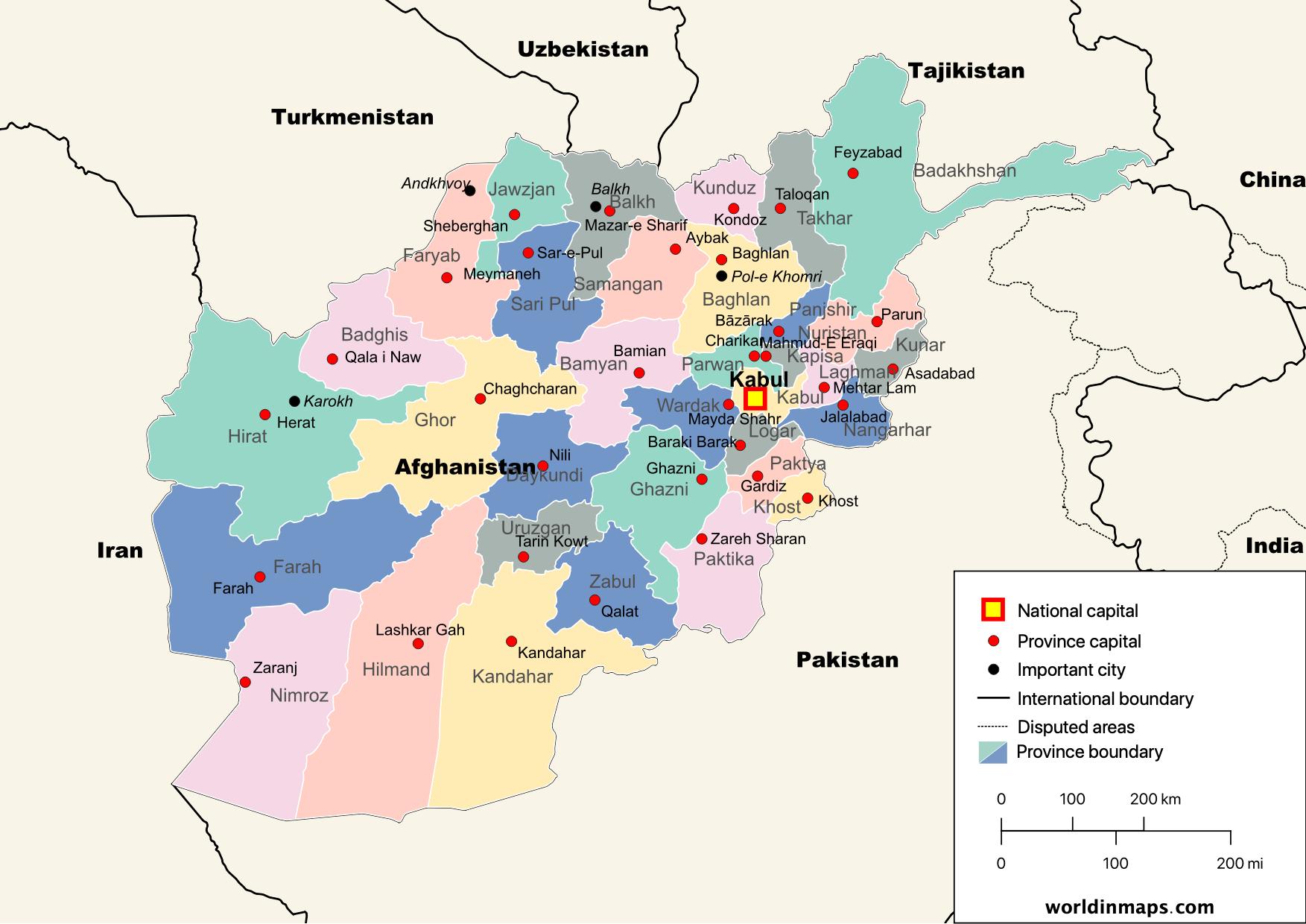 Afghanistan is a landlocked country. It is bordered by Tajikistan, Uzbekistan, and Turkmenistan to the north, Iran to the west, and Pakistan to the south and east. Finally, a little part of the east is in contact with China.
Afghanistan has 34 provinces (welayat, singular – welayat): Badakhshan, Badghis, Baghlan, Balkh, Bamyan, Daykundi, Farah, Faryab, Ghazni, Ghor, Helmand, Herat, Jowzjan, Kabul, Kandahar, Kapisa, Khost, Kunar, Kunduz, Laghman, Logar, Nangarhar, Nimroz, Nuristan, Paktika, Paktiya, Panjshir, Parwan, Samangan, Sar-e Pul, Takhar, Uruzgan, Wardak, Zabul.
Physical map of Afghanistan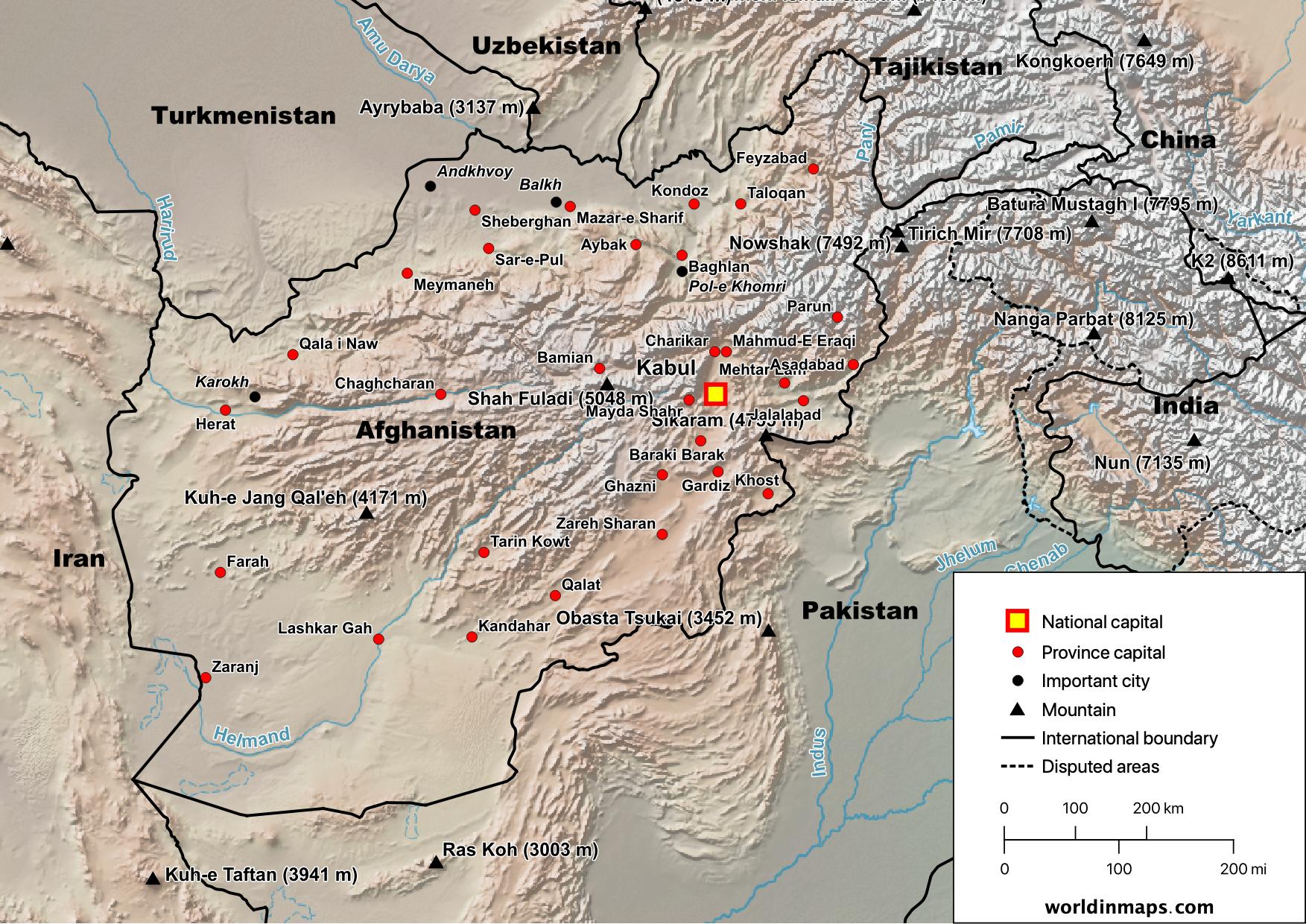 Cities, Railroads and road map of Afghanistan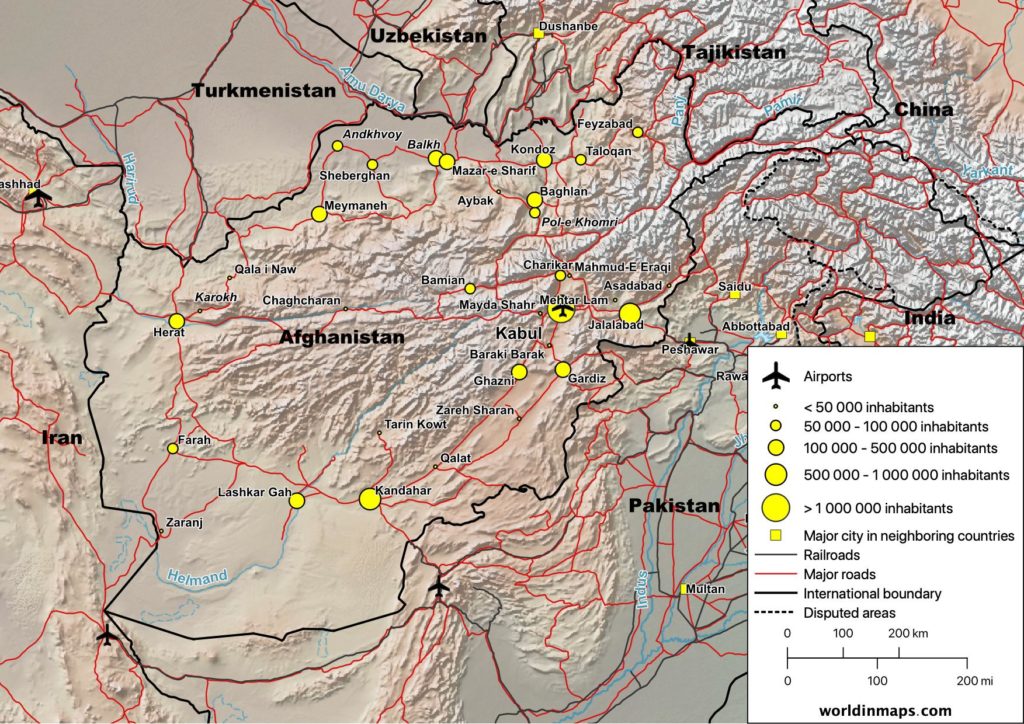 Afghanistan top 10 largest cities (2019)
Kabul: 4,273,200
Kandahar: 614,300
Herat: 556,200
Mazar-i-Sharif: 469,200
Kunduz: 356,500
Jalalabad: 263,200
Taloqan: 253,700
Puli Khumri: 237,900
Ghazni: 183,000
Khost: 153,300
Demography
Population pyramid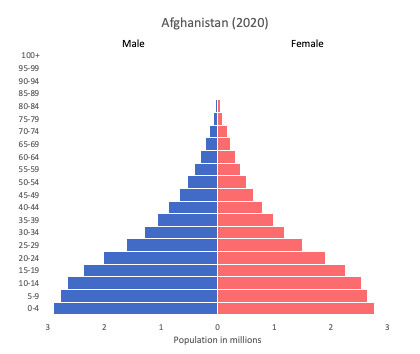 Age structure
Estimation for 2020:
0-14 years (children): 40.62% (male 7,562,703/female 7,321,646)
15-24 years (early working age): 21.26% (male 3,960,044/female 3,828,670)
25-54 years (prime working age): 31.44% (male 5,858,675/female 5,661,887)
55-64 years (mature working age): 4.01% (male 724,597/female 744,910)
65 years and over (elderly): 2.68% (male 451,852/female 528,831)
Remark: the age structure of a population affects a nation's key socioeconomic issues. Countries with young populations (high percentage under age 15) need to invest more in schools, while countries with older populations (high percentage ages 65 and over) need to invest more in the health sector. The age structure can also be used to help predict potential political issues. For example, the rapid growth of a young adult population unable to find employment can lead to unrest.
Population from 1950 to 2020
Source: United Nations, Department of Economic and Social Affairs, Population Division (2019). World Population Prospects 2019, Online Edition. Rev. 1.

Evolution of the life expectancy from 1960 to 2018
Source: World Development Indicators, The World Bank
Economy
Agriculture:
opium, wheat, fruits, nuts, wool, mutton, sheepskins, lambskins, poppies
Industries:
small-scale production of bricks, textiles, soap, furniture, shoes, fertilizer, apparel, food products, non-alcoholic beverages, mineral water, cement; handwoven carpets; natural gas, coal, copper
Exports – commodities:
opium, fruits and nuts, handwoven carpets, wool, cotton, hides and pelts, precious and semi-precious gems, and medical herbs
Imports – commodities:
machinery and other capital goods, food, textiles, petroleum products
Time in Afghanistan
Go to our interactive map to get the current time in Afghanistan.
Source:
1 data represent most widely spoken languages; shares sum to more than 100% because there is much bilingualism in the country and because respondents were allowed to select more than one language