Iran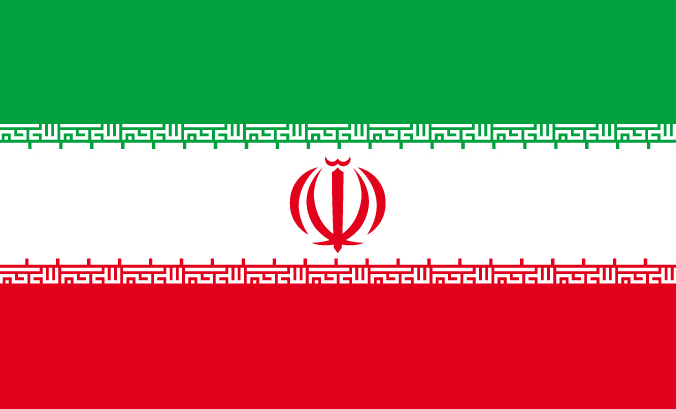 Government
Name
Islamic Republic of Iran
Persian
جمهوری اسلامی ایران
Jomhuri-ye Eslāmi-ye Irān
Government type
Theocratic republic

Capital
Tehran (8,693,706 (2016))
Currency
Rial (IRR)
Organization
Observer State
South Asian Association for Regional Cooperation (SAARC)
People
Population (2020)
83,992,953 (17th)
Density of population
48 P/km2 (162nd)
Nationality
Iranian
Official languages
Persian (Persian Farsi)
Ethnic groups
Persian
Azeri
Kurd
Lur
Baloch
Arab
Turkmen
Turkic
Religions (2011)
Muslim (official)
99.4%
Shia
90-95%
Sunni
5-10%
Other
0.3%
Unspecified
0.4%
Life expectancy (2020)
Male
73.1 years
Female
76 years
Total population
74.5 years (131st)
Homicides
Total (2014)
2.5 per 100,000 people (90th)
Geography
Land area
1,531,595 km2
water area
116,600 km2
total area
1,648,195 km2 (19th)
Mean elevation
1,305 m
Lowest point
Caspian Sea
-28 m
Highest point
Kuh-e Damavand
5,625 m
Land use (2011)
Agricultural land
30.1%
Arable land
10.8%
Permanent crops
1.2%
Permanent pasture
18.1%
Forest
6.8%
Other
63.1%
Urbanization
Urban population (2020)
75.9%
Rate of urbanization
1.71% annual rate of change (2015 – 2020)
Economy
Labor force (2017)
30.5 million (21st)
note: shortage of skilled labor
Labor force by occupation (2013)
Agriculture
16.3%
Industry
35.1%
Services
48.6%
Unemployment rate (2017)
11.8% (157th)
GDP (PPP) (estimate 2019)
Total
$1.471 trillion (18th)
Per capita
$17,662 (66th)
GDP (nominal) (estimate 2019)
Total
$458.500 billion (25th)
Per capita
$5,506 (95th)
GDP by sector (estimate 2016)
Agriculture
9.6%
Industry
35.3%
Services
55.1%
Exports (2017)
$101.4 billion (37th)
Exports partners (2017)
China
27.5%
India
15.1%
South Korea
11.4%
Turkey
11.1%
Italy
5.7%
Japan
5.3%
Imports (2017)
$76.39 billion (44th)
Imports partners (2017)
UAE
29.8%
China
12.7%
Turkey
4.4%
South Korea
4%
Germany
4%
Iran on the world map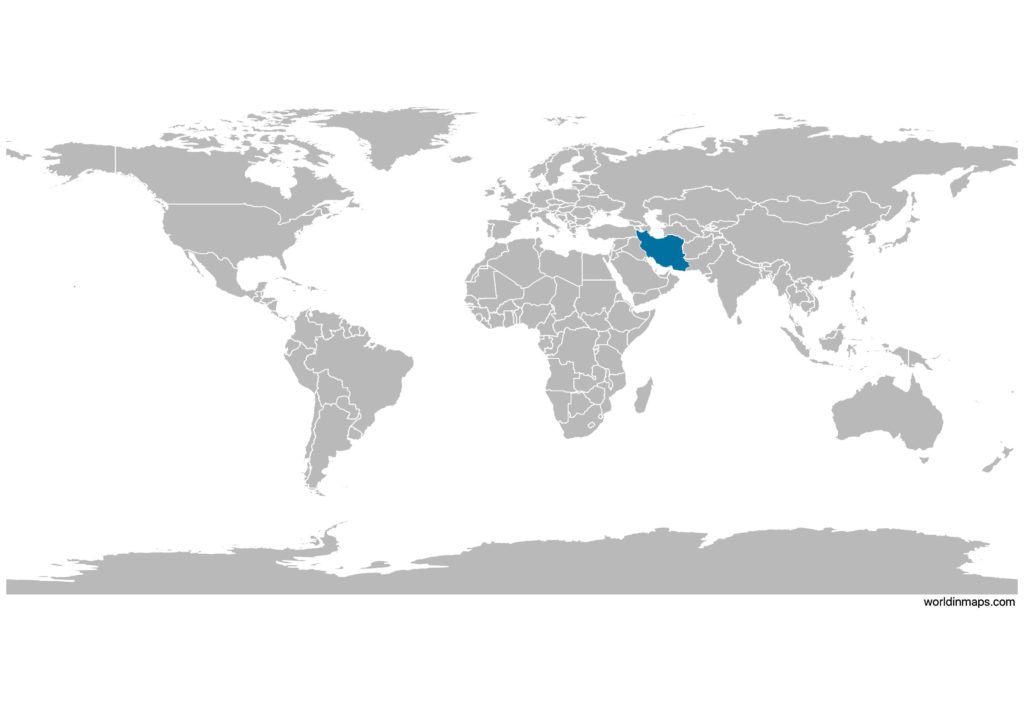 Iran is located in Asia and more specifically in the Middle East.
Iran top 10 largest cities (2016)
Tehran (8,693,706)
Mashhad (3,001,184)
Isfahan (1,961,260)
Karaj (1,592,492)
Shiraz (1,565,572)
Tabriz (1,558,693)
Qom (1,201,158)
Ahvaz (1,184,788)
Kermanshah (946,651)
Urmia (736,224)
Demography
Population pyramid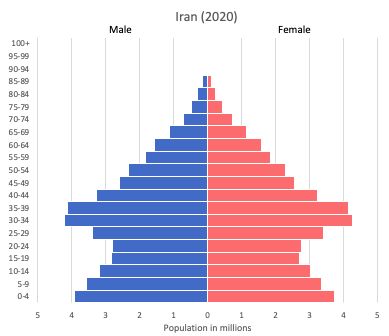 Age structure data
Estimate for 2020:
0-14 years: 24.11% (male 10,472,844/female 10,000,028)
15-24 years: 13.36% (male 5,806,034/female 5,537,561)
25-54 years: 48.94% (male 21,235,038/female 20,327,384)
55-64 years: 7.72% (male 3,220,074/female 3,337,420)
65 years and over: 5.87% (male 2,316,677/female 2,670,254)
Remark: the age structure of a population affects a nation's key socioeconomic issues. Countries with young populations (high percentage under age 15) need to invest more in schools, while countries with older populations (high percentage ages 65 and over) need to invest more in the health sector. The age structure can also be used to help predict potential political issues. For example, the rapid growth of a young adult population unable to find employment can lead to unrest.
Population from 1950 to 2020
Source: United Nations, Department of Economic and Social Affairs, Population Division (2019). World Population Prospects 2019, Online Edition. Rev. 1.

Evolution of the life expectancy from 1960 to 2018
Source: World Development Indicators, The World Bank
Economy
Agriculture:
wheat, rice, other grains, sugar beets, sugarcane, fruits, nuts, cotton, dairy products, wool, caviar
Industries:
petroleum, petrochemicals, gas, fertilizer, caustic soda, textiles, cement and other construction materials, food processing (particularly sugar refining and vegetable oil production), ferrous and nonferrous metal fabrication, armaments
Exports – commodities:
petroleum 60%, chemical and petrochemical products, fruits and nuts, carpets, cement, ore
Imports – commodities:
industrial supplies, capital goods, foodstuffs and other consumer goods, technical services
Time zone and current time in Iran
Go to our interactive map to get the current time in Iran
Sources: