Albania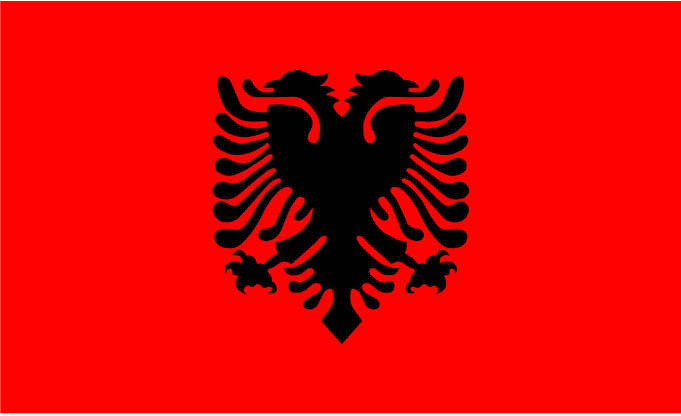 Government
Name
Republic of Albania
Albanian
Republika e Shqipërisë
Government type
Parliamentary republic
Capital
Tirana (494,000 (2020))
Currency
Lek (ALL)
People
Population (2020)
2,877,800 (136th)
Density of population
106 P/km2
Nationality
Albanian
Official languages1
Albanian
98.8%
Ethnic groups
Albanian
82.6%
Greek
0.9%
Other
1%
Unspecified
15.5%
Religion
Muslim
56.7%
Roman Catholic
10%
Orthodox
6.8%
Atheist
2.5%
Bektashi (a sufi order)
2.1%
Other
5.7%
Unspecified
16.2%
Life expectancy (2020)
Male
76.3 years
Female
81.9 years
Total population
79 years (61st)
Homicides
Total (2018)
2.3 per 100,000 people (99th)
Literacy
Definition: age 15 and over can read and write
Male
98.5%
Female
97.8%
Total population
98.1%
Geography
Land area
27,398 km2
water area
1,350 km2
total area
28,748 km2 (145th)
Mean elevation
708 m
Lowest point
Adriatic Sea
0 m
Highest point
Maja e Korabit (Golem Korab)
2,764 m
Land use (2016)
Agricultural land
43.1%
Arable land
22.6%
Permanent crops
3%
Permanent pasture
17.5%
Forest
28.12%
Other
28.75%
Urbanization
Urban population (2020)
62.1%
Rate of urbanization
1.69% annual rate of change (2015 – 2020)
Economy
Labor force (2017)
1.198 million (140th)
Agriculture
41.4%
Industry
18.3%
Services
40.3%
Unemployment rate (2017)
13.8% (168th)
GDP (PPP) (estimate 2020)
Total
$42.594 billion
Per capita
$14,866
GDP (nominal) (estimate 2020)
Total
$16.753 billion
Per capita
$5,847
GDP by sector (estimate 2017)
Agriculture
21.7%
Industrie
24.2%
Services
54.1%
Exports (2017)
$900.7 million (164th)
Exports partners (2017)
Italy
53.4%
Kosovo
7.7%
Spain
5.6%
Greece
4.2%
Imports (2017)
$4.103 billion (138th)
Imports partners (2017)
Italy
28.5%
Turkey
8.1%
Germany
8%
Greece
8%
China
7.9%
Serbia
4%
Albania on the world map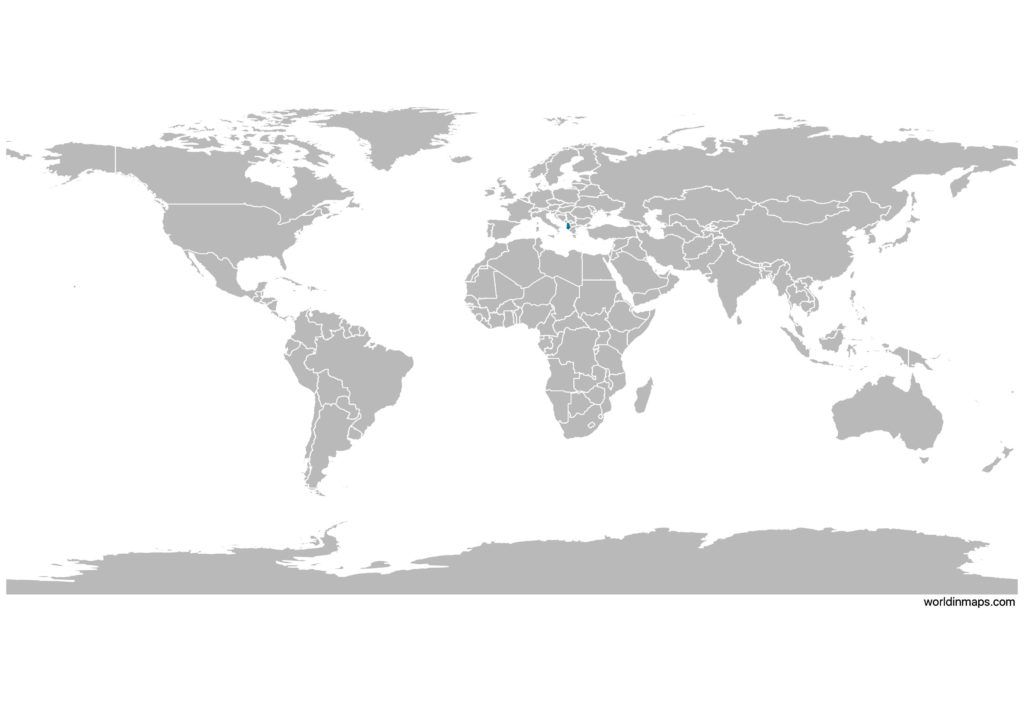 States and political map of Albania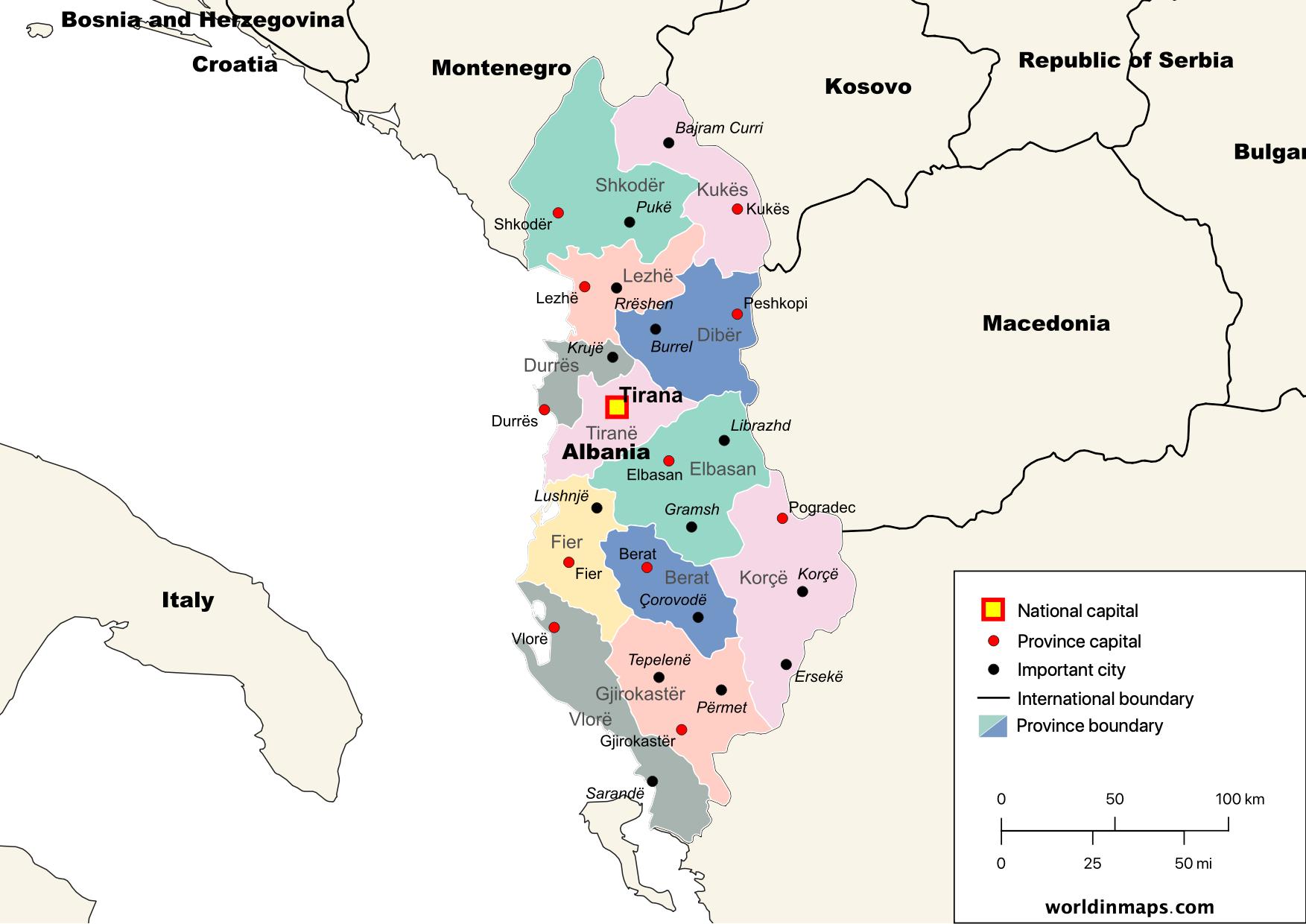 Albania is located in Southeastern Europe. It is bordering the Adriatic Sea and the Ionian Sea on the West. In the South, it is limited by Greece. In the East it has borders with Macedonia and Kosovo. Finally, it is limited in the North by Montenegro.
Albania has 12 provinces: Shkodër, Kukës, Lezhë, Dibër, Durrës, Tiranë, Elbasan, Fier, Berat, Korçë, Gjirokastër and Vlorë.
Physical map of Albania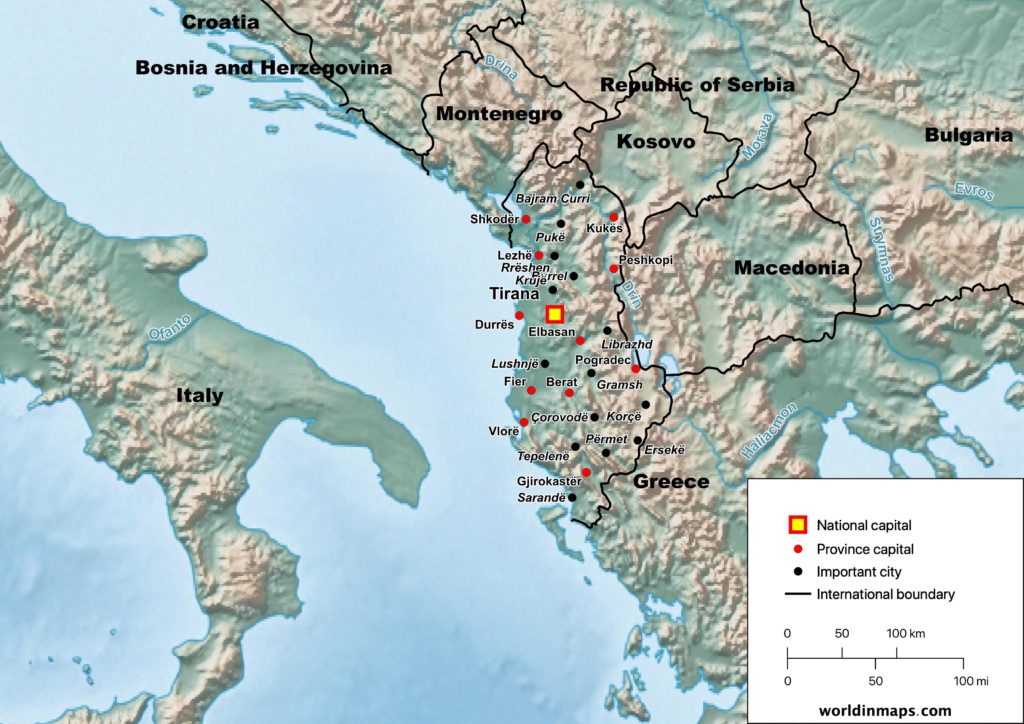 Cities, Railroads and road map of Albania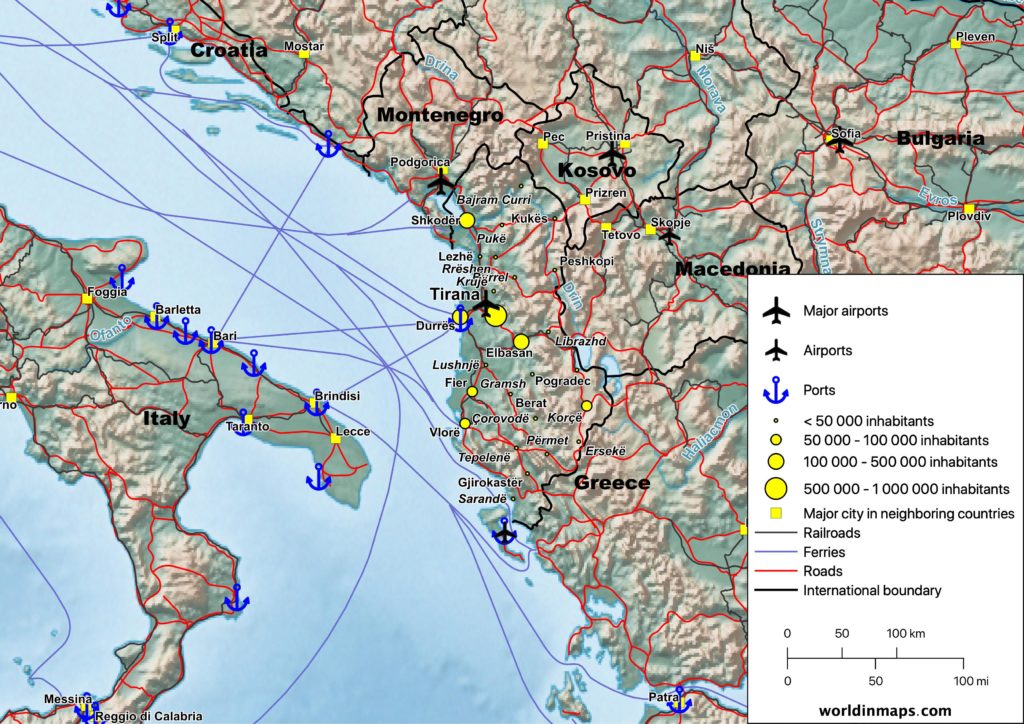 Albania top 10 largest cities (2011)
Tirana (418,495)
Durrës (113,249)
Vlorë (79,513)
Shkodër (78,703)
Elbasan (77,075)
Fier (55,845)
Korçë (51,152)
Berat (32,606)
Lushnjë (31,105)
Pogradec (20,848)
Demography
Population pyramid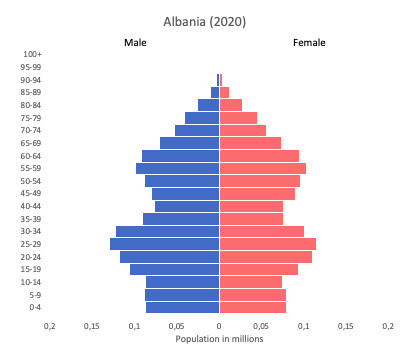 Age structure
Estimation for 2020:
0-14 years: 17.6% (male 284,636/female 256,474)
15-24 years: 15.39% (male 246,931/female 226,318)
25-54 years: 42.04% (male 622,100/female 670,307)
55-64 years: 11.94% (male 178,419/female 188,783)
65 years and over: 13.03% (male 186,335/female 214,276)
Remark: the age structure of a population affects a nation's key socioeconomic issues. Countries with young populations (high percentage under age 15) need to invest more in schools, while countries with older populations (high percentage ages 65 and over) need to invest more in the health sector. The age structure can also be used to help predict potential political issues. For example, the rapid growth of a young adult population unable to find employment can lead to unrest.
Population from 1950 to 2020
Source: United Nations, Department of Economic and Social Affairs, Population Division (2019). World Population Prospects 2019, Online Edition. Rev. 1.
Evolution of the life expectancy from 1960 to 2018
Source: World Development Indicators, The World Bank
Economy
Agriculture:
wheat, corn, potatoes, vegetables, fruits, olives and olive oil, grapes, meat, dairy products, sheep and goats
Industries:
food, footwear, apparel and clothing, lumber, oil, cement, chemicals, mining, basic metals, hydropower
Exports – commodities:
apparel and clothing, footwear, asphalt, metals and metallic ores, crude oil, cement and construction materials, vegetables, fruits, tobacco
Imports – commodities:
machinery and equipment, foodstuffs, textiles, chemicals
Time in Albania
Go to our interactive map to get the current time in Albania.
Source:
1 data represent most widely spoken languages; shares sum to more than 100% because there is much bilingualism in the country and because respondents were allowed to select more than one language