Serbia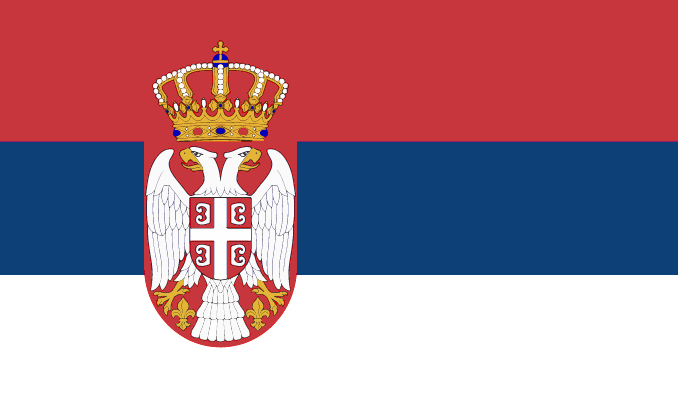 Government
Name
Republic of Serbia
Serbian
Република Србија
Republika Srbija
Government type
parliamentary republic
Capital
Belgrade (1,659,440 (2011))
Currency
Serbian dinar (RSD)
People
Population (2020)
8,737,370 (including Kosovo)
Density of population
89 P/km2 (95th)
Nationality
Serb
Official languages
Serbian
Ethnic groups (2011)
Serb
83.3%
Hungarian
3.5%
Romani
2.1%
Bosniak
2%
Other
9.1%
Religions (2011)
Orthodox
84.6%
Catholic
5%
Muslim
3.1%
Protestant
1%
atheist
1.1%
other
5.3%
Life expectancy (2020)
Male
73.4 years
Female
79.4 years
Total population
76.3 years (99th)
Homicides
Total (2018)
1.2 per 100,000 people (129th)
Geography
Land area
77,474 km2
water area
0 km2
total area
77,474 km2 (118th)
Mean elevation
442 m
Lowest point
Danube and Timok Rivers
35 m
Highest point
Midzor
2,169 m
Land use (2011)
Agricultural land
57.9%
Arable land
37.7%
Permanent crops
3.4%
Permanent pasture
16.8%
Forest
31.6%
Other
10.5%
Urbanization
Urban population (2020)
56.4%
Rate of urbanization
-0.07% annual rate of change (2015 – 2020)
Economy
Labor force (2017)
2.92 million (106th)
Labor force by occupation (2017)
Agriculture
19.4%
Industry
24.5%
Services
56.1%
Unemployment rate (2017)
14.1% (170th)
GDP (PPP) (estimate 2020)
Total
$137.126 billion (75th)
Per capita
$19,767 (excluding Kosovo)(67th)
GDP (nominal) (estimate 2020)
Total
$55.437 billion (81st)
Per capita
$7,992 (excluding Kosovo) (76th)
GDP by sector (estimate 2017)
Agriculture
9.8%
Industry
41.1%
Services
49.1%
Exports (2017)
$15.92 billion (73rd)
Exports partners (2017)
Italy
13.5%
Germany
12.8%
Bosnia and Herzegovina
8.2%
Russia
6%
Romania
4.9%
Imports (2017)
$20.44 billion (76th)
Imports partners (2017)
Germany
12.7%
Italy
10%
China
8.2%
Russia
7.3%
Hungary
4.9%
Poland
4.1%
Serbia on the world map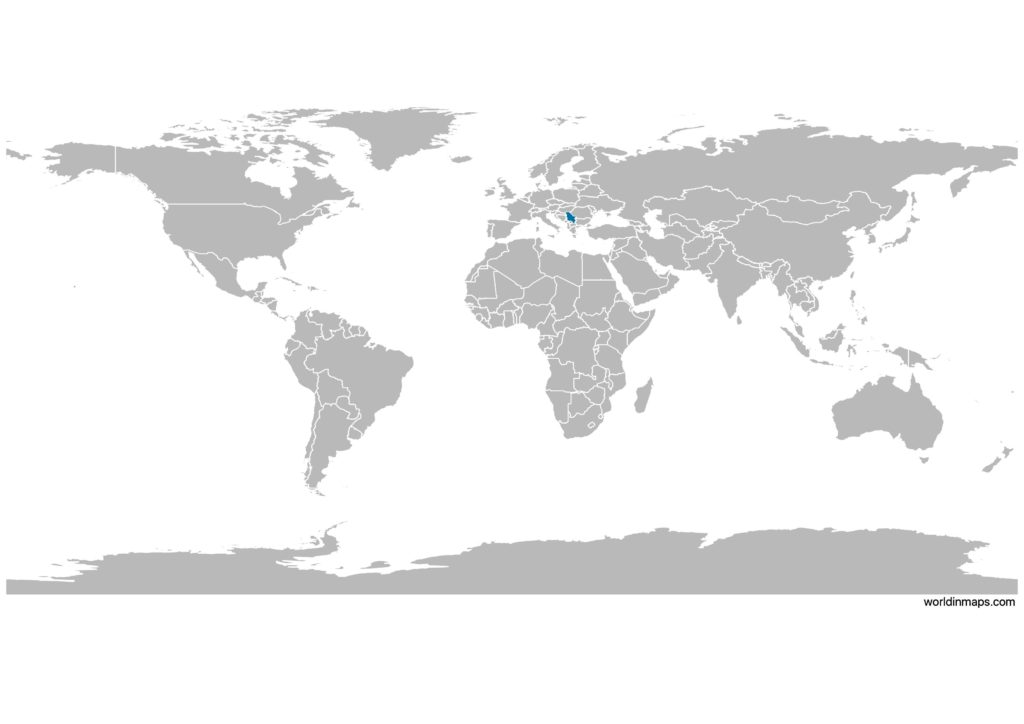 Serbia top 10 largest cities (2011)
Belgrade (1,659,440)
Novi Sad (341,625)
Niš (260,237)
Kragujevac (179,417)
Leskovac (144,206)
Subotica (141,554)
Kruševac (128,752)
Kraljevo (125,448)
Pančevo (123,414)
Zrenjanin (123,362)
Demography
Population pyramid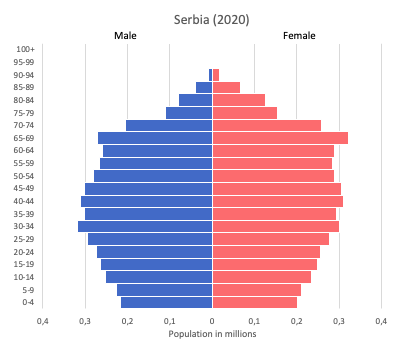 Age structure data
Estimate for 2020:
0-14 years: 14.07% (male 508,242/female 478,247)
15-24 years: 11.04% (male 399,435/female 374,718)
25-54 years: 41.19% (male 1,459,413/female 1,429,176)
55-64 years: 13.7% (male 464,881/female 495,663)
65 years and over: 20% (male 585,705/female 816,685)
Remark: the age structure of a population affects a nation's key socioeconomic issues. Countries with young populations (high percentage under age 15) need to invest more in schools, while countries with older populations (high percentage ages 65 and over) need to invest more in the health sector. The age structure can also be used to help predict potential political issues. For example, the rapid growth of a young adult population unable to find employment can lead to unrest.
Population from 1950 to 2020
Source: United Nations, Department of Economic and Social Affairs, Population Division (2019). World Population Prospects 2019, Online Edition. Rev. 1.
Economy
Agriculture:
wheat, maize, sunflower, sugar beets, grapes/wine, fruits (raspberries, apples, sour cherries), vegetables (tomatoes, peppers, potatoes), beef, pork, and meat products, milk and dairy products
Industries:
automobiles, base metals, furniture, food processing, machinery, chemicals, sugar, tires, clothes, pharmaceuticals
Exports – commodities:
automobiles, iron and steel, rubber, clothes, wheat, fruit and vegetables, nonferrous metals, electric appliances, metal products, weapons and ammunition
Imports – commodities:
machinery and transport equipment, fuels and lubricants, manufactured goods, chemicals, food and live animals, raw materials
Time zone and current time in Serbia
Go to our interactive map to get the current time in Serbia
Sources: