Angola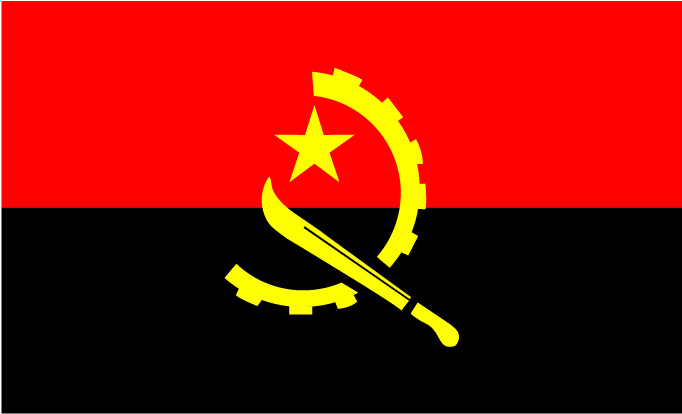 Government
Name
Republic of Angola
Portuguese
República de Angola
Government type
Presidential republic
Capital
Luanda (2,571,861 (2019))
Currency
Kwanze (AOA)
People
Population (2020)
32,866,268 (46th)
Density of population
24.97 P/km2 (199th)
Nationality
Angolan
Official languages
Portuguese
Ethnic groups
Ovimbundu
37%
Kimbundu
25%
Bakongo
13%
mestico (mixed European and native African)
2%
European
1%
Other
22%
Religion
Roman Catholic
41.1%
Protestant
38.1%
Other
8.6%
None
12.3%
Life expectancy (2020)
Male
59.3 years
Female
63.4 years
Total population
61.3 years (213th)
Homicides
Total (2012)
4.8 per 100,000 people (66th)
Literacy (2015)
Definition: age 15 and over can read and write
Male
82%
Female
60.7%
Total population
71.1%
Geography
Land area
1,246,700 km2
water area
0 km2
total area
1,246,700 km2 (24 th)
Mean elevation
1,112 m
Lowest point
Atlantic Ocean
0 m
Highest point
Moca
2,620 m
Land use (2016)
Agricultural land
47.5%
Arable land
3.9%
Permanent crops
0.3%
Permanent pasture
43.3%
Forest
46.3%
Other
6.2%
Urbanization
Urban population (2020)
66.8%
Rate of urbanization
4.32% annual rate of change (2015 – 2020)
Economy
Labor force (2017)
12.51 million (46th)
Agriculture
85%
Industry and service
15%
Unemployment rate (2016)
6.6% (97th)
GDP (PPP) (estimate 2019)
GDP (PPP) (estimate 2019)
Total
$208.034 billion (64th)
Per capita
$6,850 (107th)
GDP (nominal) (estimate 2019)
Total
$124.600 billion (61st)
Per capita
$4,101 (91st)
GDP by sector (estimate 2011)
Agriculture
10.2%
Industry
61.4%
Services
28.4%
Exports (2017)
$33.07 million (59th)
Exports partners (2017)
China
61.2%
India
13%
US
4.2%
Imports (2017)
$19.5 billion (77th)
Imports partners (2017)
Portugal
17.8%
China
13.5%
US
7.4%
South Africa
6.2%
Brazil
6.1%
UK
4%
Angola on the world map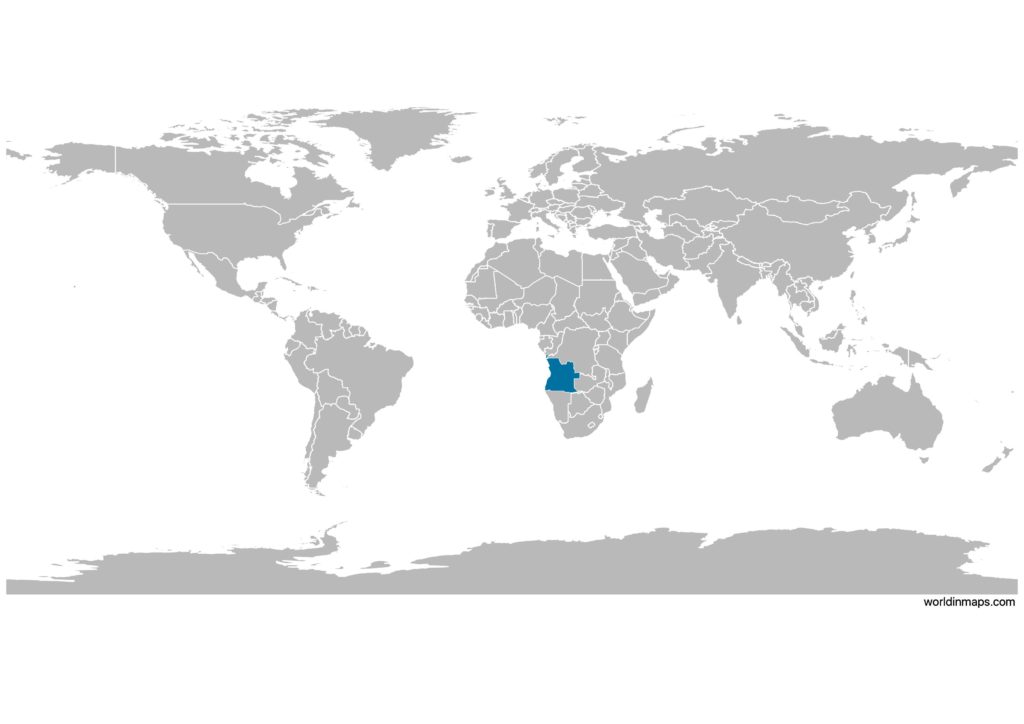 States and political map of Angola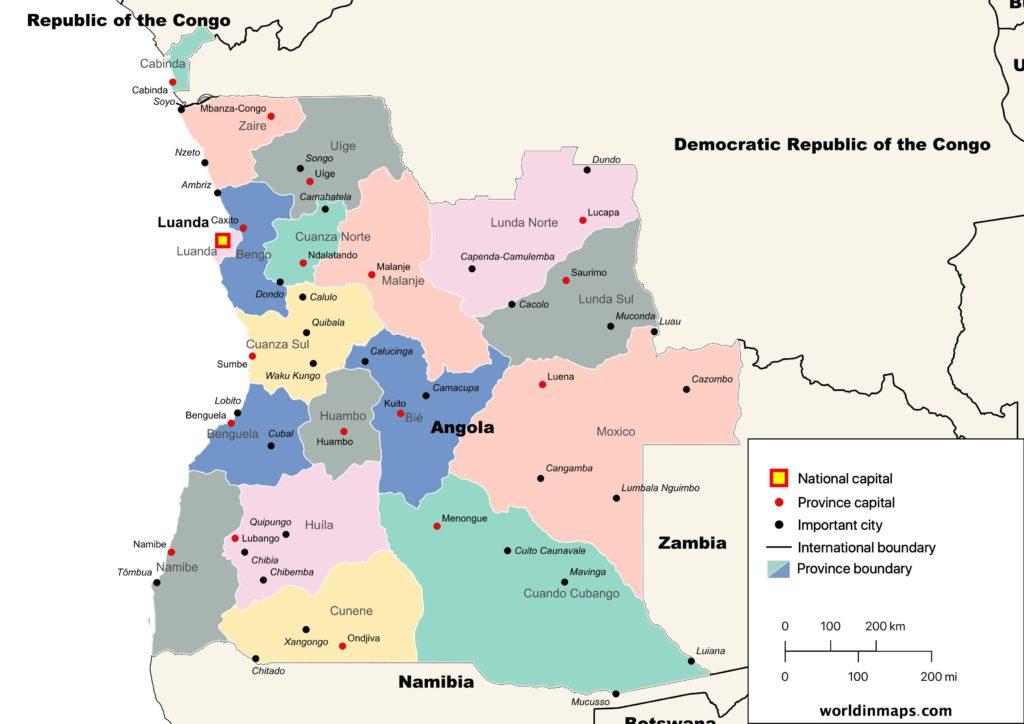 Angola is located in Southern Africa. It is bordered by the Atlantic Ocean to the west, The Republic of the Congo to the north, The Democratic Republic of the Congo to the north and to the north east, Zambia to the east and Namibia to the south.
Angola has an exclave province, the province of Cabinda, that borders the Republic of the Congo and the Democratic Republic of the Congo.
Angola has 18 provinces (provincias – provincia in singular): Bengo, Benguela, Bié, Cabinda, Cuando Cubango, Cuanza Norte, Cuanza Sul, Cunene, Huambo, Huíla, Luanda, Lunda Norte, Lunda Norte, Luanda Sul, Malanje, Moxico, Namibie, Uíge and Zaire.
Physical map of Angola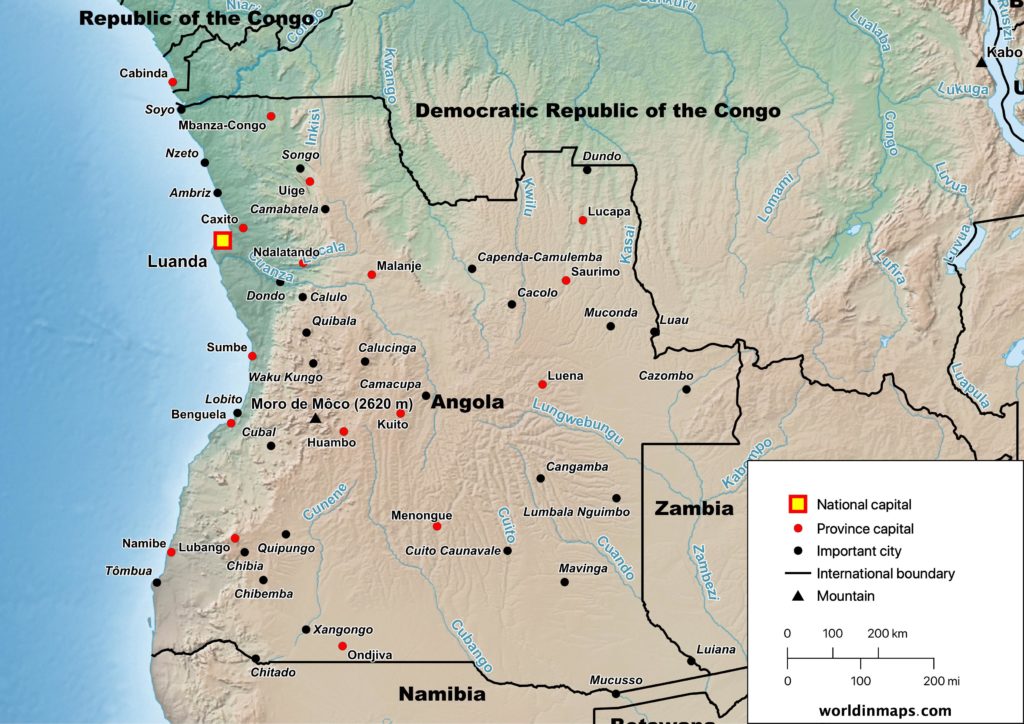 Cities, airports, ports, railroads, ferries and road map of Angola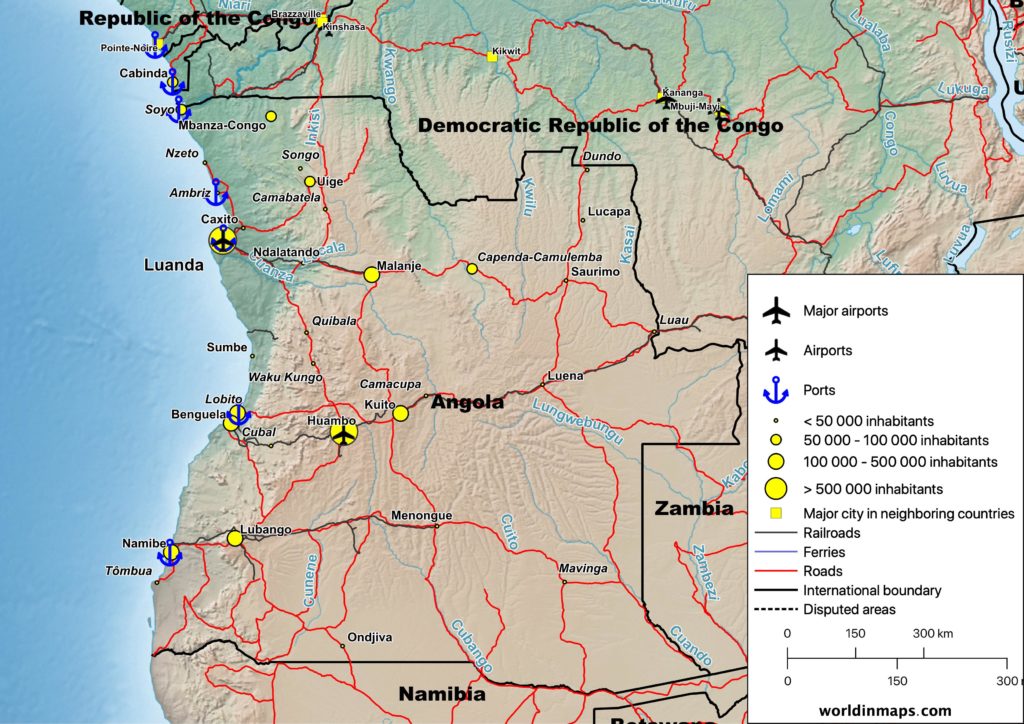 Angola top 10 largest cities (2014)
Luanda (6,759, 313)
Lubango (600,751)
Huambo (595,304)
Benguela (555,124)
Cabinda (550,000)
Malanje (455,000)
Saurimo (393,000)
Lobito (357,950)
Cuíto (355,423)
Uíge (322,531)
Demography
Population pyramid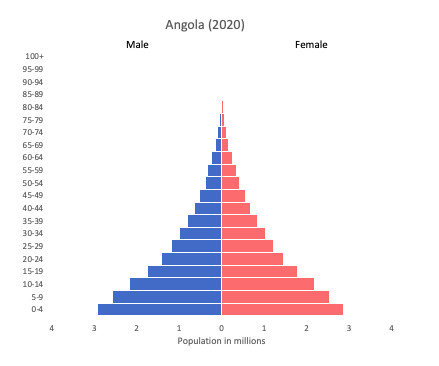 Age structure
Estimate for 2020:
0-14 years: 47.83% (male 7,758,636/female 7,797,869)
15-24 years: 18.64% (male 2,950,999/female 3,109,741)
25-54 years: 27.8% (male 4,301,618/female 4,740,463)
55-64 years: 3.43% (male 523,517/female 591,249)
65 years and over: 2.3% (male 312,197/female 436,050)
Remark: the age structure of a population affects a nation's key socioeconomic issues. Countries with young populations (high percentage under age 15) need to invest more in schools, while countries with older populations (high percentage ages 65 and over) need to invest more in the health sector. The age structure can also be used to help predict potential political issues. For example, the rapid growth of a young adult population unable to find employment can lead to unrest.
Population from 1950 to 2020
Source: United Nations, Department of Economic and Social Affairs, Population Division (2019). World Population Prospects 2019, Online Edition. Rev. 1.

Evolution of the life expectancy from 1960 to 2018
Source: World Development Indicators, The World Bank
Major river
Economy
Agriculture:
bananas, sugarcane, coffee, sisal, corn, cotton, cassava (manioc, tapioca), tobacco, vegetables, plantains, livestock, forest products, fish
Industries:
petroleum, diamonds, iron ore, phosphates, feldspar, bauxite, uranium, and gold, cement; basic metal products, fish processing, food processing, brewing, tobacco products, sugar, textiles, ship repair
Exports – commodities:
crude oil, diamonds, refined petroleum products, coffee, sisal, fish and fish products, timber, cotton
Imports – commodities:
machinery and electrical equipment, vehicles and spare parts; medicines, food, textiles, military goods
Time in Angola
Go to our interactive map to get the current time in Angola
Source: