The Zambezi river
Location
Countries
Zambia
Angola
Namibia
Botswana
Zimbabwe
Mozambique

Cities
Livingstone (Zambia)
Tete (Mozambique)
Physical characteristics
Source
Location
Ikelenge District (Zambia)
Elevation
1,500 m
(4,900 ft)
Mouth – Indian Ocean
Location
Zambezia Province and Sofala Province (Mozambique)
Elevation
0 m (0 ft)
Length
2,575 km (1,600 mi)
Basin size
1,351,365 km2 (521,764 sq mi)
Discharge
Average
3,400 m³/s
(120,000 cu ft/s)
Minimum
920 m³/s
(32,000 cu ft/s)
Maximum
18,600 m³/s
(660,000 cu ft/s)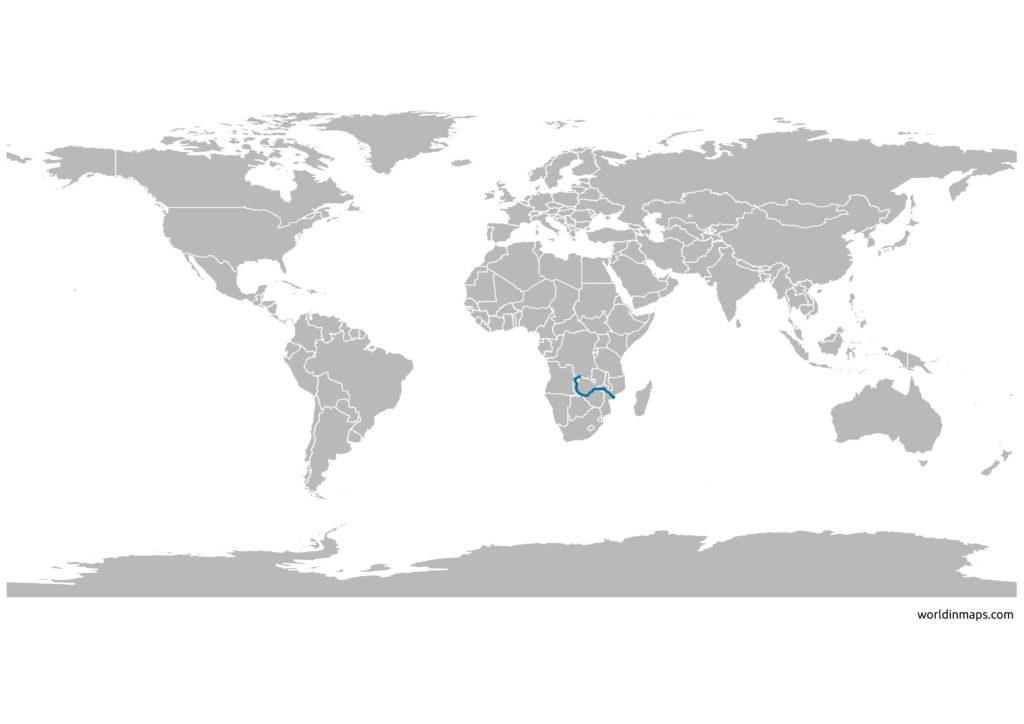 The Zambezi river (also spelled Zambeze and Zambesi) is 2,575 km (1,600 mi) long and it is located in southern Africa. It is Africa's 4th largest river in length, after the Nile, the Congo and the Niger.
The source of the river is located in Zambia. Then it makes a short foray into Angola and returns to Zambia, where it delimits the borders with Namibia, then for a few hundreds meters with Botswana and finally it flows through Zimbabwe to the Indian Ocean.
Victoria Falls is the most spectacular place on the course of the Zambezi. Shared between Zambia and Zimbabwe, it is considered to be one of the world's largest waterfalls due to its width of 1,708 m (1.06 mi) and height 108 m (354 ft).
The hydrographic basin is about 1,351,365 km2 (521,764 sq mi) and the rains that feed the river are concentrated between November and March. Its usual flow rate is relatively modest, from 2,000 to 3,000 m³/s
Despite its rugged course, the Zambezi offers long navigable sections.
The Zambezi river map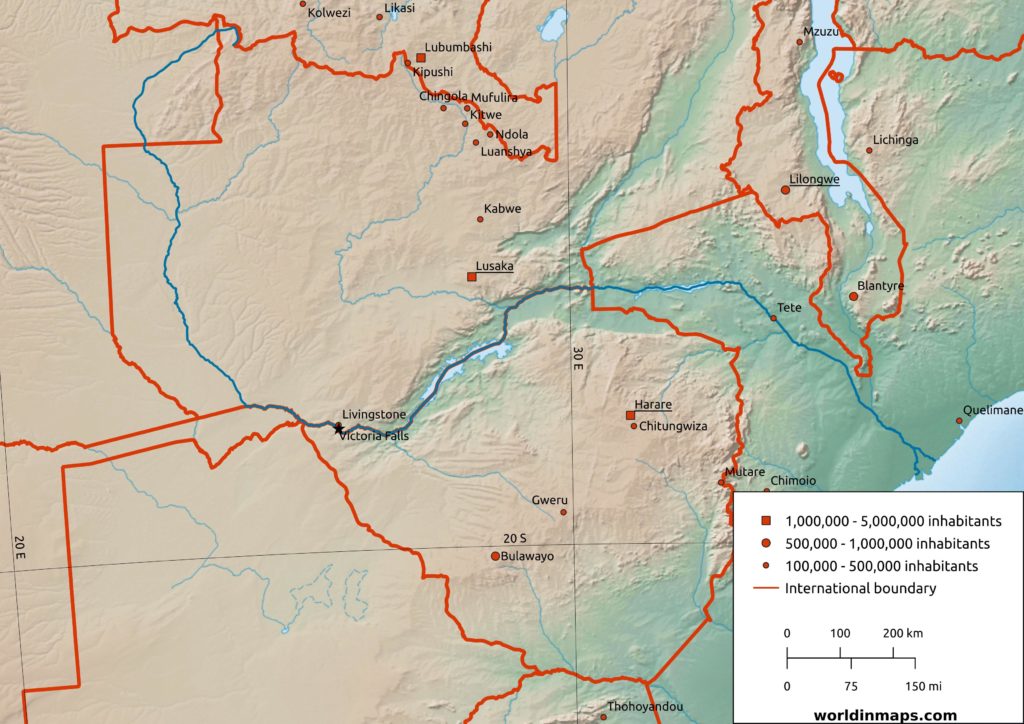 Source
Richard Beilfuss & David dos Santos: Patterns of Hydrological Change in the Zambezi Delta, Monogram for the Sustainable Management of Cahora Bassa Dam and The Lower Zambezi Valley (2001)
Office International de l'eau : Développer les Compétences pour mieux Gérer l'Eau – Fleuves Transfrontaliers Africains: Bilan Global." (2002)