Palau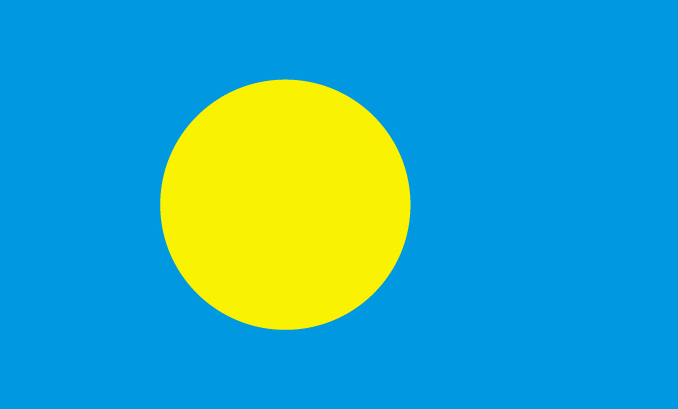 Government
Name
Republic of Palau
Palauan
Beluu er a Belau
Government type
presidential republic in free association with the US
Capital
Ngerulmud (271) – smallest capital city in the world
Currency
United States dollar (USD)
People
Population (2020)
18,092 (224th)
Density of population
46.7 P/km2
Nationality
Palauan
Official languages
Palauan (official on most islands)
English (official)
Sonsoralese (official in Sonsoral)
Tobian (official in Tobi)
Angaur (official in Angaur)
Japanese (official in Angaur)
Ethnic groups (2015)
Palauan (Micronesian with Malayan and Melanesian admixtures)
73%
Carolinian
2%
Asian
21.7%
caucasian
1.2%
other
2.1%
Religions (2015)
Roman Catholic
45.3%
Protestant
34.9%
Evangelical
26.4%
Seventh Day Adventist
6.9%
Assembly of God
0.9%
Baptist
0.7%
Modekngei (indigenous to Palau)
5.7%
Muslim
3%
Mormon
1.5%
other
9.7%
Life expectancy (2020)
Male
70.9 years
Female
77.5 years
Total population
74.1 years (136st)
Homicides
Total (2018)
11.2 per 100,000 people (30th)
Geography
Land area
459 km2
water area
0 km2
total area
459 km2 (198th)
Lowest point
Pacific Ocean
0 m
Highest point
Mount Ngerchelchuus
242 m
Land use (2011)
Agricultural land
10.8%
Arable land
2.2%
Permanent crops
4.3%
Permanent pasture
4.3%
Forest
87.6%
Other
1.6%
Urbanization
Urban population (2020)
81%
Rate of urbanization
1.77% annual rate of change (2015 – 2020)
Economy
Labor force (2016)
11,610 million (216th)
Labor force by occupation (2016)
Agriculture
1.2%
Industry
12.4%
Services
86.4%
Unemployment rate (2015)
1.7% (15th)
GDP (PPP) (estimate 2018)
Total
$300 million
Per capita
$16,296 (81st)
GDP (nominal) (estimate 2018)
Total
$322 million
Per capita
$17,438
GDP by sector (estimate 2016)
Agriculture
3%
Industry
19%
Services
78%
Exports (2017)
$23.17 billion (68th)
Exports partners (2017)
Japan
51.3%
US
15.8%
India
13.8%
Guam
8%
Imports (2018)
$4.715 billion (134th)
Imports partners (2017)
US
33.4%
Guam
15.8%
Japan
15.7%
China
13.5%
South Korea
5.3%
Palau on the world map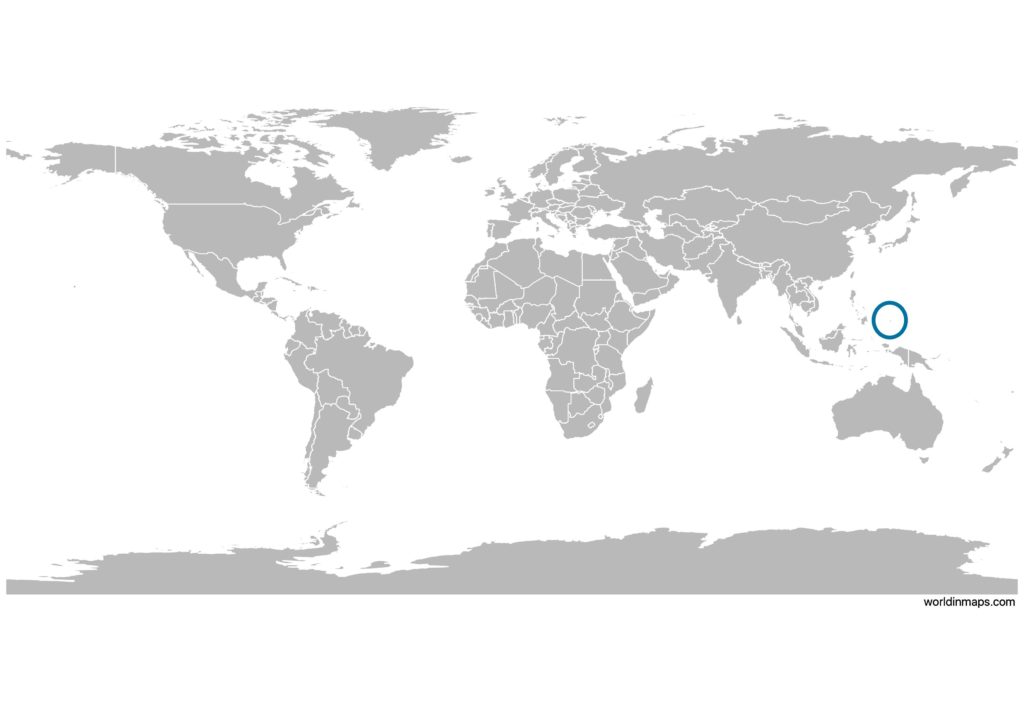 Demography
Age structure data
Estimate for 2020:
0-14 years: 18.68% (male 2,090/female 1,961)
15-24 years: 15.86% (male 1,723/female 1,716)
25-54 years: 45.33% (male 6,026/female 3,804)
55-64 years: 10.68% (male 853/female 1,463)
65 years and over: 9.45% (male 501/female 1,548)
Remark: the age structure of a population affects a nation's key socioeconomic issues. Countries with young populations (high percentage under age 15) need to invest more in schools, while countries with older populations (high percentage ages 65 and over) need to invest more in the health sector. The age structure can also be used to help predict potential political issues. For example, the rapid growth of a young adult population unable to find employment can lead to unrest.
Population from 1950 to 2020
Source: United Nations, Department of Economic and Social Affairs, Population Division (2019). World Population Prospects 2019, Online Edition. Rev. 1.
Economy
Agriculture:
coconuts, cassava (manioc, tapioca), sweet potatoes, fish, pigs, chickens, eggs, bananas, papaya, breadfruit, calamansi, soursop, Polynesian chestnuts, Polynesian almonds, mangoes, taro, guava, beans, cucumbers, squash/pumpkins (various), eggplant, green onions, kangkong (watercress), cabbages (various), radishes, betel nuts, melons, peppers, noni, okra
Industries:
tourism, fishing, subsistence agriculture
Exports – commodities:
shellfish, tuna, other fish (many species)
Imports – commodities:
machinery and equipment, fuels, metals, foodstuffs
Time zone and current time in Palau
Go to our interactive map to get the current time in Palau
Sources: