Algeria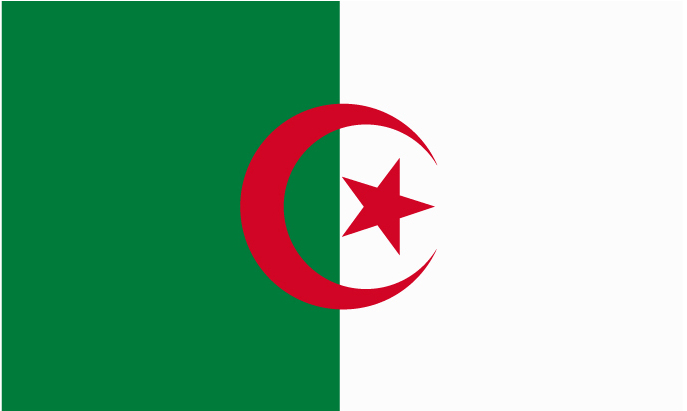 Government
Name
People's Democratic Republic of Algeria
Arabic
الجمهورية الجزائرية الديمقراطية الشعبية
French
République algérienne démocratique et populaire
Government type
Presidential republic
Capital
Algiers (2,768,000 (2020))
Currency
Dinar (DZD)
People
Population (2020)
43,851,043 (32nd)
Density of population
17.7 P/km2 (168th)
Nationality
Algerian
Official languages
Arabic
Berber or Tamazight
Language in administration, business and education
French
Ethnic groups
Arab-Berber
99%
European
<1%
Religion
Muslim (predominantly Sunni)
99%
Other (includes Christian and Jewish)
<1%
Life expectancy (2020)
Male
76.1 years
Female
79.1 years
Total population
77.5 years (77th)
Homicides
Total (2015)
1.4 per 100,000 people (122nd)
Literacy (2018)
Definition: age 15 and over can read and write
Male
87.4%
Female
75.3%
Total population
81.4%
Geography
Land area
2,381,740 km2
water area
0 km2
total area
2,381,740km2 (11th)
Mean elevation
800 m
Lowest point
Chott Melrhir
-40 m
Highest point
Tahat
2,908 m
Land use (2016)
Agricultural land
17.4%
Arable land
3.1%
Permanent crops
0.4%
Permanent pasture
13.8%
Forest
0.8%
Other
81.8%
Urbanization
Urban population (2020)
73.7%
Rate of urbanization
2.46% annual rate of change (2015 – 2020)
Economy
Labor force (2017)
11.82 million (50th)
Agriculture
10.8%
Industry
30.9%
Services
58.4%
Unemployment rate (2017)
11.7% (155th)
GDP (PPP) (estimate 2019)
Total
$684.649 billion (35th)
Per capita
$15,765 (82nd)
GDP (nominal) (estimate 2019)
Total
$180.687 billion (53rd)
Per capita
$4,229 (109th)
GDP by sector (estimate 2017
Agriculture
13.3%
Industrie
39.3%
Services
47.4%
Exports (2017)
$34.37 million (58th)
Exports partners (2017)
Italy
17.4%
Spain
13%
France
11.9%
US
9.4%
Brazil
6.2%
Netherlands
5.5%
Imports (2017)
$48.54 billion (55th)
Imports partners (2017)
China
18.2%
France
9.1%
Italy
8%
Germany
7%
Spain
6.9%
Turkey
4.4%
Algeria on the world map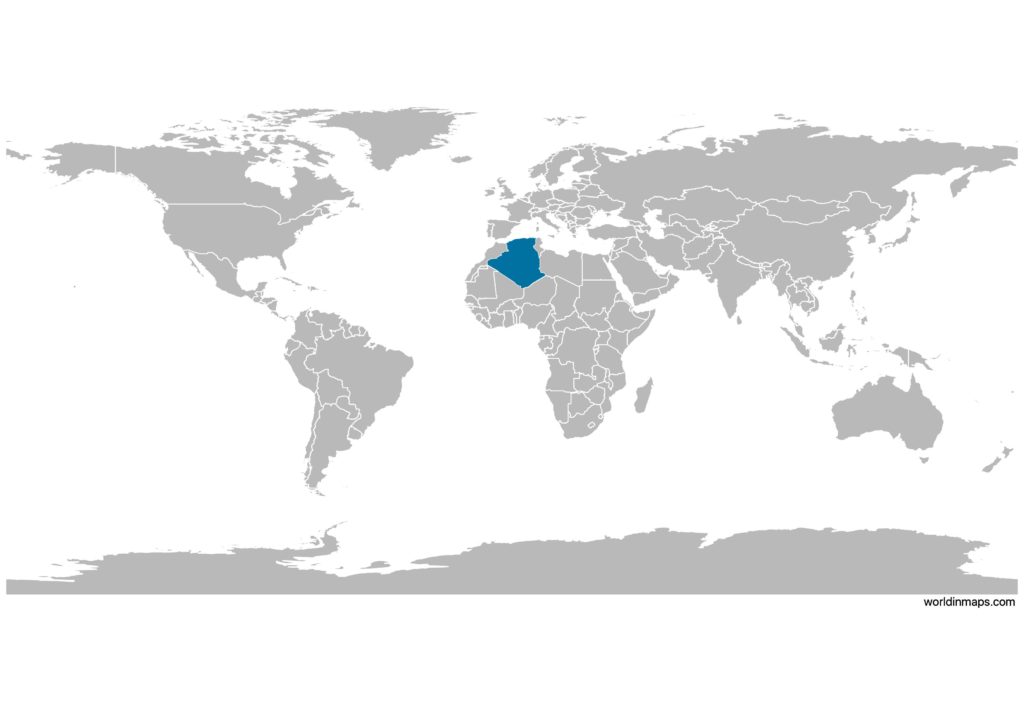 States and political map of Algeria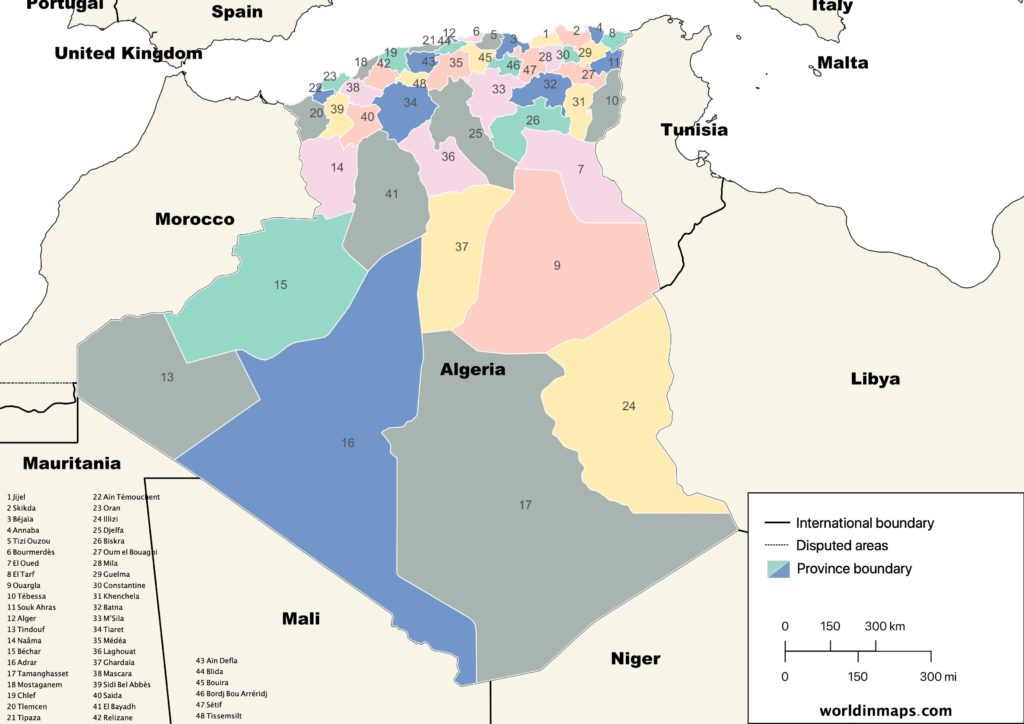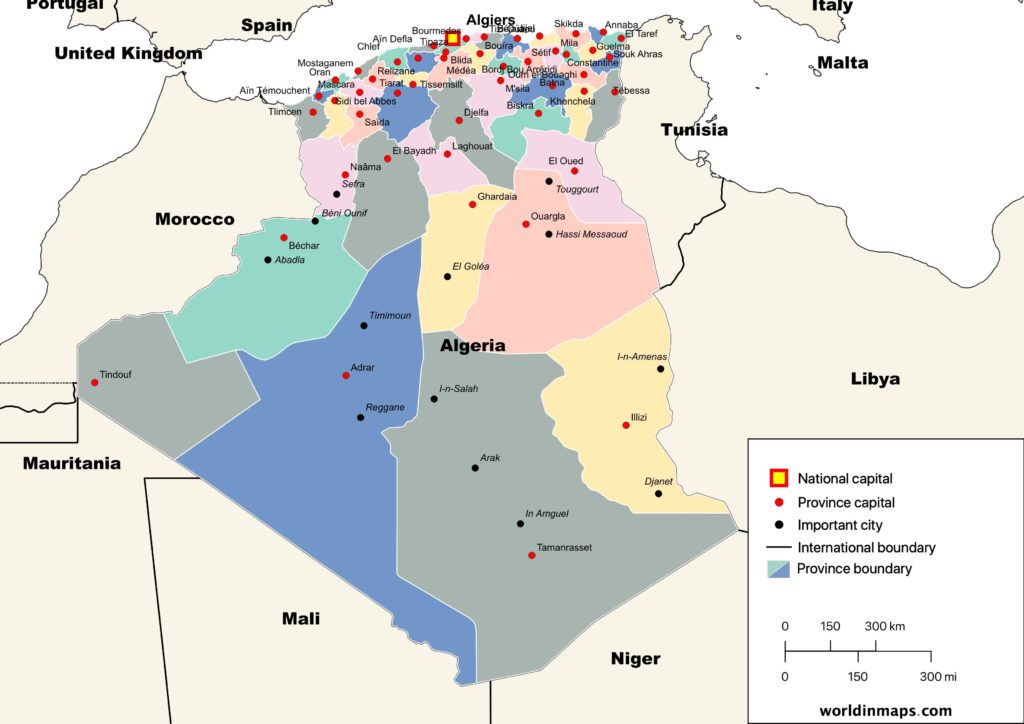 Algeria is located in northern Africa. It is bordered by the Mediterranean Sea in the north, Morocco and Western Sahara in the west, Mauritania, Mali and Niger to the south, Libya and Tunisia to the east.
Algeria is divided into 48 provinces (wilayas): Adrar, Chlef, Laghouat, Oum El Bouaghi, Batna, Béjaïa, Biskra, Béchar, Blida, Bouïra, Tamanrasset, Tébessa, Tlemcen, Tiaret, Tizi Ouzou, Algiers, Djelfa, Jijel, Sétif, Saïda, Skikda, Sidi Bel Abbès, Annaba, Guelma, Constantine, Médéa, Mostaganem, M'Sila, Mascara, Ouargla, Oran, El Bayadh, Illizi, Bordj Bou Arréridj, Boumerdes, El Taref, Tindouf, Tissemsilt, El Oued, Khenchela, Souk Ahras, Tipaza, Mila, Ain Defla, Naâma, Ain Timouchent, Ghardaia and Relizane.
Physical map of Algeria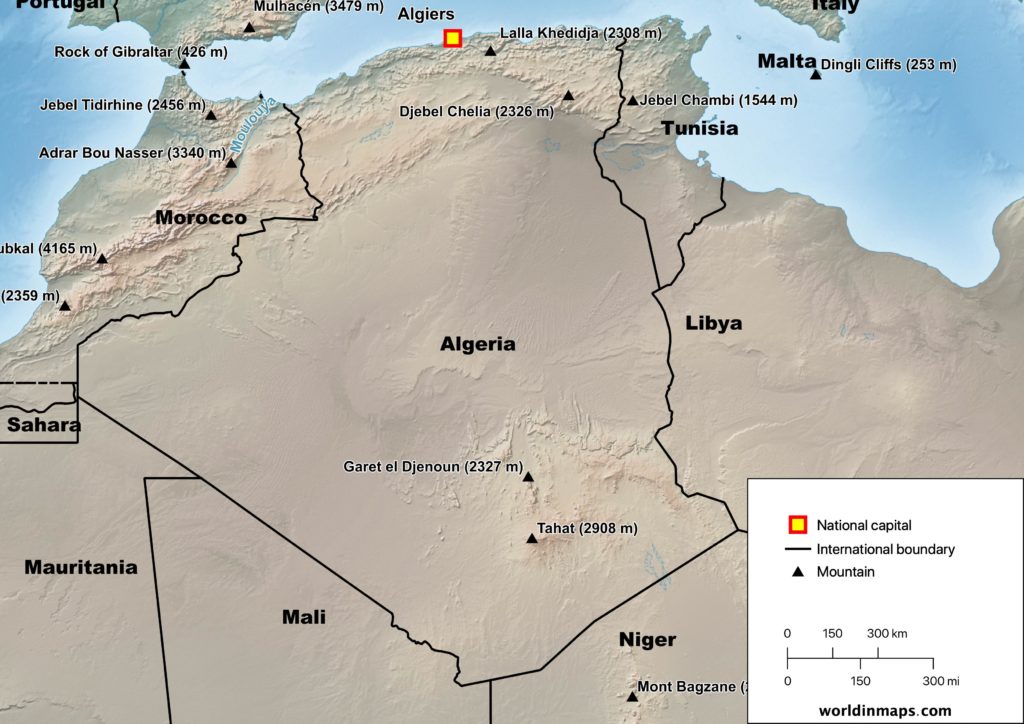 Cities, airports, ports, railroads, ferries and road map of Algeria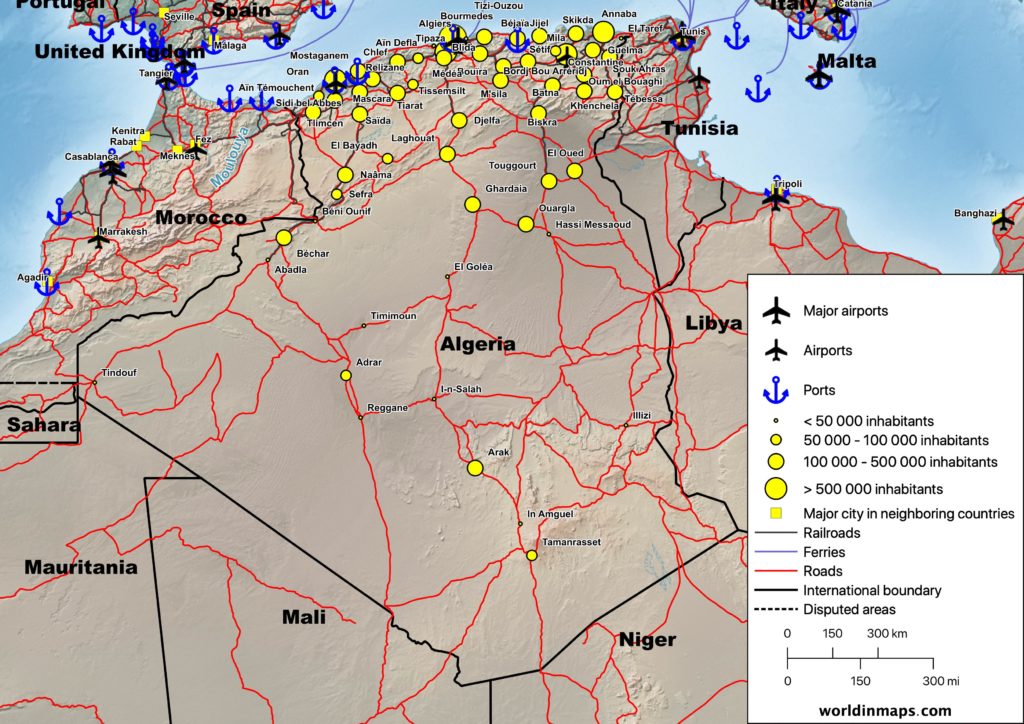 Algeria top 10 largest cities (2008)
Algiers (2,364,230)
Oran (803,329)
Constantine (448,028)
Annaba (342,703)
Blida (331,779)
Batna (289,504)
Djelfa (265,833)
Sétif (252,127)
Sidi Bel Abbès (210,146)
Biskra (204,661)
Demography
Population pyramid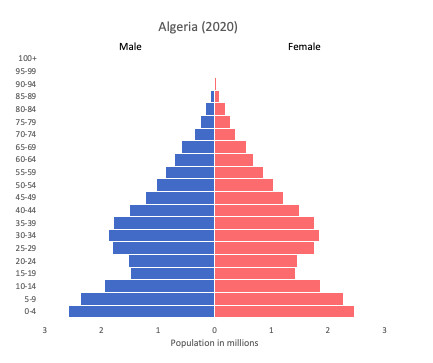 Age structure
Estimation for 2020:
0-14 years: 29.58% (male 6,509,490/female 6,201,450)
15-24 years: 13.93% (male 3,063,972/female 2,922,368)
25-54 years: 42.91% (male 9,345,997/female 9,091,558)
55-64 years: 7.41% (male 1,599,369/female 1,585,233)
65 years and over: 6.17% (male 1,252,084/female 1,401,357)
Remark: the age structure of a population affects a nation's key socioeconomic issues. Countries with young populations (high percentage under age 15) need to invest more in schools, while countries with older populations (high percentage ages 65 and over) need to invest more in the health sector. The age structure can also be used to help predict potential political issues. For example, the rapid growth of a young adult population unable to find employment can lead to unrest.
Population from 1950 to 2020
Source: United Nations, Department of Economic and Social Affairs, Population Division (2019). World Population Prospects 2019, Online Edition. Rev. 1.

Evolution of the life expectancy from 1960 to 2018
Source: World Development Indicators, The World Bank
Economy
Agriculture:
wheat, barley, oats, grapes, olives, citrus, fruits, sheep, cattle
Industries:
petroleum, natural gas, light industries, mining, electrical, petrochemical, food processing
Exports – commodities:
petroleum, natural gas, and petroleum products 97% (2009 estimate)
Imports – commodities:
capital goods, foodstuffs, consumer goods
Time in Algeria
Go to our interactive map to get the current time in Algeria.
Source: