Democratic Republic of the Congo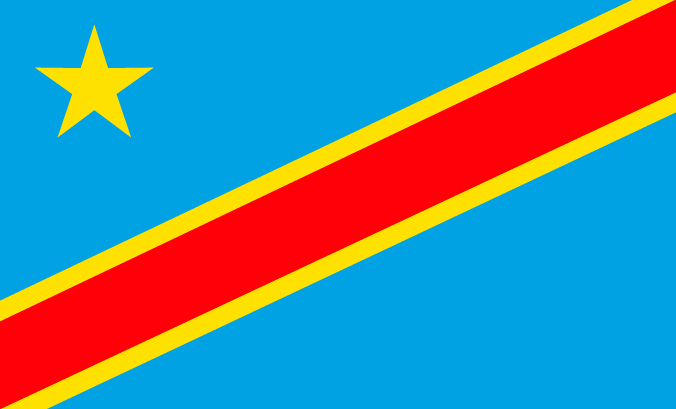 Government
Name
Democratic Republic of the Congo
French
République démocratique du Congo
Kongo
Repubilika ya Kôngo ya Dimokalasi
Lingala
Republíki ya Kongó Demokratíki
Swahili
Jamhuri ya Kidemokrasia ya Kongo
Luba-Katanga
Ditunga dia Kongu wa Mungalaata
Government type
Semi-presidential republic
Capital
Kinshasa 11,116,000 (2016))
Currency
Congolese franc (CDF)
People
Population (2020)
89,561,404 (14th)
Density of population
39.19 P/km2
Nationality
Congolese
Official languages
French
Recognised national languages
Lingala
Kikongo
Swahili
Tshiluba
Ethnic groups
There are more than 200 African ethnic groups. The majority of them are Bantu. The four largest tribes make up about 45% of the population. These largest tribes are Mongo (Bantu), Luba (Bantu), Kongo (Bantu) and the Mangbetu-Azande (Hamitic).
Religions (2014)
Roman Catholic
29.9%
Protestant
26.7%
Kimbanguist
2.8%
Other Christian
36.5%
Muslim
1.3%
Other
1.2%
None
1.3%
Unspecified
0.2%
Life expectancy (2020)
Male
59.3 years
Female
62.8 years
Total population
61 years (216th)
Homicides
n.a.
Geography
Land area
2,267,048 km2
water area
77,810 km2
total area
2,344,858 km2 (12nd)
Mean elevation
726 m
Lowest point
Atlantic Ocean
0 m
Highest point
Pic Marguerite on Mont Ngaliema (Mount Stanley)
5,110 m
Land use (2011)
Agricultural land
11.4%
Arable land
3.1%
Permanent crops
0.3%
Permanent pasture
8%
Forest
67.9%
Other
20.7%
Urbanization
Urban population (2020)
45.6%
Rate of urbanization
4.53% annual rate of change (2015 – 2020)
Economy
Labor force (2017)
31.36 million (18th)
Labor force by occupation
Agriculture
NA
Industry
NA
Services
NA
Unemployment rate
NA
GDP (PPP) (estimate 2019)
Total
$77.486 billion
Per capita
$843
GDP (nominal) (estimate 2019)
Total
$46.117 billion
Per capita
$501
GDP by sector (estimate 2017)
Agriculture
19.7%
Industry
43.6%
Services
36.7%
Exports (2017)
$10.98 billion (89th)
Exports partners (2017)
China
41.4%
Zambia
22.7%
South Korea
7.2%
Finland
6.2%
Imports (2017)
$10.82 billion (100th)
Imports partners (2017)
China
19.9%
South Africa
18%
Zambia
10.4%
Belgium
9.1%
India
4.3%
Tanzania
4.2%
Democratic Republic of the Congo on the world map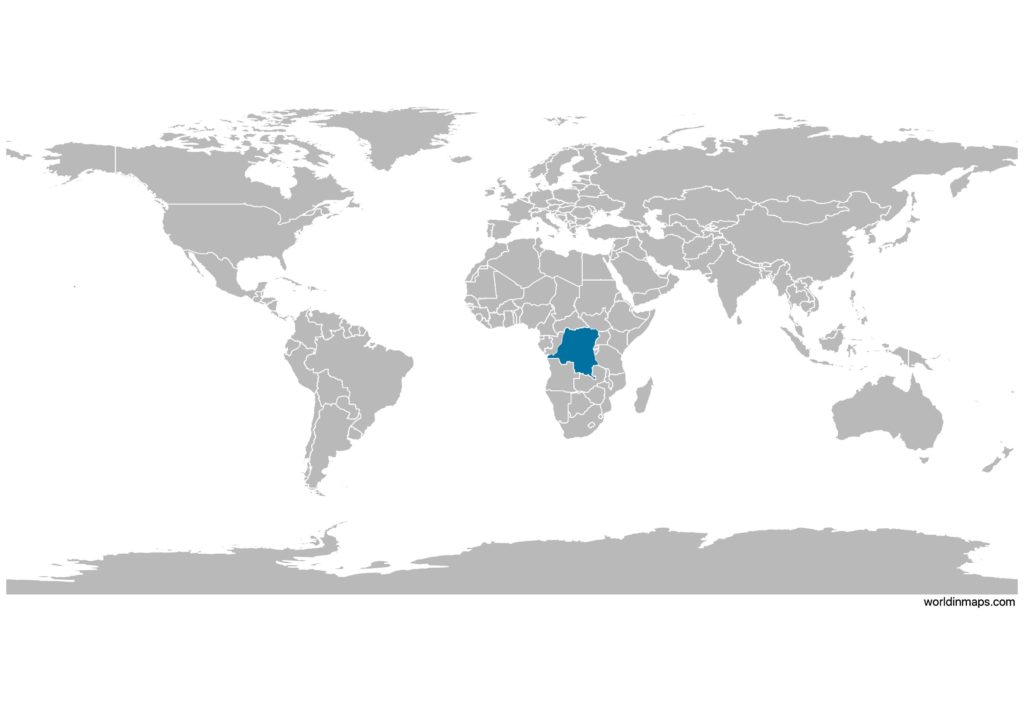 Democratic Republic of the Congo top 10 largest cities (2016)
Kinshasa (11,116,000)
Lubumbashi (1,936,000)
Mbuji-Mayi (1,919,000)
Kananga (1,119,000)
Kisangani (1,001,000)
Goma (1,000,000)
Bukavu (1,000,000)
Tshikapa (600,000)
Masina (485,167)
Kolwezi (453,147)
Demography
Population pyramid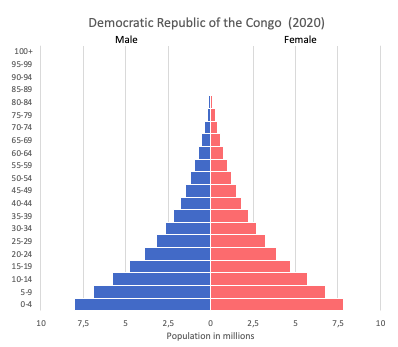 Age structure data
Estimate for 2020:
0-14 years: 46.38% (male 23,757,297/female 23,449,057)
15-24 years: 19.42% (male 9,908,686/female 9,856,841)
25-54 years: 28.38% (male 14,459,453/female 14,422,912)
55-64 years: 3.36% (male 1,647,267/female 1,769,429)
65 years and over: 2.47% (male 1,085,539/female 1,423,782)
Remark: the age structure of a population affects a nation's key socioeconomic issues. Countries with young populations (high percentage under age 15) need to invest more in schools, while countries with older populations (high percentage ages 65 and over) need to invest more in the health sector. The age structure can also be used to help predict potential political issues. For example, the rapid growth of a young adult population unable to find employment can lead to unrest.
Population from 1950 to 2020
Source: United Nations, Department of Economic and Social Affairs, Population Division (2019). World Population Prospects 2019, Online Edition. Rev. 1.

Evolution of the life expectancy from 1960 to 2018
Source: World Development Indicators, The World Bank
Economy
Agriculture:
coffee, sugar, palm oil, rubber, tea, cotton, cocoa, quinine, cassava (manioc, tapioca), bananas, plantains, peanuts, root crops, corn, fruits; wood products
Industries:
mining (copper, cobalt, gold, diamonds, coltan, zinc, tin, tungsten), mineral processing, consumer products (textiles, plastics, footwear, cigarettes), metal products, processed foods and beverages, timber, cement, commercial ship repair
Exports – commodities:
diamonds, copper, gold, cobalt, wood products, crude oil, coffee
Imports – commodities:
foodstuffs, mining and other machinery, transport equipment, fuels
Time zone and current time in Democratic Republic of the Congo
Go to our interactive map to get the current time in Democratic Republic of the Congo
Source: