United Arab Emirates (UAE)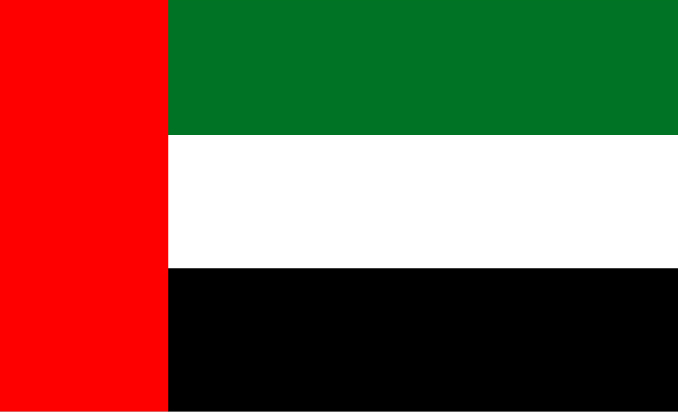 Government
Name
United Arab Emirates
Arabic
الإمارات العربية المتحدة
al-ʾImārāt al-ʿArabīyyah al-Muttaḥidah
Government type
federation of monarchies
Capital
Abu Dhabi (1,807,000 (2019))
Currency
United Arab Emirates dirham (AED)
People
Population (2020)
9,890,400 (92nd)
Density of population
99 P/km2 (110th)
Nationality
Emirati
Official languages
Arabic
Ethnic groups (2015)
Emirati
11.6%
South Asian
59.4%
Indian
38.2%
Bangladeshi
9.5%
Pakistani
9.4%
other
2.3%
Egyptian
10.2%
Filipino
6.1%
other
12.8%
Religions (2005)
Muslim (official)
76%
Christian
9%
other
15%
Life expectancy (2020)
Male
77.6 years
Female
80.5 years
Total population
79 years (63rd)
Homicides
Total (2017)
0.5 per 100,000 people (166th)
Geography
Land area
83,600 km2
water area
0 km2
total area
83,600 km2 (116th)
Mean elevation
149 m
Lowest point
Persian Gulf
0 m
Highest point
Jabal Yibir
1,527 m
Land use (2011)
Agricultural land
4.6%
Arable land
0.5%
Permanent crops
0.5%
Permanent pasture
3.6%
Forest
3.8%
Other
91.6%
Urbanization
Urban population (2020)
87%
Rate of urbanization
1.71% annual rate of change (2015 – 2020)
Economy
Labor force (2017)
5.344 million (78th)
note: expatriates account for about 85% of the workforce
Labor force by occupation (2000)
Agriculture
7%
Industry
15%
Services
78%
Unemployment rate (2016)
1.6% (14th)
GDP (PPP) (estimate 2020)
Total
$732.861 billion (32nd)
Per capita
$70,441 (7th)
GDP (nominal) (estimate 2018)
Total
$432.612 billion (28th)
Per capita
$41,476 (19th)
GDP by sector (estimate 2017)
Agriculture
1%
Industry
49.8%
Services
49.2%
Exports (2017)
$308.5 billion (18th)
Exports partners (2017)
India
10.1%
Iran
9.9%
Japan
9.3%
China
5.4%
Oman
5%
Switzerland
4.4%
South Korea
4.1%
Imports (2017)
$229.2 billion (21st)
Imports partners (2017)
China
8.5%
US
6.8%
India
6.6%
United Arab Emirates (UAE) on the world map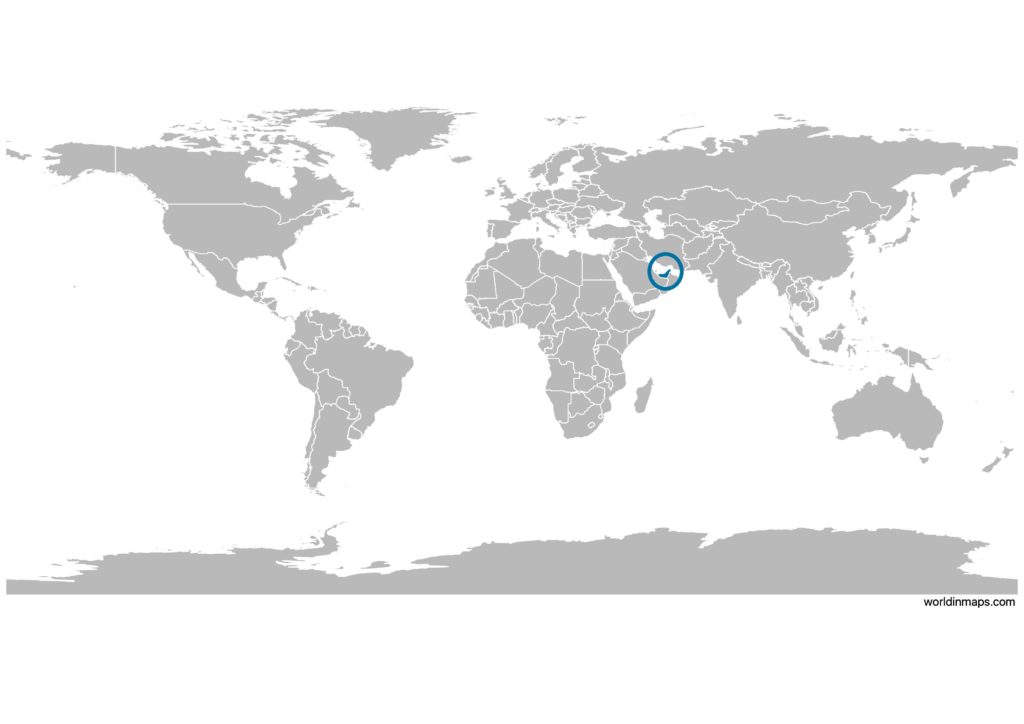 UAE is located in Asia and more specifically in the Middle East.
United Arab Emirates (UAE) top 10 largest cities (2019)
Dubai (3,297,980)
Abu Dhabi (1,807,000)
Sharjah (1,274,749)
Al Ain (766,936)
Ajman (226,172)
Ras Al Khaimah (RAK) (115,949)
Fujairah (97,226)
Umm Al Quwain (61,700)
Khor Fakkan (39,151)
Kalba (37,545)
Demography
Population pyramid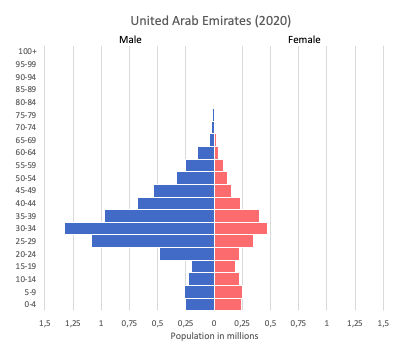 Age structure data
Estimate for 2020:
0-14 years: 14.45% (male 745,492/female 698,330)
15-24 years: 7.94% (male 431,751/female 361,804)
25-54 years: 68.03% (male 5,204,618/female 1,592,987)
55-64 years: 7.68% (male 658,892/female 108,850)
65 years and over: 1.9% (male 146,221/female 43,138)
Remark: the age structure of a population affects a nation's key socioeconomic issues. Countries with young populations (high percentage under age 15) need to invest more in schools, while countries with older populations (high percentage ages 65 and over) need to invest more in the health sector. The age structure can also be used to help predict potential political issues. For example, the rapid growth of a young adult population unable to find employment can lead to unrest.
Population from 1950 to 2020
Source: United Nations, Department of Economic and Social Affairs, Population Division (2019). World Population Prospects 2019, Online Edition. Rev. 1.

Evolution of the life expectancy from 1960 to 2018
Source: World Development Indicators, The World Bank
Economy
Agriculture:
dates, vegetables, watermelons; poultry, eggs, dairy products; fish
Industries:
petroleum and petrochemicals; fishing, aluminum, cement, fertilizer, commercial ship repair, construction materials, handicrafts, textiles
Exports – commodities:
crude oil 45% (2012), natural gas, reexports, dried fish, dates
Imports – commodities:
machinery and transport equipment, chemicals, food
Time zone and current time in United Arab Emirates (UAE)
Go to our interactive map to get the current time in United Arab Emirates (UAE)
Sources: