Russia

Government
Name
Russian Federation
Russian
Российская Федерация
Rossiyskaya Federatsiya
Government type
semi-presidential federation
Capital
Moscow (12,381,000 (2017))
Currency
Russian ruble (RUB)
Organization
Member State
Commonwealth of Independent States (CIS)
People
Population (2020)
145,934,460 (9th)
Density of population
8.4 P/km2 (225th)
Nationality
Russian
Official languages
Russian
Ethnic groups (2010)
Russian
77.7%
Tatar
3.7%
Ukrainian
1.4%
Bashkir
1.1%
Chuvash
1%
Chechen
1%
Other (nearly 200 national and ethnic groups)
10.2%
unspecified
3.9%
Religions (2017)
Russian Orthodox
71%
Roman Catholic
1%
Other Christian
2%
No religion
15%
Islam
10%
Other religion
1%
Life expectancy (2020)
Male
66.3 years
Female
77.8 years
Total population
71.9 years (158th)
Homicides
Total (2018)
8.2 per 100,000 people (40th)
Geography
Land area
16,377,742 km2
water area
720,500 km2
total area
17,098,242 km2 (141st)
Mean elevation
600 m
Lowest point
Caspian Sea
-28 m
Highest point
Gora El'brus
5,642 m
Land use (2011)
Agricultural land
13.1%
Arable land
7.3%
Permanent crops
0.1%
Permanent pasture
5.7%
Forest
49.4%
Other
37.5%
Urbanization
Urban population (2020)
74.8%
Rate of urbanization
0.18% annual rate of change (2015 – 2020)
Economy
Labor force (2017)
76.53 million (6th)
Labor force by occupation (2016)
Agriculture
9.4%
Industry
27.6%
Services
63%
Unemployment rate (2017)
5.2% (77th)
GDP (PPP) (estimate 2020)
Total
$4.519 trillion (5th)
Per capita
$30,819 (50th)
GDP (nominal) (estimate 2020)
Total
$1.657 trillion (11th)
Per capita
$11,305 (61st)
GDP by sector (estimate 2017)
Agriculture
4.7%
Industry
32.4%
Services
62.3%
Exports (2017)
$353 billion (14th)
Exports partners (2017)
China
10.9%
Netherlands
10%
Germany
7.1%
Belarus
5.1%
Turkey
4.9%
Imports (2017)
$238 billion (20th)
Imports partners (2017)
China
21.2%
Germany
10.7%
US
5.6%
Belarus
5%
Italy
4.5%
France
4.2%
Russia on the world map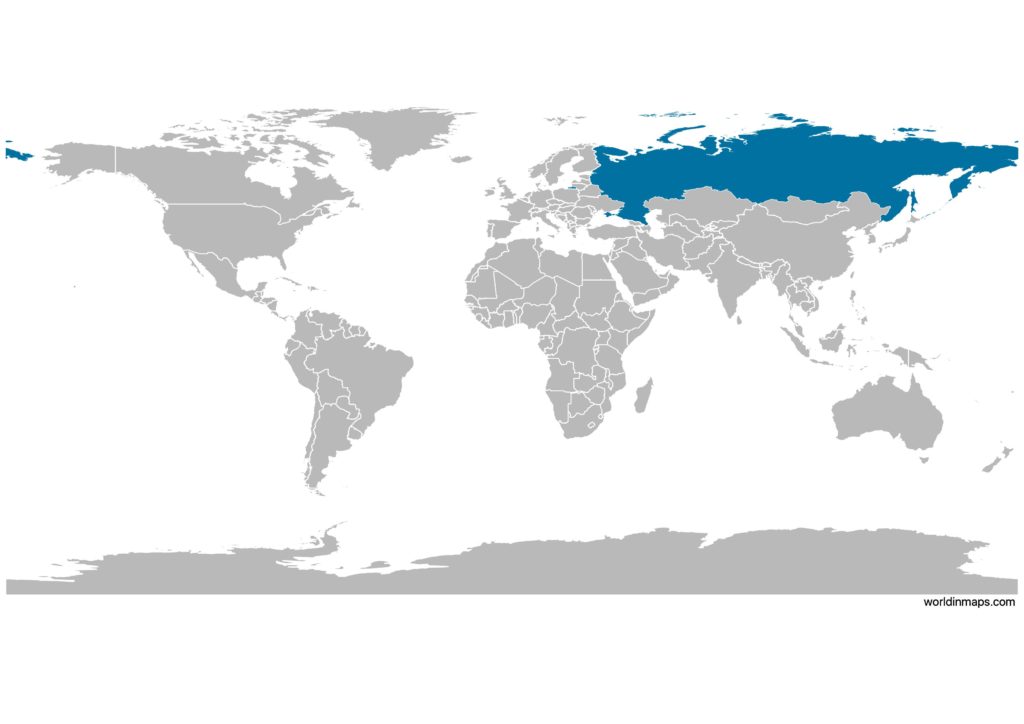 Russia top 10 largest cities (2017)
Moscow (12,381,000)
Saint Petersburg (5,282,000)
Novosibirsk (1,603,000)
Yekaterinburg (1,456,000)
Nizhny Novgorod (1,267,000)
Kazan (1,232,000)
Chelyabinsk (1,199,000)
Omsk (1,178,000)
Samara (1,170,000)
Ufa (1,126,000)
Demography
Population pyramid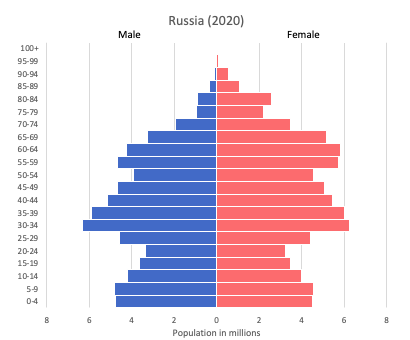 Age structure data
Estimate for 2020:
0-14 years: 17.24% (male 12,551,611/female 11,881,297)
15-24 years: 9.54% (male 6,920,070/female 6,602,776)
25-54 years: 43.38% (male 30,240,260/female 31,245,104)
55-64 years: 14.31% (male 8,808,330/female 11,467,697)
65 years and over: 15.53% (male 7,033,381/female 14,971,679)
Remark: the age structure of a population affects a nation's key socioeconomic issues. Countries with young populations (high percentage under age 15) need to invest more in schools, while countries with older populations (high percentage ages 65 and over) need to invest more in the health sector. The age structure can also be used to help predict potential political issues. For example, the rapid growth of a young adult population unable to find employment can lead to unrest.
Population from 1950 to 2020
Source: United Nations, Department of Economic and Social Affairs, Population Division (2019). World Population Prospects 2019, Online Edition. Rev. 1.
Density of population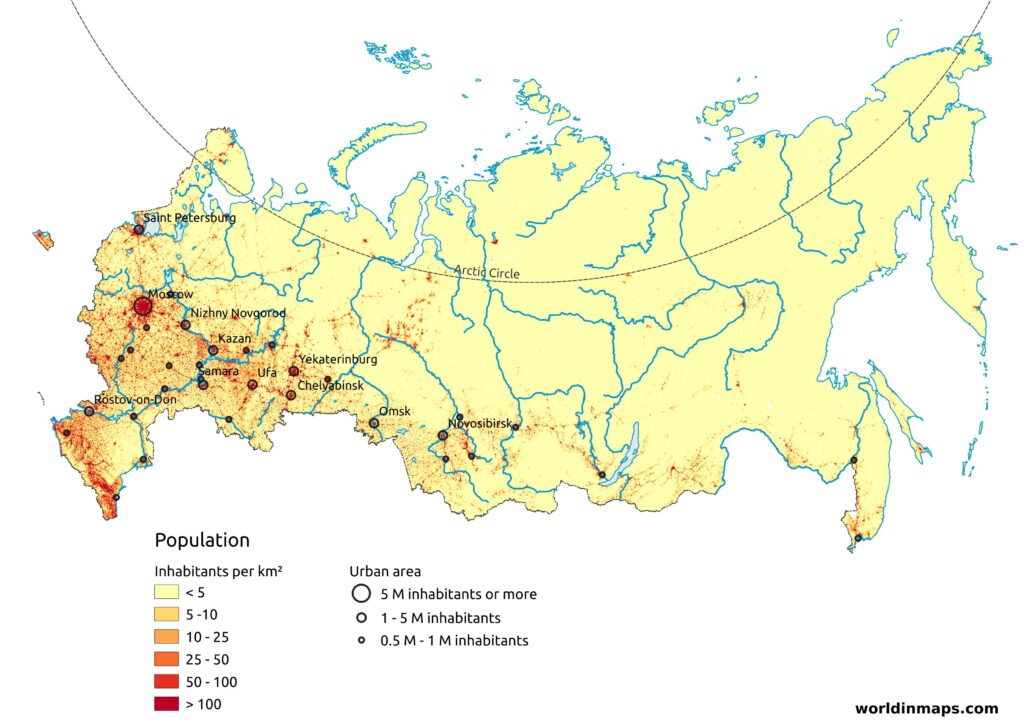 Russia has one of the lowest density of population in the world with 8.4 inhabitants per km² (22 inhabitants per sq mi). This is due to the severe climate of the major part of Russia. Indeed the north of Russia is located in the Arctic Circle.
Most of the population is concentrated in the European part of Russia, around Saint Petersburg, Moscow and the region south of Moscow. That region is under a more temperate climate.

Evolution of the life expectancy from 1960 to 2018
Source: World Development Indicators, The World Bank
Major rivers
Lena River (4,294 km / 2,668 mi)
Volga (3,690 km / 2,290 mi)
Ural (2,428 km / 1,509 mi)
Dnieper (2,290 km / 1,420 mi)
Don (1,950 km / 1,210 mi)
Pechora (1,809 km / 1,124 mi)
Kama (1,805 km / 1,122 mi) (the longest left tributary of the Volga and the largest one in discharge)
Oka (1,500 km / 930 mi) (the longest right tributary of Volga)
Belaya (1,430 km / 890 mi) (tributary of Kama)
Desna (1,130 km / 700 mi) (major left tributary of Dnieper)
Donets (1,053 km / 654 mi) (major right tributary of Don River)
Daugava (1,020 km / 630 mi)
Economy
Agriculture:
grain, sugar beets, sunflower seeds, vegetables, fruits; beef, milk
Industries:
complete range of mining and extractive industries producing coal, oil, gas, chemicals, and metals; all forms of machine building from rolling mills to high-performance aircraft and space vehicles; defense industries (including radar, missile production, advanced electronic components), shipbuilding; road and rail transportation equipment; communications equipment; agricultural machinery, tractors, and construction equipment; electric power generating and transmitting equipment; medical and scientific instruments; consumer durables, textiles, foodstuffs, handicrafts
Exports – commodities:
petroleum and petroleum products, natural gas, metals, wood and wood products, chemicals, and a wide variety of civilian and military manufactures
Imports – commodities:
machinery, vehicles, pharmaceutical products, plastic, semi-finished metal products, meat, fruits and nuts, optical and medical instruments, iron, steel
Time zone and current time in Russia
Go to our interactive map to get the current time in Russia
History
Siberia was known by European from the Middle age to the 20th century as making part of Tartary.
Sources: