New Zealand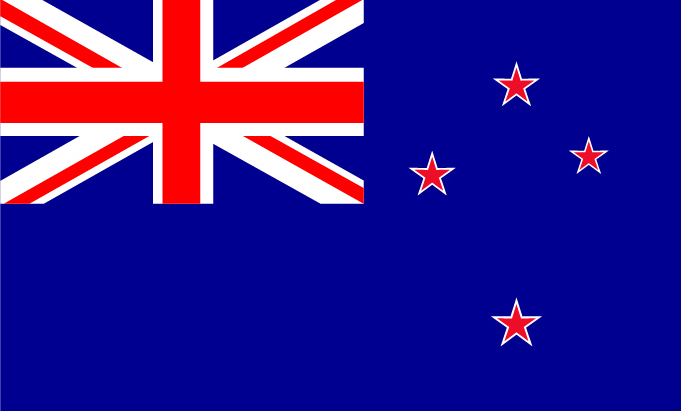 Government
Name
New Zealand
Māori
Aotearoa
Government type
parliamentary democracy under a constitutional monarchy (a Commonwealth realm)
Capital
Wellington (215,400 (2018))
Currency
New Zealand dollar (NZD)
Organization
Member State
Commonwealth of Nations
People
Population (2020)
4,822,233 (120th)
Density of population
18.3 P/km2 (167th)
Nationality
New Zealander
Official languages
English
Maori
New Zealand Sign Language
Ethnic groups (2018)
European
64.1%
Maori
16.5%
Chinese
4.9%
Indian
4.7%
Samoan
3.9%
Tongan
1.8%
Cook Islands Maori
1.7%
English
1.5%
Filipino
1.5%
New Zealander
1%
other
13.7%
percentages add up to more than 100% because respondents were able to identify more than one ethnic group
Religions (2018)
Christian
37.3%
Catholic
10.1%
Anglican
6.8%
Presbyterian and Congregational
5.2%
Pentecostal
1.8%
Methodist
1.6%
Mormon
1.2%
other
10.7%
Hindu
2.7%
Maori
1.3%
Muslim
1.3%
Buddhist
1.1%
other religion
1.6%
no religion
48.6%
objected to answering
6.7%
percentages add up to more than 100% because respondents were able to identify more than one religion
Life expectancy (2020)
Male
80.4 years
Female
84 years
Total population
82.1 years (22nd)
Homicides
Total (2017)
0.7 per 100,000 people (150th)
Geography
Land area
264,537 km2
water area
4,301 km2
total area
268,838 km2 (77th)
Mean elevation
388 m
Lowest point
Pacific Ocean
0 m
Highest point
Aoraki / Mount Cook
3,724 m
Land use (2011)
Agricultural land
43.2%
Arable land
1.8%
Permanent crops
0.3%
Permanent pasture
41.1%
Forest
31.4%
Other
25.4%
Urbanization
Urban population (2020)
86.7%
Rate of urbanization
1.01% annual rate of change (2015 – 2020)
Economy
Labor force (2017)
2.655 million (113th)
Labor force by occupation (2017)
Agriculture
6.6%
Industry
20.7%
Services
72.7%
Unemployment rate (2017)
4.7% (68th)
GDP (PPP) (estimate 2018)
Total
$199 billion
Per capita
$40,266
GDP (nominal) (estimate 2018)
Total
$206 billion
Per capita
$41,616
GDP by sector (estimate 2017)
Agriculture
5.7%
Industry
21.5%
Services
72.8%
Exports (2017)
$37.35 billion (56th)
Exports partners (2017)
China
22.4%
Australia
16.4%
US
9.9%
Japan
6.1%
Imports (2017)
$39.74 billion (58th)
Imports partners (2017)
China
19%
Australia
12.1%
US
10.5%
Japan
7.3%
Germany
5.3%
Thailand
4.6%
New Zealand on the world map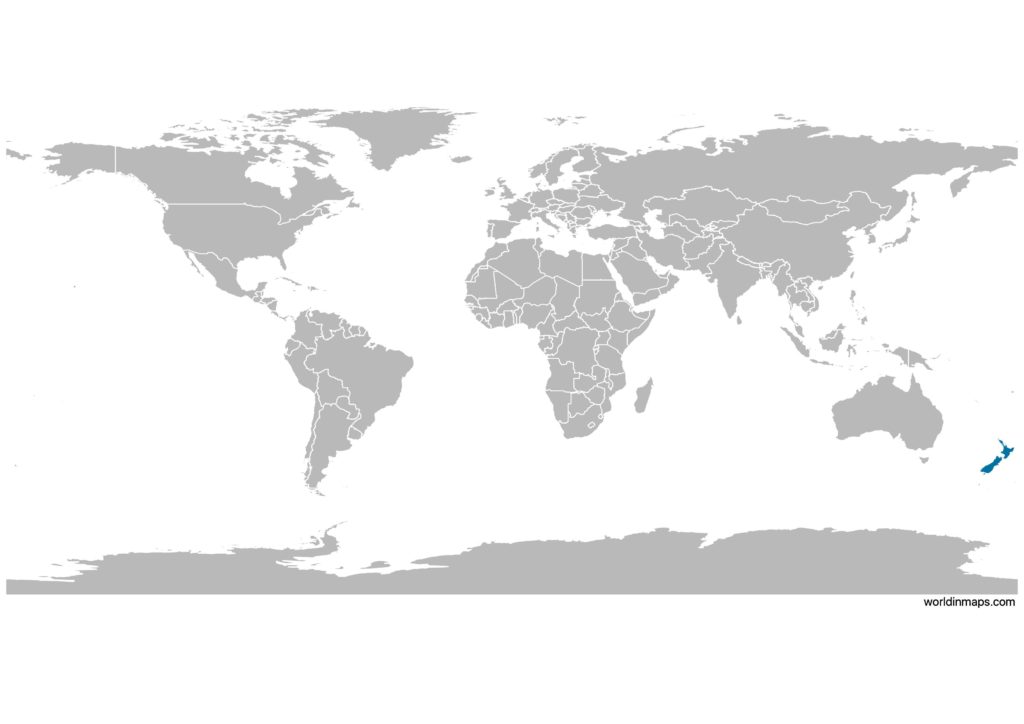 New Zealand top 10 largest cities (2018)
Auckland (1,467,800)
Christchurch (377,200)
Wellington (215,400)
Hamilton (169,300)
Tauranga (135,000)
Lower Hutt (104,900)
Dunedin (104,500)
Palmerston North (80,300)
Napier (62,800)
Porirua (55,500)
Demography
Population pyramid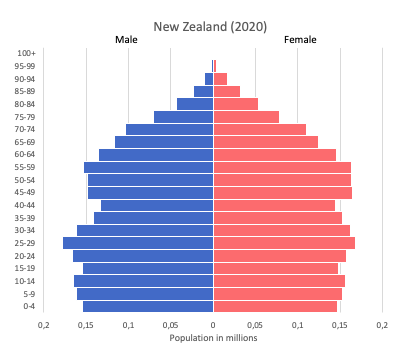 Age structure data
Estimate for 2020:
0-14 years: 19.63% (male 496,802/female 469,853)
15-24 years: 12.92% (male 328,327/female 308,132)
25-54 years: 39.98% (male 996,857/female 972,566)
55-64 years: 11.93% (male 285,989/female 301,692)
65 years and over: 15.54% (male 358,228/female 407,031)
Remark: the age structure of a population affects a nation's key socioeconomic issues. Countries with young populations (high percentage under age 15) need to invest more in schools, while countries with older populations (high percentage ages 65 and over) need to invest more in the health sector. The age structure can also be used to help predict potential political issues. For example, the rapid growth of a young adult population unable to find employment can lead to unrest.
Population from 1950 to 2020
Source: United Nations, Department of Economic and Social Affairs, Population Division (2019). World Population Prospects 2019, Online Edition. Rev. 1.

Evolution of the life expectancy from 1960 to 2018
Source: World Development Indicators, The World Bank
Economy
Agriculture:
dairy products, sheep, beef, poultry, fruit, vegetables, wine, seafood, wheat and barley
Industries:
agriculture, forestry, fishing, logs and wood articles, manufacturing, mining, construction, financial services, real estate services, tourism
Exports – commodities:
dairy products, meat and edible offal, logs and wood articles, fruit, crude oil, wine
Imports – commodities:
petroleum and products, mechanical machinery, vehicles and parts, electrical machinery, textiles
Time zone and current time in New Zealand
Go to our interactive map to get the current time in New Zealand
Sources: