Thailand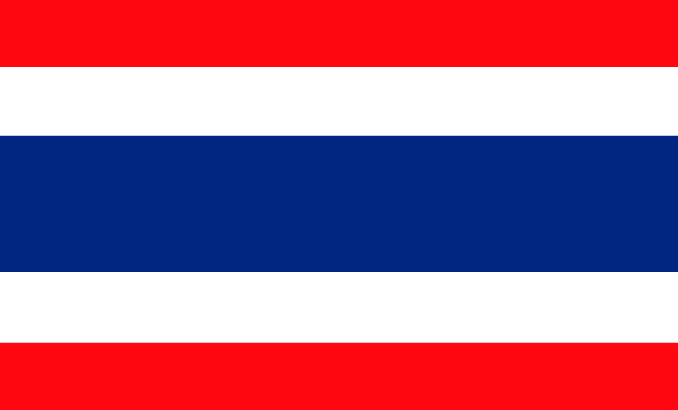 Government
Name
Kingdom of Thailand
Thai
ราชอาณาจักรไทย
Ratcha-anachak Thai
Government type
constitutional monarchy
Capital
Bangkok (5,686,646)
Currency
Baht (THB)
People
Population (2020)
69,799,978 (22nd)
Density of population
132.1 P/km2 (88th)
Nationality
Thai
Official languages
Thai
Ethnic groups (2019)
Thai
86%
Central Thai
39%
Thai Lao (Isan)
28%
Khon Muang
10%
Southern Thai
9%
Khmer
3%
Malays
2%
Other (68 minority ethnic groups)
9%
Religions (2015)
Buddhist
94.6%
Muslim
4.3%
Christian
1%
other
0.1%
Life expectancy (2020)
Male
72.4 years
Female
78.9 years
Total population
75.6 years (113th)
Homicides
Total (2017)
2.6 per 100,000 people (87th)
Geography
Land area
510,890 km2
water area
2,230 km2
total area
513,120 km2 (52nd)
Mean elevation
287 m
Lowest point
Gulf of Thailand
0 m
Highest point
Doi Inthanon
2,565 m
Land use (2011)
Agricultural land
41.2%
Arable land
30.8%
Permanent crops
8.8%
Permanent pasture
1.6%
Forest
37.2%
Other
21.6%
Urbanization
Urban population (2020)
51.4%
Rate of urbanization
1.73% annual rate of change (2015 – 2020)
Economy
Labor force (2017)
38.37 million (16th)
Labor force by occupation (2015)
Agriculture
31.8%
Industry
16.7%
Services
51.5%
Unemployment rate (2017)
0.7% (5th)
GDP (PPP) (estimate 2019)
Total
$1.390 trillion
Per capita
$20,474
GDP (nominal) (estimate 2019)
Total
$516 billion
Per capita
$7,607
GDP by sector (estimate 2017)
Agriculture
8.2%
Industry
36.2%
Services
55.6%
Exports (2017)
$235.1 billion (21st)
Exports partners (2017)
China
12.4%
US
11.2%
Japan
9.5%
Hong Kong
5.2%
Vietnam
4.9%
Australia
4.5%
Malaysia
4.4%
Imports (2017)
$203.2 billion (25th)
Imports partners (2017)
China
20%
Japan
14.5%
US
6.8%
Malaysia
5.4%
Thailand on the world map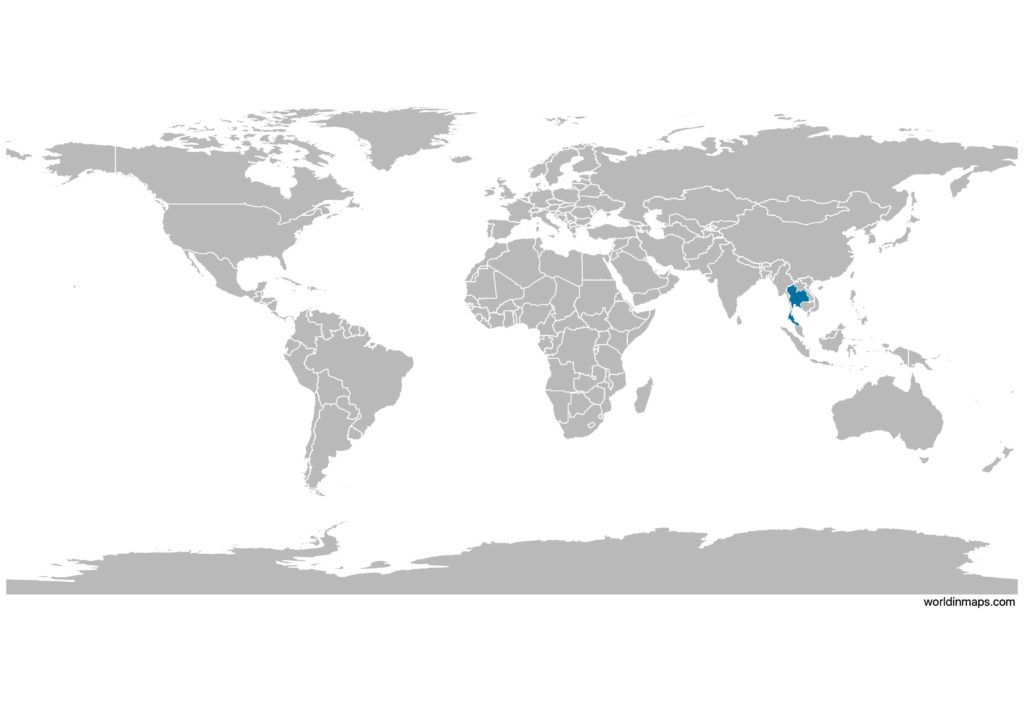 Thailand top 10 largest cities
Bangkok (5,686,646)
Nonthaburi (255,793)
Pak Kret (189,258)
Hat Yai (159,627)
Chaophraya Surasak (132,172)
Nakhon Ratchasima (131,286)
Udon Thani (131,192)
Chiang Mai (131,091)
Surat Thani (130,114)
Khon Kaen (120,045)
Demography
Population pyramid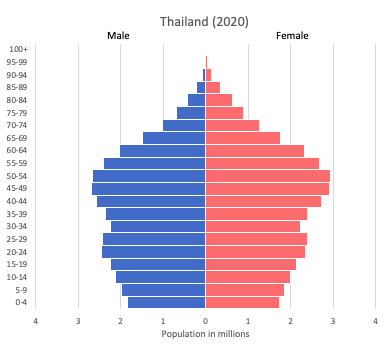 Age structure data
Estimate for 2020:
0-14 years: 16.45% (male 5,812,803/female 5,533,772)
15-24 years: 13.02% (male 4,581,622/female 4,400,997)
25-54 years: 45.69% (male 15,643,583/female 15,875,353)
55-64 years: 13.01% (male 4,200,077/female 4,774,801)
65 years and over: 11.82% (male 3,553,273/female 4,601,119)
Remark: the age structure of a population affects a nation's key socioeconomic issues. Countries with young populations (high percentage under age 15) need to invest more in schools, while countries with older populations (high percentage ages 65 and over) need to invest more in the health sector. The age structure can also be used to help predict potential political issues. For example, the rapid growth of a young adult population unable to find employment can lead to unrest.
Population from 1950 to 2020
Source: United Nations, Department of Economic and Social Affairs, Population Division (2019). World Population Prospects 2019, Online Edition. Rev. 1.

Evolution of the life expectancy from 1960 to 2018
Source: World Development Indicators, The World Bank
Economy
Agriculture:
rice, cassava (manioc, tapioca), rubber, corn, sugarcane, coconuts, palm oil, pineapple, livestock, fish products
Industries:
tourism, textiles and garments, agricultural processing, beverages, tobacco, cement, light manufacturing such as jewelry and electric appliances, computers and parts, integrated circuits, furniture, plastics, automobiles and automotive parts, agricultural machinery, air conditioning and refrigeration, ceramics, aluminum, chemical, environmental management, glass, granite and marble, leather, machinery and metal work, petrochemical, petroleum refining, pharmaceuticals, printing, pulp and paper, rubber, sugar, rice, fishing, cassava, world's second-largest tungsten producer and third-largest tin producer
Exports – commodities:
automobiles and parts, computer and parts, jewelry and precious stones, polymers of ethylene in primary forms, refine fuels, electronic integrated circuits, chemical products, rice, fish products, rubber products, sugar, cassava, poultry, machinery and parts, iron and steel and their products
Imports – commodities:
machinery and parts, crude oil, electrical machinery and parts, chemicals, iron & steel and product, electronic integrated circuit, automobile's parts, jewelry including silver bars and gold, computers and parts, electrical household appliances, soybean, soybean meal, wheat, cotton, dairy products
Time zone and current time in Thailand
Go to our interactive map to get the current time in Thailand
Sources: