Cuba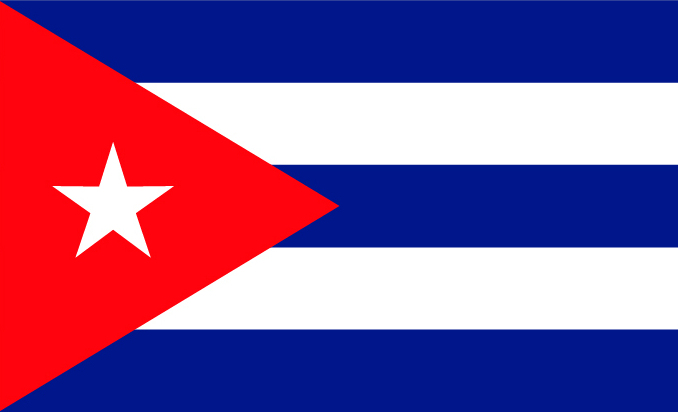 Government
Name
Republic of Cuba
Spanish
República de Cuba
Government type
Communist state
Capital
Havana (2,131,480 (2018))
Currency
Peso (CUP) and Convertible peso (CUC)
People
Population (2020)
11,326,616 (82nd)
Density of population
101.9 P/km2 (81st)
Nationality
Cuban
Official languages
Spanish
Ethnic groups (2012)
White
64.1%
Mulatto or mixed
26.6%
Black
9.3%
Religions (2010)
Christian
59.2%
Folk (includes religions of African origin, spiritualism, and others intermingled with Catholicism or Protestantism)
17.4%
Other
0.4%
None
23%
Life expectancy (2020)
Male
76.8 years
Female
81.7 years
Total population
79.2 years (59th)
Homicides
Total (2016)
5.0 per 100,000 people (63rd)
Geography
Land area
109,820 km2
water area
1,040 km2
total area
110,860 km2 (107th)
Mean elevation
108 m
Lowest point
Caribbean Sea
0 m
Highest point
Pico Turquino
1,974 m
Land use (2011)
Agricultural land
60.3%
Arable land
33.8%
Permanent crops
3.6%
Permanent pasture
22.9%
Forest
27.3%
Other
12.4%
Urbanization
Urban population (2020)
77.2%
Rate of urbanization
0.14% annual rate of change (2015 – 2020)
Economy
Labor force (2017)
4.691 million (86th)
State sector
72.3%
Non-state sector
27.7%
Labor force by occupation (2016)
Agriculture
18%
Industry
10%
Services
72%
Unemployment rate (2017) (unofficial estimates are about double)
2.6% (27th)
GDP (PPP) (estimate 2015)
Total
$254.865 billion
Per capita
$22,237
GDP (nominal) (estimate 2018)
Total
$100.023 billion (62nd)
Per capita
$8,822 (78th)
GDP by sector (estimate 2017)
Agriculture
4%
Industry
22.7%
Services
73.4%
Exports (2017)
$2.63 billion (131st)
Exports partners (2017)
Venezuela
17.8%
Spain
12.2%
Russia
7.9%
Lebanon
6.1%
Indonesia
4.5%
Germany
4.3%
Imports (2017)
$11.06 billion (98th)
Imports partners (2017)
China
22%
Spain
14%
Russia
5%
Brazil
5%
Mexico
4.9%
Italy
4.8%
US
4.5%
Cuba on the world map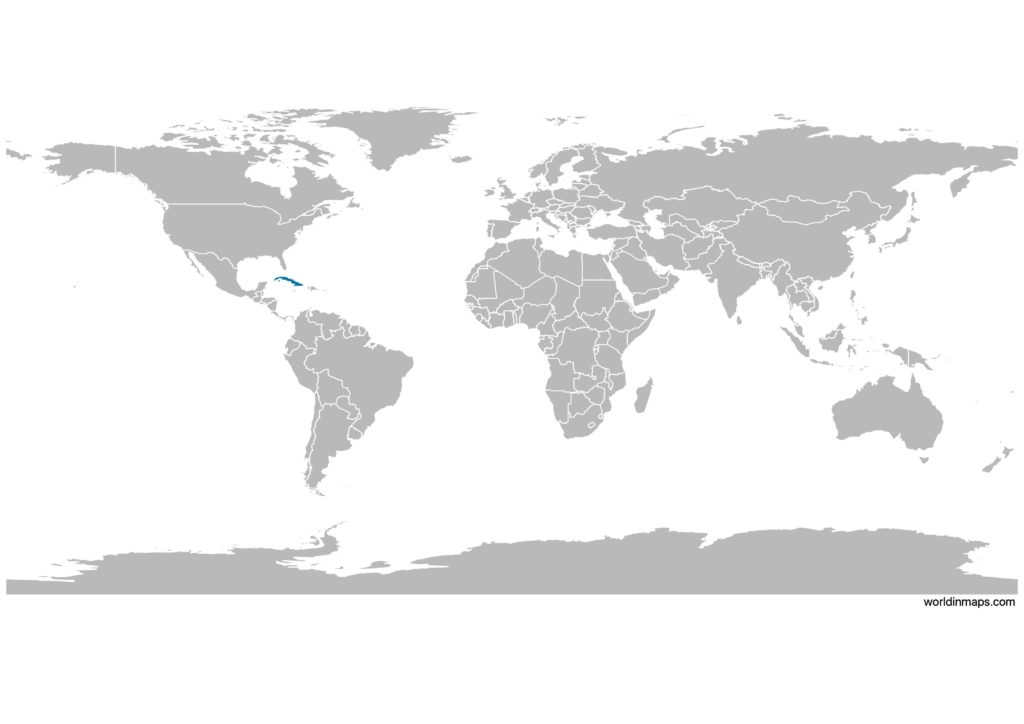 Cuba top 10 largest cities (2018)
Havana (2,131,480)
Santiago de Cuba (433,581)
Camagüey (308,902)
Holguín (297,433)
Santa Clara (216,854)
Guantánamo (216,003)
Victoria de Las Tunas (173,552)
Bayamo (159,966)
Cienfuegos (151,838)
Pinar del Río (145,193)
Demography
Population pyramid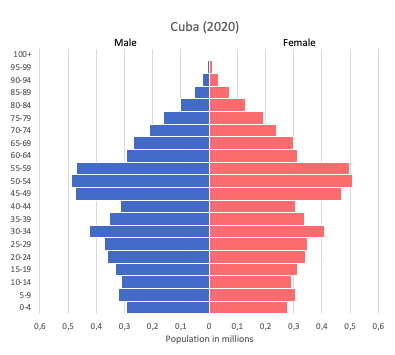 Age structure data
Estimate for 2020:
0-14 years: 16.34% (male 929,927/female 877,035)
15-24 years: 11.81% (male 678,253/female 627,384)
25-54 years: 41.95% (male 2,335,680/female 2,303,793)
55-64 years: 14.11% (male 760,165/female 799,734)
65 years and over: 15.8% (male 794,743/female 952,348)
Remark: the age structure of a population affects a nation's key socioeconomic issues. Countries with young populations (high percentage under age 15) need to invest more in schools, while countries with older populations (high percentage ages 65 and over) need to invest more in the health sector. The age structure can also be used to help predict potential political issues. For example, the rapid growth of a young adult population unable to find employment can lead to unrest.
Population from 1950 to 2020
Source: United Nations, Department of Economic and Social Affairs, Population Division (2019). World Population Prospects 2019, Online Edition. Rev. 1.

Evolution of the life expectancy from 1960 to 2018
Source: World Development Indicators, The World Bank
Economy
Agriculture:
sugar, tobacco, citrus, coffee, rice, potatoes, beans, livestock
Industries:
petroleum, nickel, cobalt, pharmaceuticals, tobacco, construction, steel, cement, agricultural machinery, sugar
Exports – commodities:
petroleum, nickel, medical products, sugar, tobacco, fish, citrus, coffee
Imports – commodities:
petroleum, food, machinery and equipment, chemicals
Time zone and current time in Cuba
Go to our interactive map to get the current time in Cuba
Source: