Mexico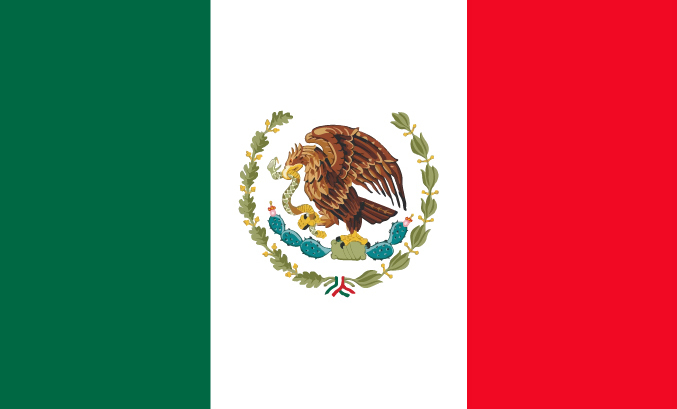 Government
Name
United Mexican States
Spanish
Estados Unidos Mexicanos
Government type
federal presidential republic
Capital
Mexico City (8,851,080 (2010))
Currency
Peso (MXN)
People
Population (2020)
128,932,753 (10th)
Density of population
61 P/km2 (142nd)
Nationality
Mexican
Official languages
None at federal level
Spanish and 68 Amerindian languages
Ethnic groups (2012)
mestizo (Amerindian-Spanish)
62%
predominantly Amerindian
21%
Amerindian
7%
other (mostly European)
10%
Religions (2010)
Roman Catholic
82.7%
Pentecostal
1.6%
Jehovah's Witness
1.4%
other Evangelical Churches
5%
other
1.9%
none
4.7%
unspecified
2.7%
Life expectancy (2020)
Male
73.9 years
Female
79.6 years
Total population
76.7 years (91st)
Homicides
Total (2018)
29.1 per 100,000 people (13th)
Geography
Land area
1,943,945 km2
water area
20,430 km2
total area
1,964,375 km2 (15th)
Mean elevation
1,111 m
Lowest point
Laguna Salada
-10 m
Highest point
Volcan Pico de Orizaba
5,636 m
Land use (2011)
Agricultural land
54.9%
Arable land
11.8%
Permanent crops
1.4%
Permanent pasture
41.7%
Forest
33.3%
Other
11.8%
Urbanization
Urban population (2020)
80.7%
Rate of urbanization
1.59% annual rate of change (2015 – 2020)
Economy
Labor force (2017)
54.51 million (12th)
Labor force by occupation (2011)
Agriculture
13.4%
Industry
24.1%
Services
61.9%
Unemployment rate (2017)
3.4% (42nd)
note: underemployment may be as high as 25%
GDP (PPP) (estimate 2020)
Total
$2.715 trillion (11th)
Per capita
$21,362 (64th)
GDP (nominal) (estimate 2020)
Total
$1.322 trillion (15th)
Per capita
$10,405 (64th)
GDP by sector (estimate 2017)
Agriculture
3.6%
Industry
31.9%
Services
64.5%
Exports (2017)
$409.8 billion (12th)
Exports partners (2017)
US
79.9%
Imports (2017)
$420.8 billion (14th)
Imports partners (2017)
US
46.4%
China
17.7%
Japan
4.3%
Mexico on the world map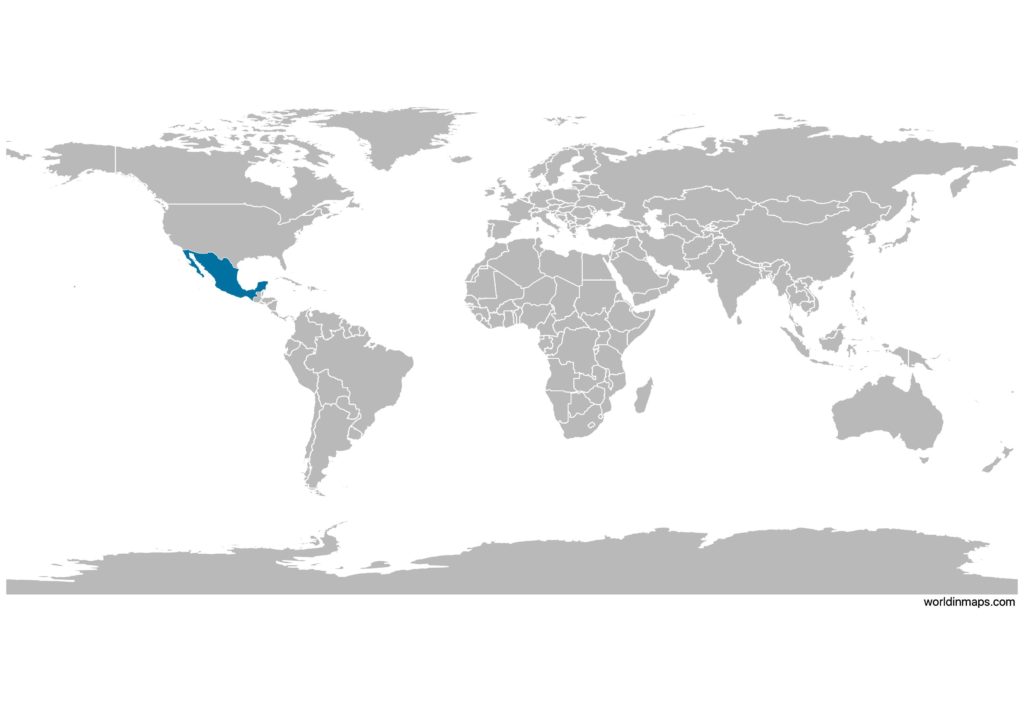 Mexico top 10 largest cities (2010)
Mexico City (8,851,080)
Ecatepec (1,655,015)
Guadalajara (1,495,182)
Puebla (1,434,062)
Ciudad Juárez (1,321,004)
Tijuana (1,300,983)
León (1,238,962)
Monterrey (1,168,709)
Zapopan (1,142,483)
Nezahualcóyotl (1,104,585)
Demography
Population pyramid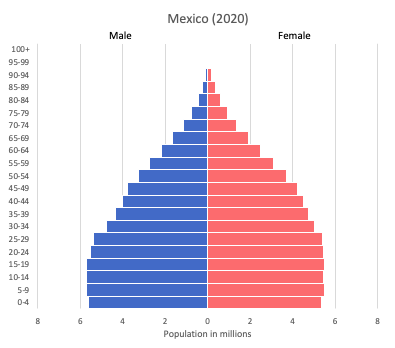 Age structure data
Estimate for 2020:
0-14 years: 26.01% (male 17,111,199/female 16,349,767)
15-24 years: 16.97% (male 11,069,260/female 10,762,784)
25-54 years: 41.06% (male 25,604,223/female 27,223,720)
55-64 years: 8.29% (male 4,879,048/female 5,784,176)
65 years and over: 7.67% (male 4,373,807/female 5,491,581)
Remark: the age structure of a population affects a nation's key socioeconomic issues. Countries with young populations (high percentage under age 15) need to invest more in schools, while countries with older populations (high percentage ages 65 and over) need to invest more in the health sector. The age structure can also be used to help predict potential political issues. For example, the rapid growth of a young adult population unable to find employment can lead to unrest.
Population from 1950 to 2020
Source: United Nations, Department of Economic and Social Affairs, Population Division (2019). World Population Prospects 2019, Online Edition. Rev. 1.

Evolution of the life expectancy from 1960 to 2018
Source: World Development Indicators, The World Bank
Economy
Agriculture:
corn, wheat, soybeans, rice, beans, cotton, coffee, fruit, tomatoes, beef, poultry, dairy products, wood products
Industries:
food and beverages, tobacco, chemicals, iron and steel, petroleum, mining, textiles, clothing, motor vehicles, consumer durables, tourism
Exports – commodities:
manufactured goods, electronics, vehicles and auto parts, oil and oil products, silver, plastics, fruits, vegetables, coffee, cotton, Mexico is the world's leading producer of silver
Imports – commodities:
metalworking machines, steel mill products, agricultural machinery, electrical equipment, automobile parts for assembly and repair, aircraft, aircraft parts, plastics, natural gas and oil products
Time zone and current time in Mexico
Go to our interactive map to get the current time in Mexico
Related articles
This Mesoamerican civilization is nowadays well known for its pyramids, its big cities, its calendar… But for centuries it had totally disappeared under the vegetation, before it was discovered again at the end of the 19th century. The Mayan civilization covered 15 centuries, from 600 BC until AD 900. For unknown reasons their civilization collapsed, […]

---
Sources: