People | Home / Spanish speaking countries
Spanish speaking countries
---
Spanish or Castillan is a Romance language that originated in the Iberian Peninsula of Europe. It is widely used around the world and especially in America.
Its origin is from Vulgar Roman that was brought by the Roman beginning 210 BC. The first document with traces of Spanish is from around the 9th century and the first systematic use was in the Kingdom of Castile in the 13th century.
Its worldwide extension is linked to the Spanish colonial Empire. There are in total 21 countries where Spanish is the official language. They are all located in the Americas, except Spain and Equatorial Guinea.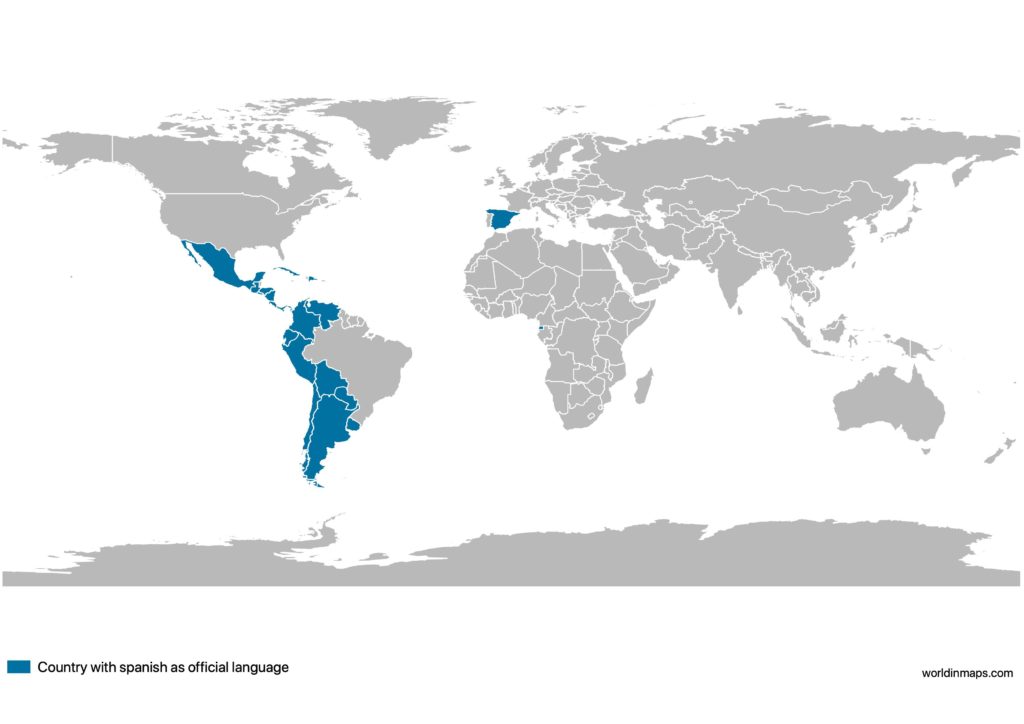 Table of contents
Spanish speaking countries (official language)
Spanish is the Official language of 21 countries:
Other Spanish speaking countries (common but not official language)
Further, there are some countries where Spanish is commonly used, but it is not an official language:
Spanish speakers in the world
In 2019, there are around 483 million Spanish native speakers around the world, which make it the second most important native language after Mandarin (Chinese). And around 580 million people can speak Spanish around the world which make it the 3rd spoken language in the world after Mandarin and English.
World map of Spanish speaking countries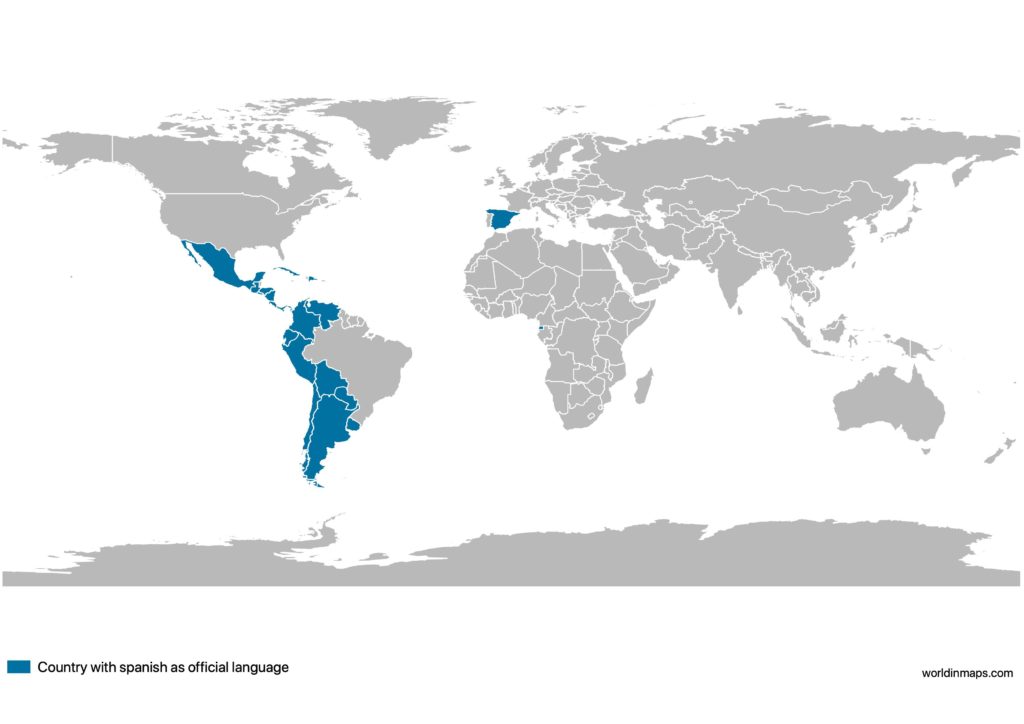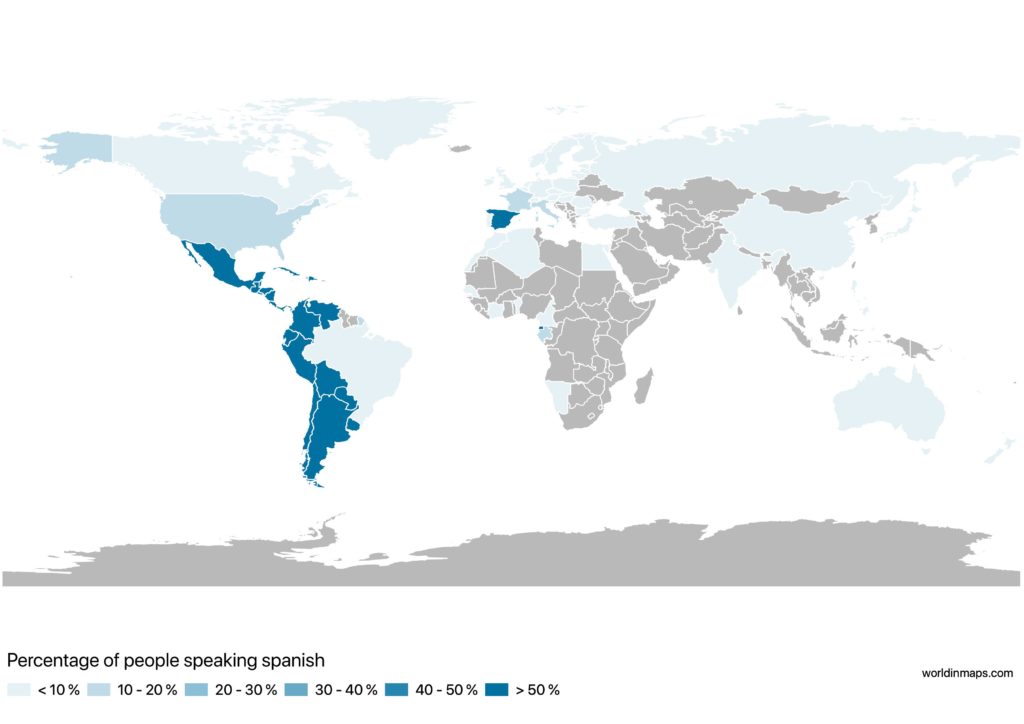 Spanish speaking countries in Europe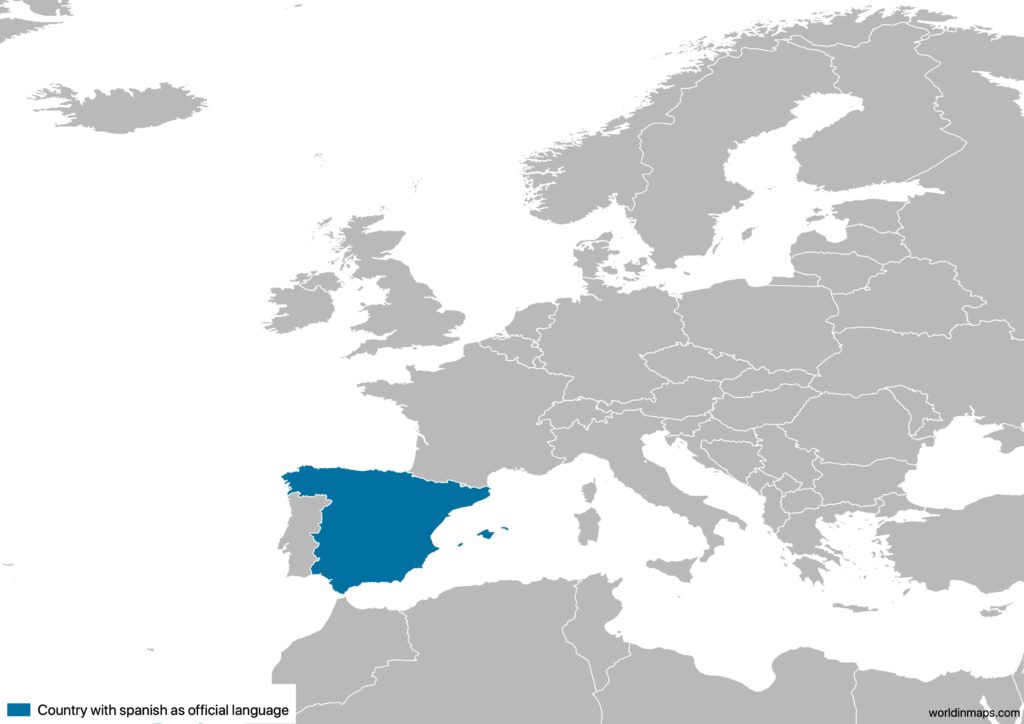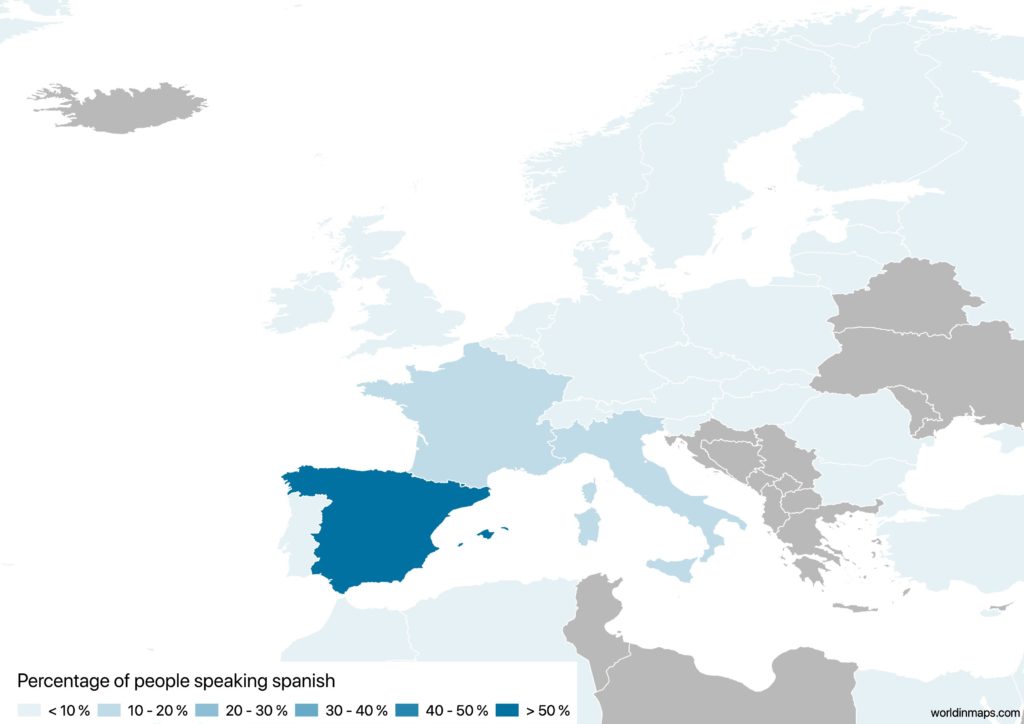 | Country | Spanish speakers | % of the total population |
| --- | --- | --- |
| Andorra | 54,909 | 65% |
| Austria | 280,393 | 4% |
| Belgium | 446,977 | 5% |
| Bulgaria | 130,750 | 2% |
| Cyprus | 13,208 | 2% |
| Czech Republic | 90,124 | 1% |
| Denmark | 182,450 | 4% |
| Estonia | 9,457 | 1% |
| Finland | 133,200 | 3% |
| France | 6,685,901 | 14% |
| Germany | 2,576,366 | 4% |
| Hungary | 83,206 | 1% |
| Ireland | 140,880 | 4% |
| Italy | 5,704,863 | 11% |
| Latvia | 13,943 | 1% |
| Lithuania | 28,297 | 1% |
| Luxembourg | 24,294 | 6% |
| Malta | 3,354 | 1% |
| Netherlands | 668,599 | 5% |
| Norway | 103,309 | 2% |
| Poland | 324,137 | 1% |
| Portugal | 808,091 | 10% |
| Romania | 912,337 | 5% |
| Russia | 23,320 | 0.02% |
| Slovakia | 45,500 | 1% |
| Slovenia | 52,791 | 3% |
| Spain (Official language) | 46,383,381 | 98% |
| Sweden | 467,474 | 6% |
| Switzerland | 165,202 | 2.18% |
| Turkey | 13,480 | 0.02% |
| United Kingdom | 3,110,880 | 6% |
Spanish speaking countries in Africa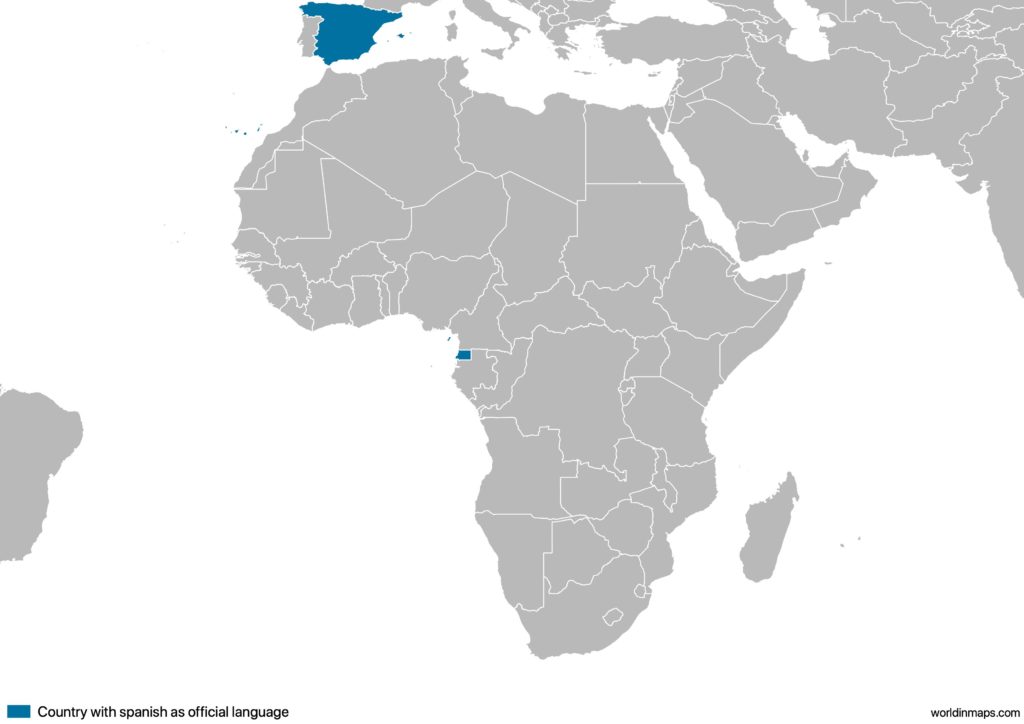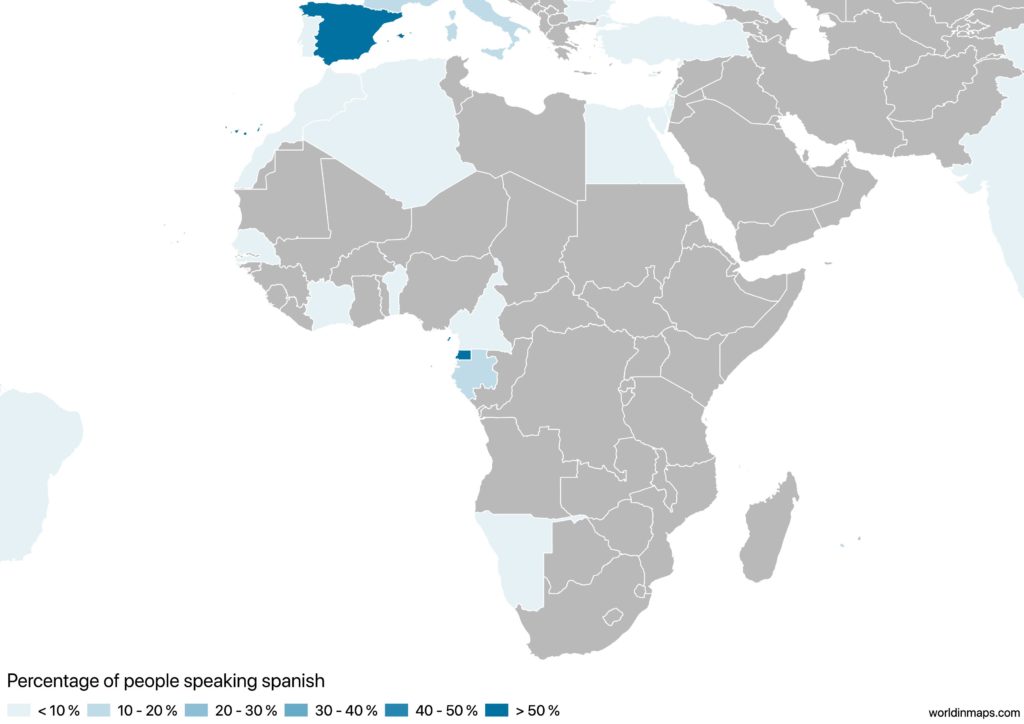 | Country | Spanish speakers | % of the total population |
| --- | --- | --- |
| Algeria | 223,422 | 0.66% |
| Benin | 412,515 | 4.12% |
| Cameroon | 63,560 | 0.29% |
| Egypt | 3,500 | < 0.01% |
| Equatorial Guinea (Official language) | 918,000 | 90.5% |
| Gabon | 167,410 | 10,83% |
| Ivory Coast | 341,073 | 1.60% |
| Morocco | 1,664,823 | 10% |
| Namibia | 3870 | 0.14% |
| Senegal | 205,000 | 1.59% |
Spanish speaking countries in Asia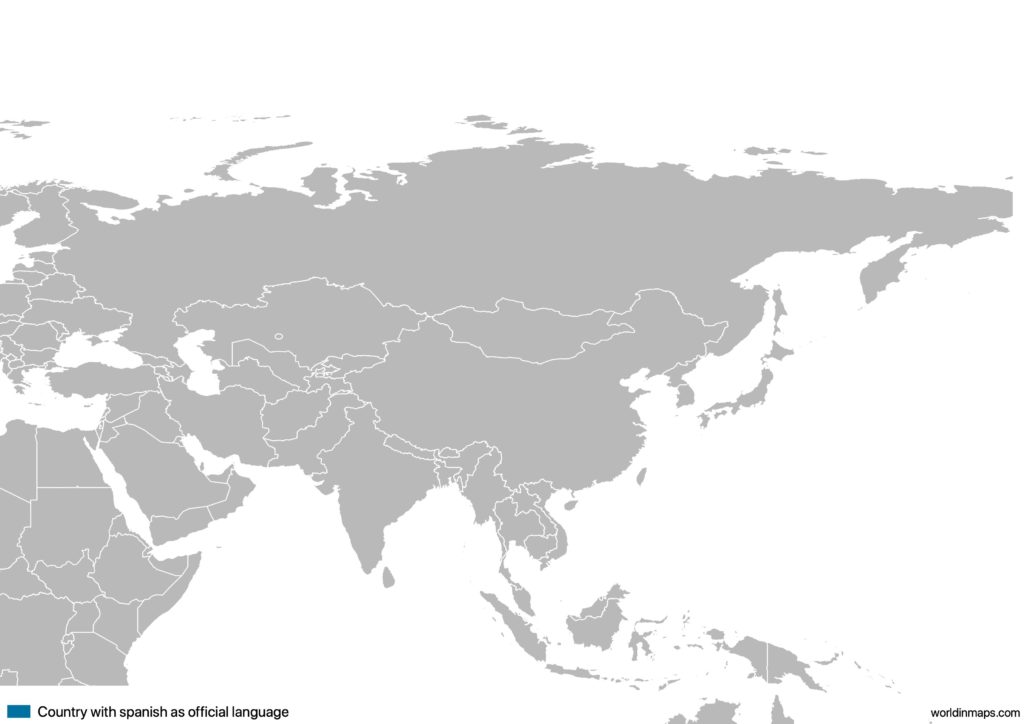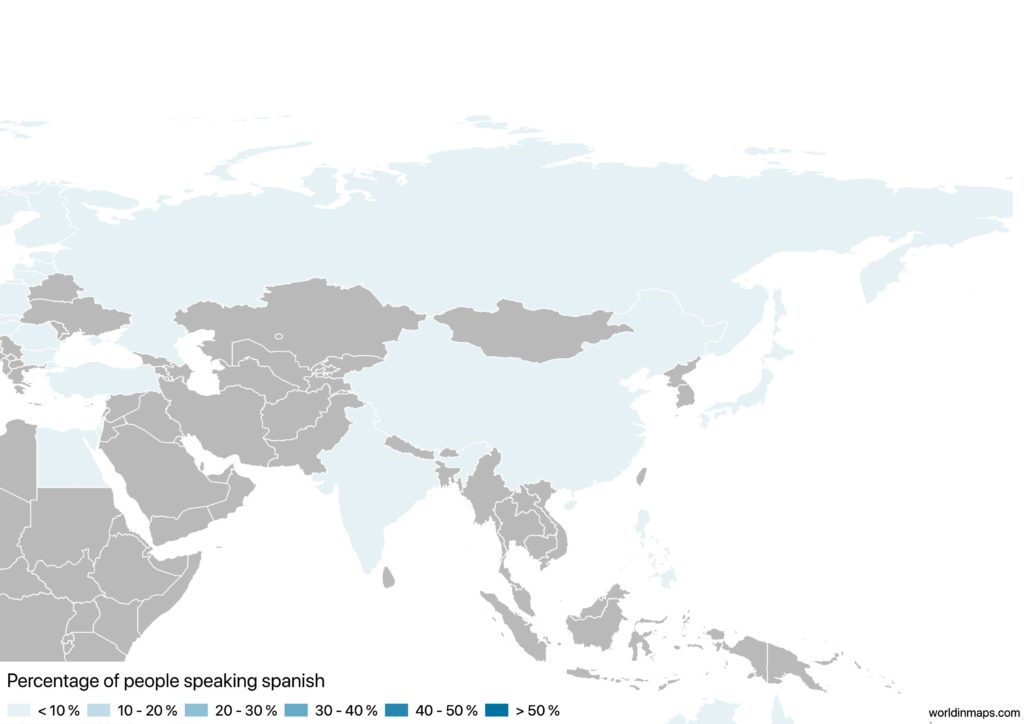 Spanish speaking countries in North America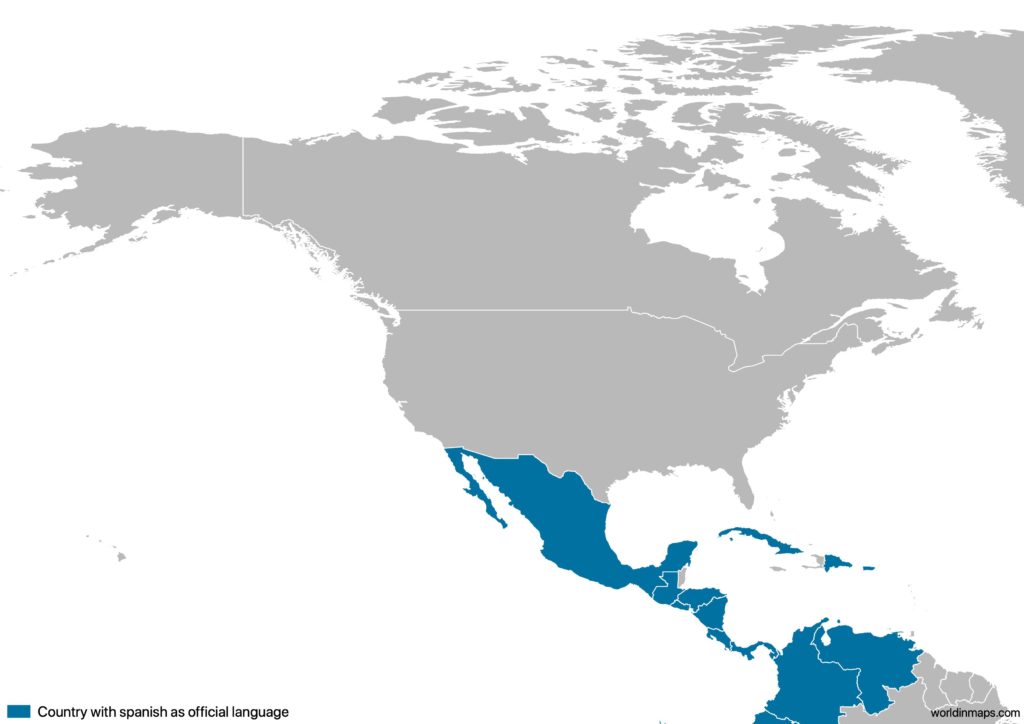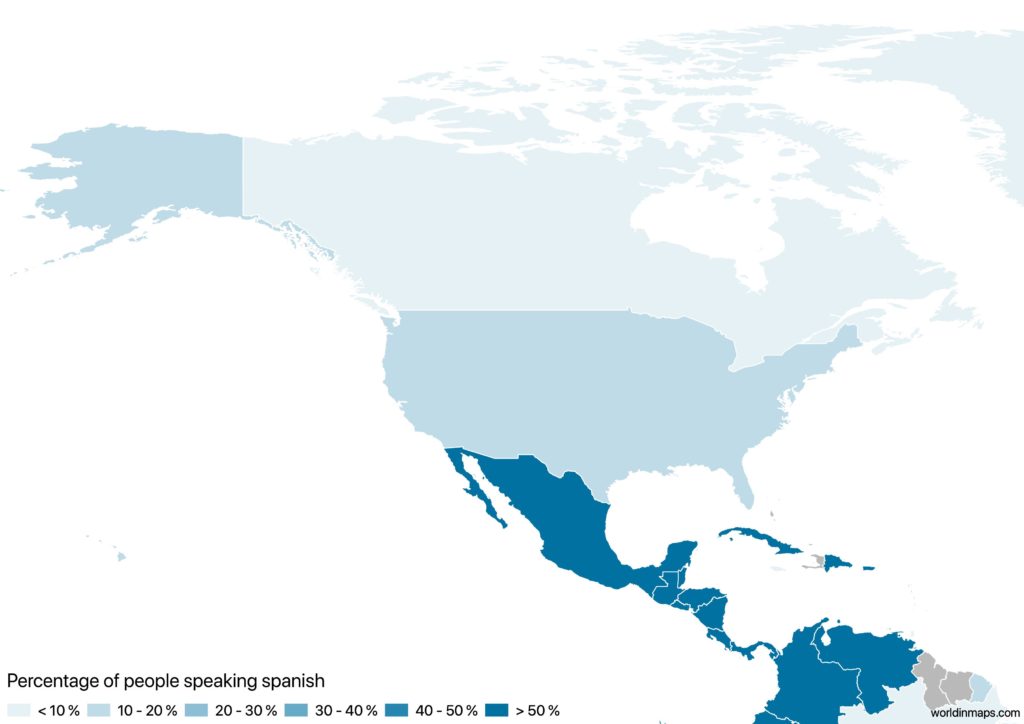 | Country | Spanish speakers | % of the total population |
| --- | --- | --- |
| Belize | 195,597 | 52.8% |
| Canada | 736,653 | 2.13% |
| Costa Rica (Official language) | 4,851,256 | 99.2% |
| Cuba (Official language) | 11,187,209 | 99.8% |
| Dominican Republic (Official language) | 10,302,220 | 99.6% |
| El Salvador (Official language) | 6,745,456 | 99.7% |
| Guatemala (Official language) | 15,599,542 | 86.4% |
| Honduras (Official language) | 9,039,287 | 98.7% |
| Jamaica | 8,000 | 0.30% |
| Mexico (Official language) | 125,875,402 | 98.5% |
| Nicaragua (Official language) | 6,218,321 | 100% |
| Panama (Official language) | 3,504,439 | 93.1% |
| Trinidad and Tobago | 65,886 | 5% |
| United States | 56,817,620 | 17.37% |
Spanish speaking countries in South America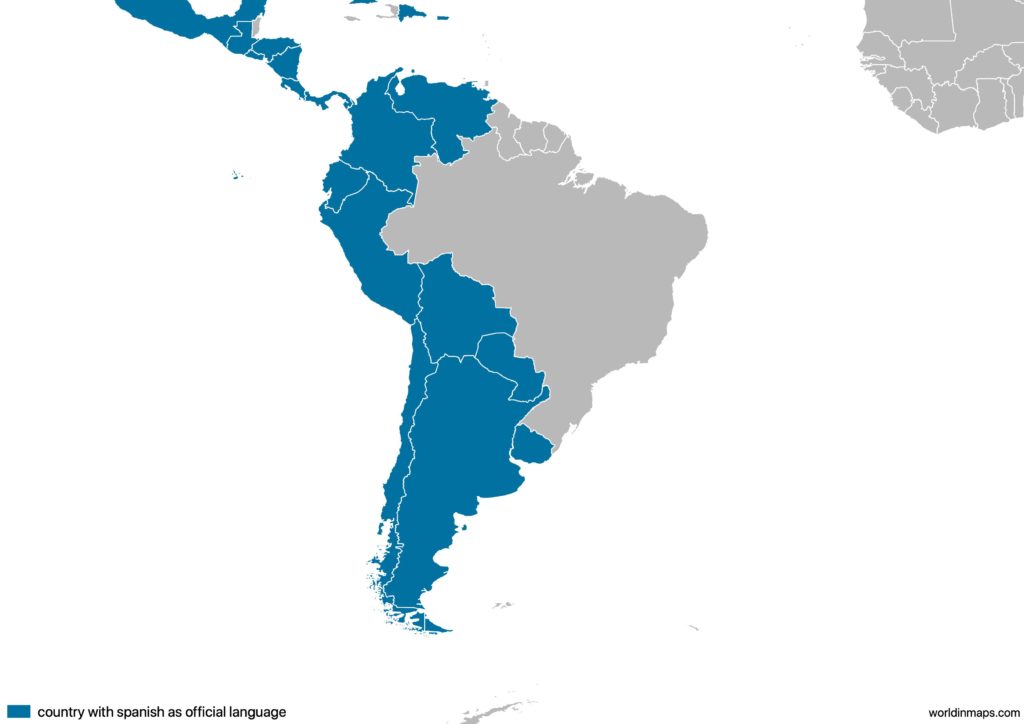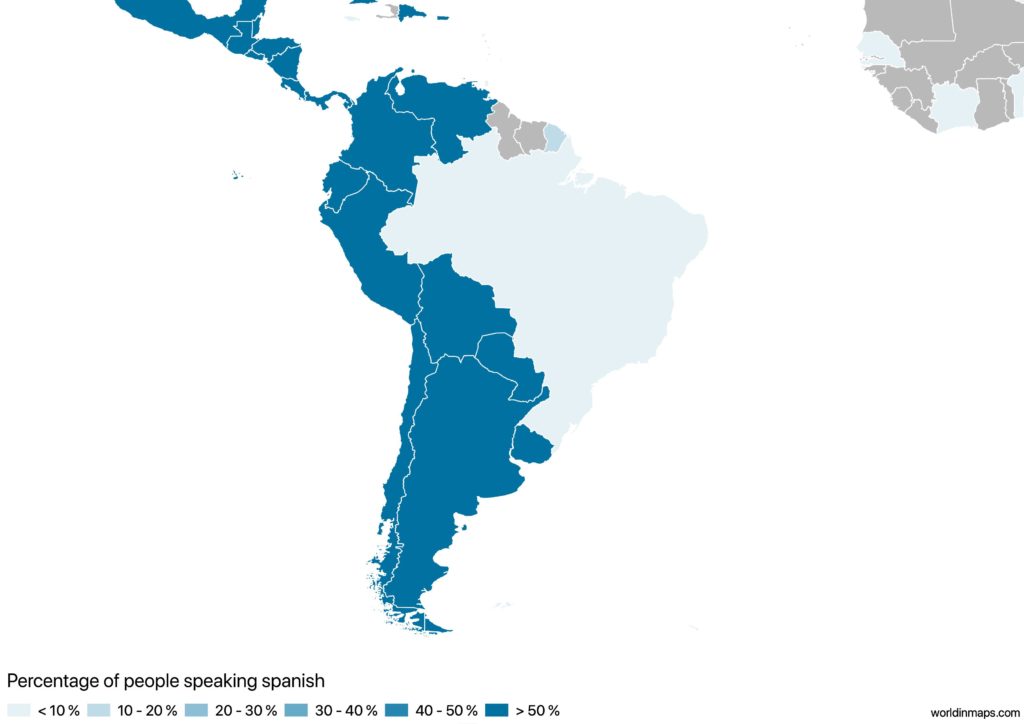 | Country | Spanish speakers | % of the total population |
| --- | --- | --- |
| Argentina (Official language) | 45,104,502 | 99.4% |
| Bolivia (Official language) | 10,182,336 | 87.9% |
| Brazil | 6,056,018 | 2.86% |
| Chile (Official language) | 19,322,102 | 99.3% |
| Colombia (Official language) | 49,969,445 | 99.2% |
| Ecuador (Official language) | 16,845,732 | 98.1% |
| Paraguay (Official language) | 4,946,322 | 68.2% |
| Peru (Official language) | 29,541,922 | 86.6% |
| Uruguay (Official language) | 3,441,940 | 98.9% |
| Venezuela (Official language) | 32,214,158 | 98.8% |
Spanish speaking countries in Oceania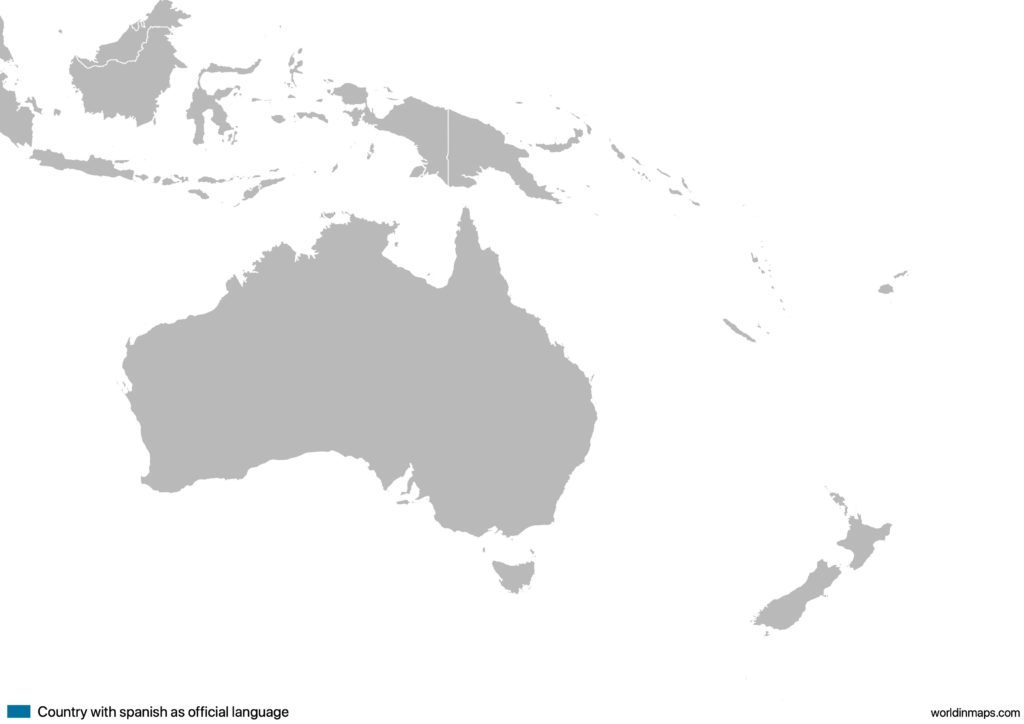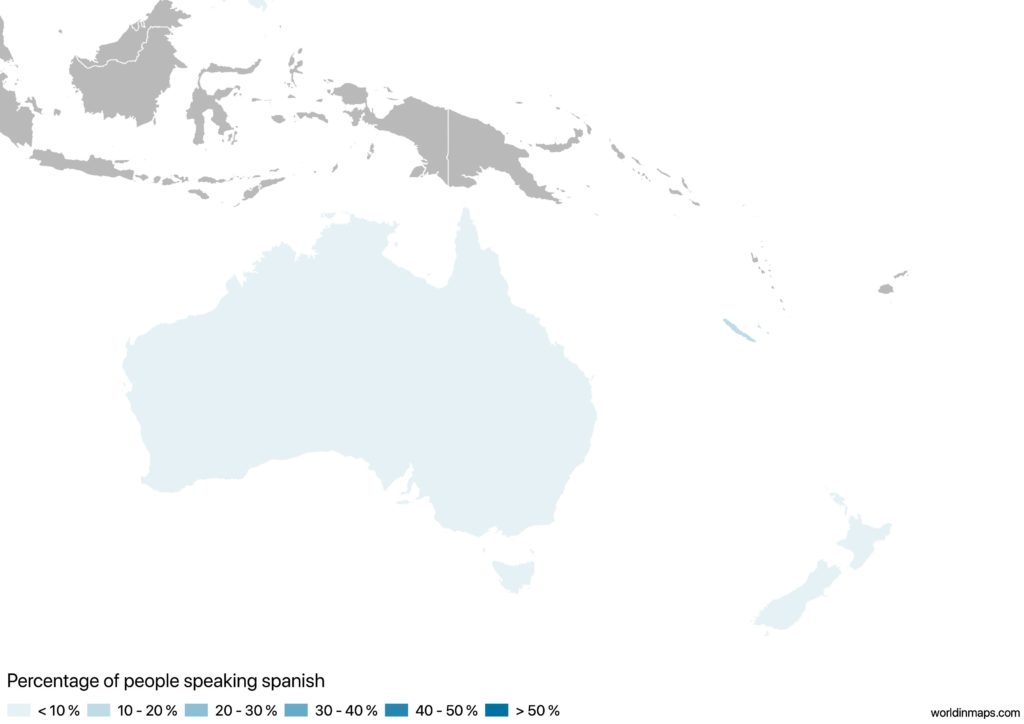 Recommended books
sources:
El español: una lengua viva – Informe 2019 (PDF) (Report). Instituto Cervantes. 2019