Suriname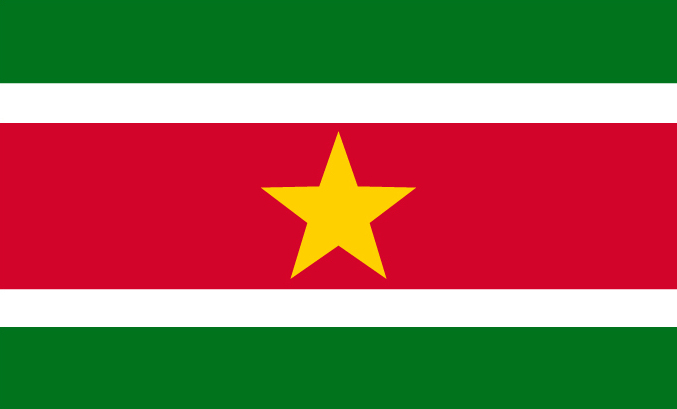 Government
Name
Republic of Suriname
Dutch
Republiek Suriname
Government type
presidential republic
Capital
Paramaribo (223,757)
Currency
Surinamese dollar (SRD)
People
Population (2020)
586,634 (171st)
Density of population
2.9 P/km2 (231st)
Nationality
Surinamese
Official languages
Dutch
Ethnic groups (2012)
Hindustani (also known locally as "East Indians"; their ancestors emigrated from northern India in the latter part of the 19th century)
27.4%
Maroon (African ancestors were brought to the country in the 17th and 18th centuries as slaves and escaped to the interior)
21.7%
Creole (mixed white and black)
15.7%
Javanese
13.7%
mixed
13.4%
other
7.6%
unspecified
0.6%
Religions (2012)
Protestant
23.6%
Evangelical
11.2%
Moravian
11.2%
Reformed
0.7%
Lutheran
0.5%
Hindu
22.3%
Roman Catholic
21.6%
Muslim
13.8%
other Christian
3.2%
Winti
1.8%
Jehovah's Witness
1.2%
other
1.7%
none
7.5%
unspecified
3.2%
Life expectancy (2020)
Male
70.8 years
Female
75.9 years
Total population
73.3 years (148th)
Homicides
Total (2017)
5.4 per 100,000 people (57th)
Geography
Land area
156,000 km2
water area
7,820 km2
total area
163,820 km2 (93rd)
Mean elevation
246 m
Lowest point
unnamed location in the coastal plain
-2 m
Highest point
Juliana Top
1,230 m
Land use (2011)
Agricultural land
0.5%
Arable land
0.4%
Permanent crops
0%
Permanent pasture
0.1%
Forest
94.6%
Other
4.9%
Urbanization
Urban population (2020)
66.1%
Rate of urbanization
0.9% annual rate of change (2015 – 2020)
Economy
Labor force (2014)
144,000 (177th)
Labor force by occupation (2010)
Agriculture
11.2%
Industry
19.5%
Services
69.3%
Unemployment rate (2017)
8.9% (129th)
GDP (PPP) (estimate 2019)
Total
$9.044 billion
Per capita
$15,845
GDP (nominal) (estimate 2019)
Total
$4.110 billion
Per capita
$6,881
GDP by sector (estimate 2017)
Agriculture
11.6%
Industry
31.1%
Services
57.4%
Exports (2017)
$2.028 billion (139th)
Exports partners (2017)
Switzerland
38%
Hong Kong
21.9%
Belgium
10.1%
UAE
7.2%
Guyana
6.1%
Imports (2017)
$1.293 billion (177th)
Imports partners (2017)
US
30.6%
Netherlands
14.8%
Trinidad and Tobago
11.4%
China
7.6%
Suriname on the world map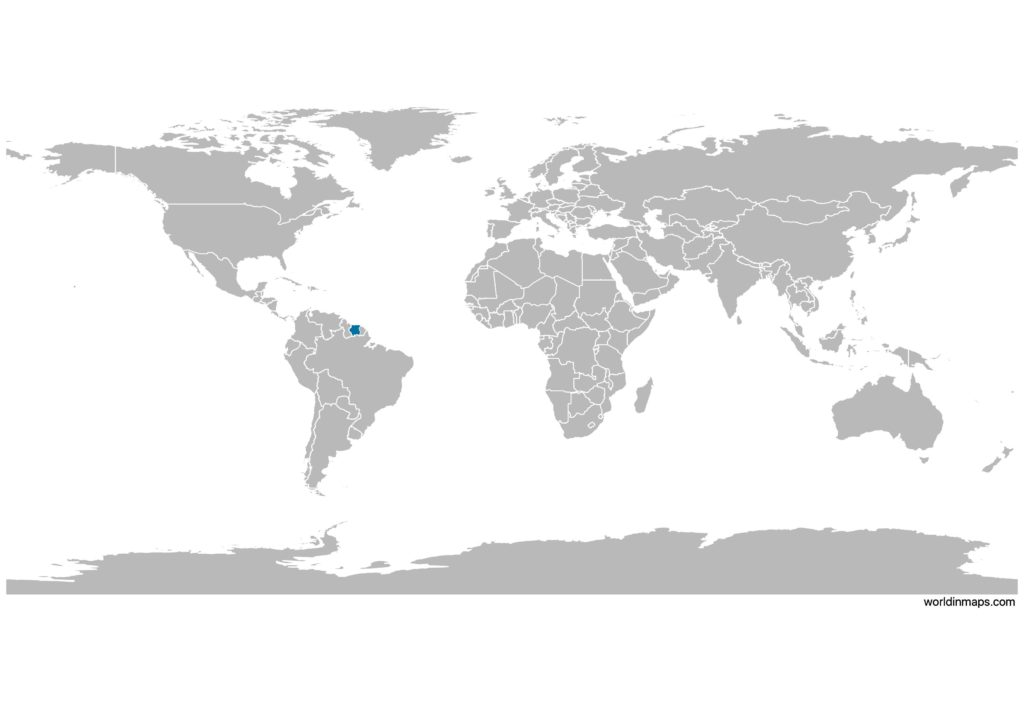 Suriname top 10 largest cities
Paramaribo (223,757)
Lelydorp (18,223)
Brokopondo (14,662)
Nieuw Nickerie (13,143)
Moengo (7,074)
Nieuw Amsterdam (4,935)
Mariënburg (4,427)
Wageningen (4,145)
Albina (3,985)
Groningen (3,216)
Demography
Population pyramid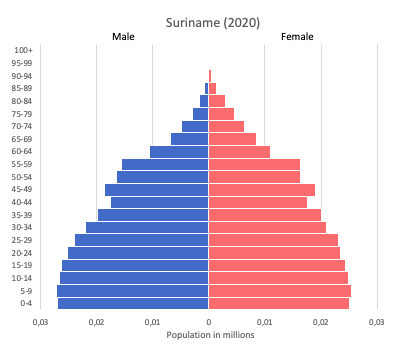 Age structure data
Estimate for 2020:
0-14 years: 23.38% (male 72,642/female 69,899)
15-24 years: 17.2% (male 53,427/female 51,438)
25-54 years: 44.09% (male 136,889/female 131,868)
55-64 years: 8.78% (male 26,435/female 27,066)
65 years and over: 6.55% (male 17,437/female 22,468)
Remark: the age structure of a population affects a nation's key socioeconomic issues. Countries with young populations (high percentage under age 15) need to invest more in schools, while countries with older populations (high percentage ages 65 and over) need to invest more in the health sector. The age structure can also be used to help predict potential political issues. For example, the rapid growth of a young adult population unable to find employment can lead to unrest.
Population from 1950 to 2020
Source: United Nations, Department of Economic and Social Affairs, Population Division (2019). World Population Prospects 2019, Online Edition. Rev. 1.

Evolution of the life expectancy from 1960 to 2018
Source: World Development Indicators, The World Bank
Economy
Agriculture:
rice, bananas, seabob shrimp, yellow-fin tuna, vegetables
Industries:
gold mining, oil, lumber, food processing, fishing
Exports – commodities:
alumina, gold, crude oil, lumber, shrimp and fish, rice, bananas
Imports – commodities:
capital equipment, petroleum, foodstuffs, cotton, consumer goods
Time zone and current time in Suriname
Go to our interactive map to get the current time in Suriname
Sources: