Benin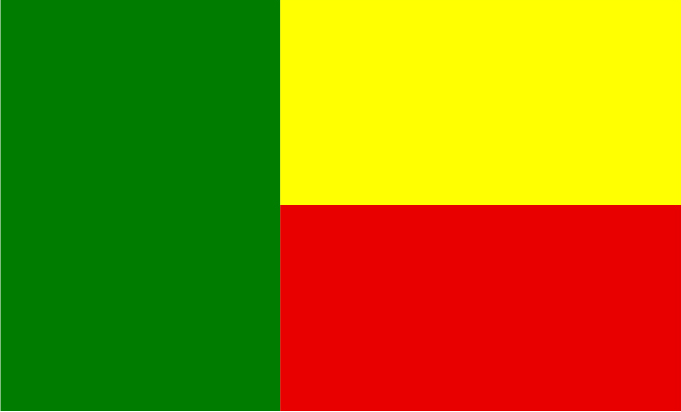 Government
Name
Republic of Benin
French
République du Bénin
Government type
Presidential republic
Capital
Porto-Novo (264,320 (2013))
Currency
West African CFA franc (XOF)
People
Population (2020)
12,123,198 (78th)
Density of population
94.8 P/km2 (120th)
Nationality
Beninese
Official languages
French
Ethnic groups (2013)
Fon and related
38.4%
Adja and related
15.1%
Yoruba and related
12%
Bariba and related
9.6%
Fulani and related
8.6%
Ottamari and related
6.1%
Yoa-Lokpa and related
4.3%
Dendi and related
2.9%
Other
0.9%
Foreigner
1.9%
Religions (2013)
Muslim
27.7%
Roman Catholic
25.5%
Protestant
13.5%
Celestial
6.7%
Methodist
3.4%
Other Protestant
3.4%
Vodoun
11.6%
Other Christian
9.5%
Other traditional religions
2.6%
Other
2.6%
None
5.8%
Life expectancy (2020)
Male
59.6 years
Female
63.3 years
Total population
61.4 years (212nd)
Homicides
Total (2017)
1.1 per 100,000 people (138th)
Geography
Land area
110,622 km2
water area
2,000 km2
total area
112,622 km2 (103rd)
Mean elevation
273 m
Lowest point
Atlantic Ocean
0 m
Highest point
Mont Sokbaro
658 m
Land use (2011)
Agricultural land
31.3%
Arable land
22.9%
Permanent crops
3.5%
Permanent pasture
4.9%
Forest
40%
Other
28.7%
Urbanization
Urban population (2020)
48.4%
Rate of urbanization
3.89% annual rate of change (2015 – 2020)
Economy
Labor force (2007)
3,662 million (98th)
Unemployment rate (2014)
1% (7th)
GDP (PPP) (estimate 2019)
Total
$29.918 billion (137th)
Per capita
$2,552 (163rd)
GDP (nominal) (estimate 2019)
Total
$11.386 billion (141st)
Per capita
$971 (163rd)
GDP by sector (estimate 2017)
Agriculture
26.1%
Industry
22.8%
Services
51.1%
Exports (2017)
$1.974 billion (140th)
Exports partners (2017)
Bangladesh
18.1%
India
10.7%
Ukraine
9%
Niger
8.1%
China
7.7%
Nigeria
7.2%
Turkey
4%
Imports (2017)
$2.787 billion (151st)
Imports partners (2017)
Thailand
18.1%
India
15.9%
France
8.5%
China
7.5%
Togo
5.9%
Netherlands
4.3%
Belgium
4.3%
Benin on the world map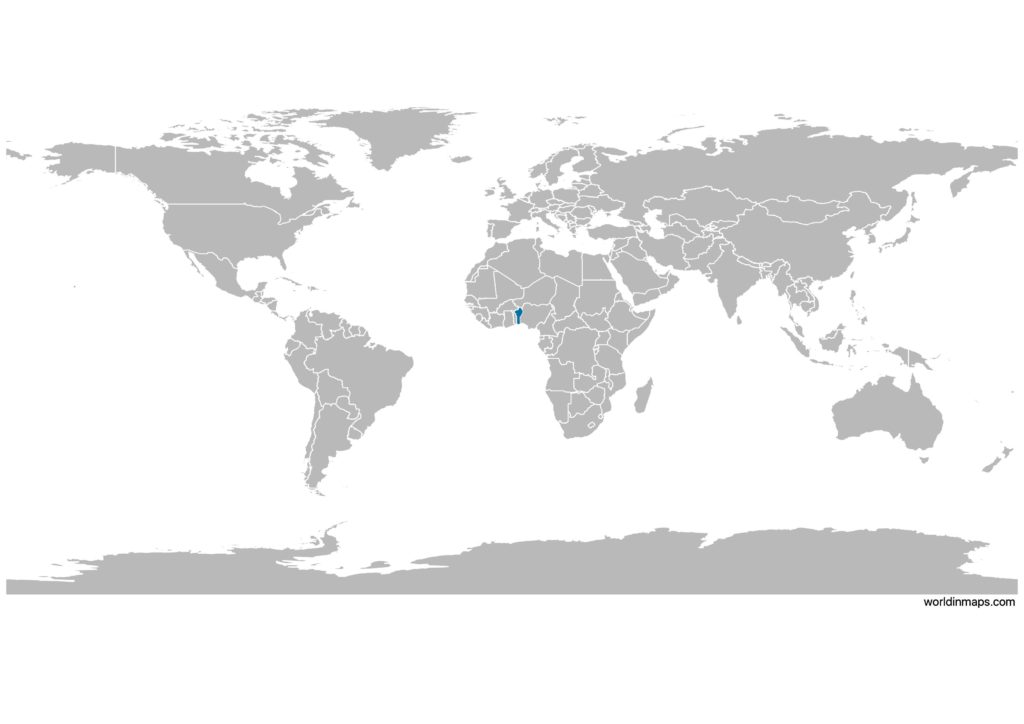 Benin top 10 largest cities (2013)
Cotonou (679,012)
Porto-Novo (264,320)
Parakou (255,478)
Godomey (253,262)
Abomey-Calavi (117,824)
Djougou (94,773)
Bohicon (93,744)
Ekpè (75,313)
Abomey (67,885)
Nikki (66,109)
Demography
Population pyramid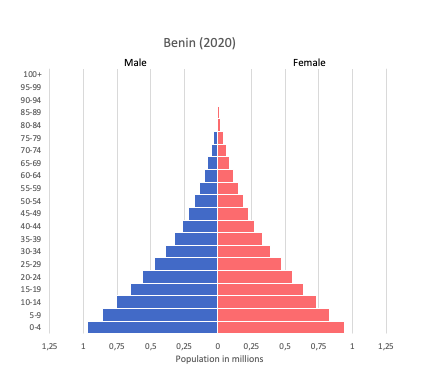 Age structure data
Estimate for 2020:
0-14 years: 45.56% (male 2,955,396/female 2,906,079)
15-24 years: 20.36% (male 1,300,453/female 1,318,880)
25-54 years: 28.54% (male 1,735,229/female 1,935,839)
55-64 years: 3.15% (male 193,548/female 211,427)
65 years and over: 2.39% (male 140,513/female 167,270)
Remark: the age structure of a population affects a nation's key socioeconomic issues. Countries with young populations (high percentage under age 15) need to invest more in schools, while countries with older populations (high percentage ages 65 and over) need to invest more in the health sector. The age structure can also be used to help predict potential political issues. For example, the rapid growth of a young adult population unable to find employment can lead to unrest.
Population from 1950 to 2020
Source: United Nations, Department of Economic and Social Affairs, Population Division (2019). World Population Prospects 2019, Online Edition. Rev. 1.

Evolution of the life expectancy from 1960 to 2018
Source: World Development Indicators, The World Bank
Major rivers
Economy
Agriculture:
cotton, corn, cassava (manioc, tapioca), yams, beans, palm oil, peanuts, cashews, livestock
Industries:
textiles, food processing, construction materials, cement
Exports – commodities:
cotton, cashews, shea butter, textiles, palm products, seafood
Imports – commodities:
foodstuffs, capital goods, petroleum products
Time zone and current time in Benin
Go to our interactive map to get the current time in Benin
Source: