Mauritania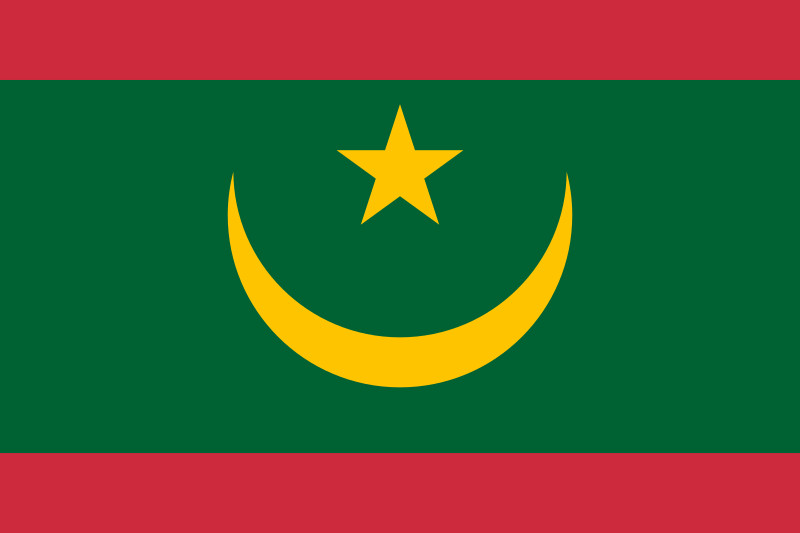 Government
Name
Islamic Republic of Mauritania
Arabic
الجمهورية الإسلامية الموريتانية
al-Jumhūrīyah al-Islāmīyah al-Mūrītānīyah
French
République islamique de Mauritanie
Government type
presidential republic
Capital
Nouakchott (958,399 (2013))
Currency
Ouguiya (MRU)
People
Population (2020)
4,649,660 (129th)
Density of population
3.4 P/km2
Nationality
Mauritanian
Official languages
Arabic
Ethnic groups
black Moors (Haratines – Arab-speaking slaves, former slaves, and their descendants of African origin, enslaved by white Moors)
40%
white Moors (of Arab-Berber descent, known as Beydane)
30%
Sub-Saharan Mauritanians (non-Arabic speaking, largely resident in or originating from the Senegal River Valley, including Halpulaar, Fulani, Soninke, Wolof, and Bambara ethnic groups)
30%
Religions
Muslim (official)
100%
Life expectancy (2020)
Male
62.1 years
Female
67 years
Total population
64.5 years (201st)
Homicides
n.a.
Geography
Land area
1,030,700 km2
water area
0 km2
total area
1,030,700 km2 (30th)
Mean elevation
276m
Lowest point
Sebkhet Te-n-Dghamcha
-5 m
Highest point
Kediet Ijill
915 m
Land use (2011)
Agricultural land
38.5%
Arable land
0.4%
Permanent crops
0%
Permanent pasture
38.1%
Forest
0.2%
Other
61.3%
Urbanization
Urban population (2020)
55.3%
Rate of urbanization
4.28% annual rate of change (2015 – 2020)
Economy
Labor force (2017)
1.437 million (133rd)
Labor force by occupation (2014)
Agriculture
50%
Industry
1.9%
Services
48.1%
Unemployment rate (2017)
10.2% (142nd)
GDP (PPP) (estimate 2018)
Total
$18.117 billion (134th)
Per capita
$4,563 (140th)
GDP (nominal) (estimate 2018)
Total
$5.200 billion (154th)
Per capita
$1,309 (149th)
GDP by sector (estimate 2017)
Agriculture
27.8%
Industry
29.3%
Services
42.9%
Exports (2017)
$1.722 billion (147th)
Exports partners (2017)
China
31.2%
Switzerland
14.4%
Spain
10.1%
Germany
8.2%
Japan
8.1%
Imports (2017)
$2.094 billion (166th)
Imports partners (2017)
Belgium
11.5%
UAE
11.3%
US
9.2%
China
7.5%
France
7.4%
Netherlands
6.1%
Morocco
6%
Slovenia
4.8%
Vanuatu
4.7%
Spain
4.7%
Mauritania on the world map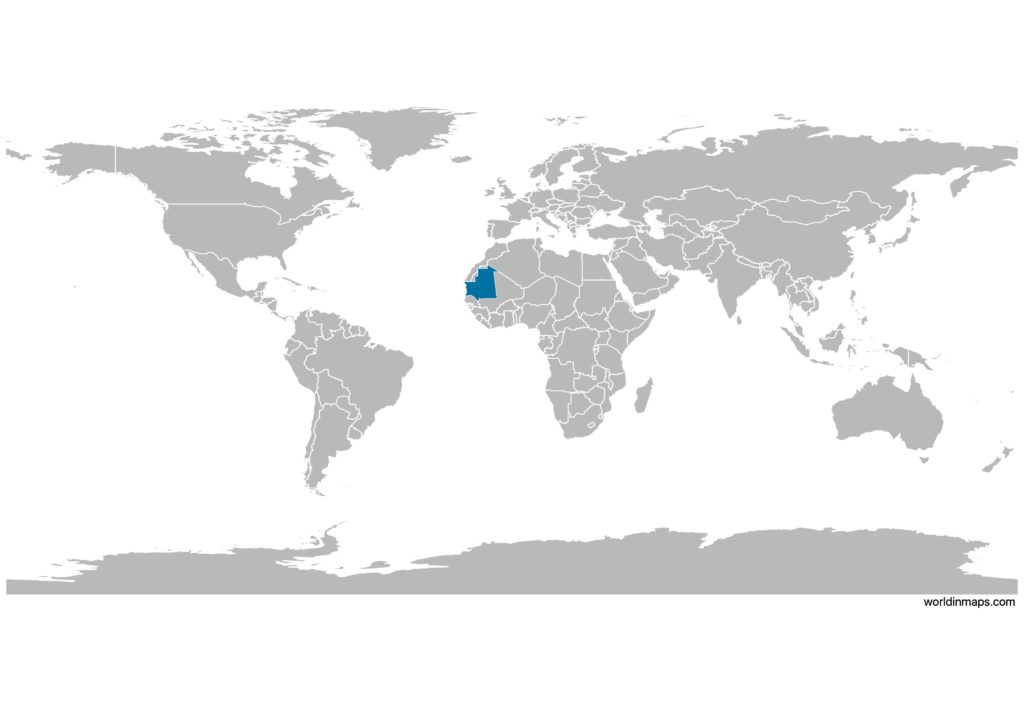 Mauritania top 10 largest cities (2013)
Nouakchott (958,399)
Nouadhibou (118,167)
Kiffa (50,206)
Mbera Refugee Camp (47,725)
Kaédi (45,539)
Zouérat (44,649)
Sélibaby (40,281)
Rosso (33,581)
Bougadoum (32,749)
Boutilimit (27,170)
Demography
Population pyramid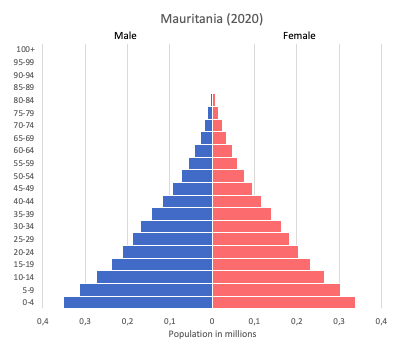 Age structure data
Estimate for 2020:
0-14 years: 37.56% (male 755,788/female 748,671)
15-24 years: 19.71% (male 387,140/female 402,462)
25-54 years: 33.91% (male 630,693/female 727,518)
55-64 years: 4.9% (male 88,888/female 107,201)
65 years and over: 3.92% (male 66,407/female 90,707)
Remark: the age structure of a population affects a nation's key socioeconomic issues. Countries with young populations (high percentage under age 15) need to invest more in schools, while countries with older populations (high percentage ages 65 and over) need to invest more in the health sector. The age structure can also be used to help predict potential political issues. For example, the rapid growth of a young adult population unable to find employment can lead to unrest.
Population from 1950 to 2020
Source: United Nations, Department of Economic and Social Affairs, Population Division (2019). World Population Prospects 2019, Online Edition. Rev. 1.

Evolution of the life expectancy from 1960 to 2018
Source: World Development Indicators, The World Bank
Economy
Agriculture:
dates, millet, sorghum, rice, corn, cattle, camel and sheep
Industries:
fish processing, oil production, mining (iron ore, gold, copper)
Exports – commodities:
iron ore, fish and fish products, livestock, gold, copper, crude oil
Imports – commodities:
machinery and equipment, petroleum products, capital goods, foodstuffs, consumer goods
Time zone and current time in Mauritania
Go to our interactive map to get the current time in Mauritania
Sources: