Papua New Guinea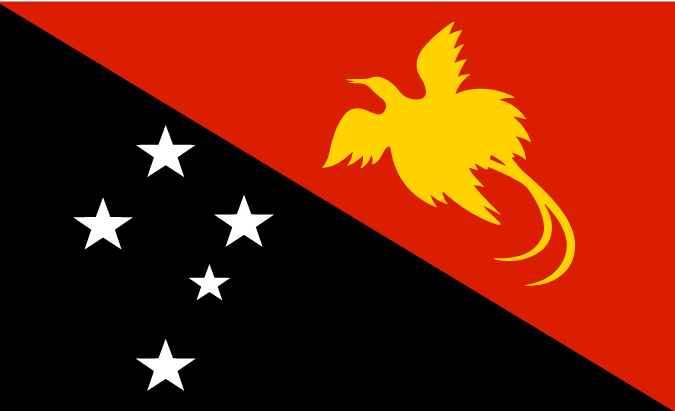 Government
Name
Independent State of Papua New Guinea
Tok Pisin
Independen Stet bilong Papua Niugini
Hiri Motu
Independen Stet bilong Papua Niu Gini
Government type
parliamentary democracy under a constitutional monarchy (a Commonwealth realm)

Capital
Port Moresby (283,733)
Currency
Papua New Guinean kina (PGK)
Organization
Member State
Commonwealth of Nations
People
Population (2020)
8,947,027 (98th)
Density of population
15 P/km2 (201st)
Nationality
Papua New Guinean
Official languages
Tok Pisin
English
Hiri Motu
Note: some 839 indigenous languages (about 12% of the world's total) and many languages have fewer than 1,000 speakers
Ethnic groups
Melanesian
Papuan
Negrito
Micronesian
Polynesian
Religions (2011)
Protestant
64.3%
Evangelical Lutheran
18.4%
Seventh Day Adventist
12.9%
Pentecostal
10.4%
United Church
10.3%
Evangelical Alliance
5.9%
Anglican
3.2%
Baptist
2.8%
Salvation Army
0.4%
Roman Catholic
26%
other Christian
5.3%
non-Christian
1.4%
unspecified
3.1%
Life expectancy (2020)
Male
65.6 years
Female
70 years
Total population
67.8 years (179th)
Homicides
Total (2010)
9.8 per 100,000 people (37th)
Geography
Land area
452,860 km2
water area
9,980 km2
total area
462,840 km2 (56th)
Mean elevation
667 m
Lowest point
Pacific Ocean
0 m
Highest point
Mount Wilhelm
4,509 m
Land use (2011)
Agricultural land
2.6%
Arable land
0.7%
Permanent crops
1.5%
Permanent pasture
0.4%
Forest
63.1%
Other
34.3%
Urbanization
Urban population (2020)
13.3%
Rate of urbanization
2.51% annual rate of change (2015 – 2020)
Economy
Labor force (2017)
3.681 million (97th)
Labor force by occupation
Agriculture
85%
Industry
NA
Services
NA
Unemployment rate (2017)
2.5% (26th)
GDP (PPP) (estimate 2019)
Total
$32.382 billion (124th)
Per capita
$3,764
GDP (nominal) (estimate 2019)
Total
$21.543 billion (110th)
Per capita
$2,504
GDP by sector (estimate 2017)
Agriculture
22.1%
Industry
42.9%
Services
35%
Exports (2017)
$8.522 billion (95th)
Exports partners (2017)
Australia
18.9%
Singapore
17.5%
Japan
13.8%
China
12.7%
Philippines
4.7%
Netherlands
4.2%
India
4.2%
Imports (2017)
$1.876 billion (170th)
Imports partners (2017)
Australia
30.1%
China
17.3%
Singapore
10.2%
Malaysia
8.2%
Indonesia
4%
Papua New Guinea on the world map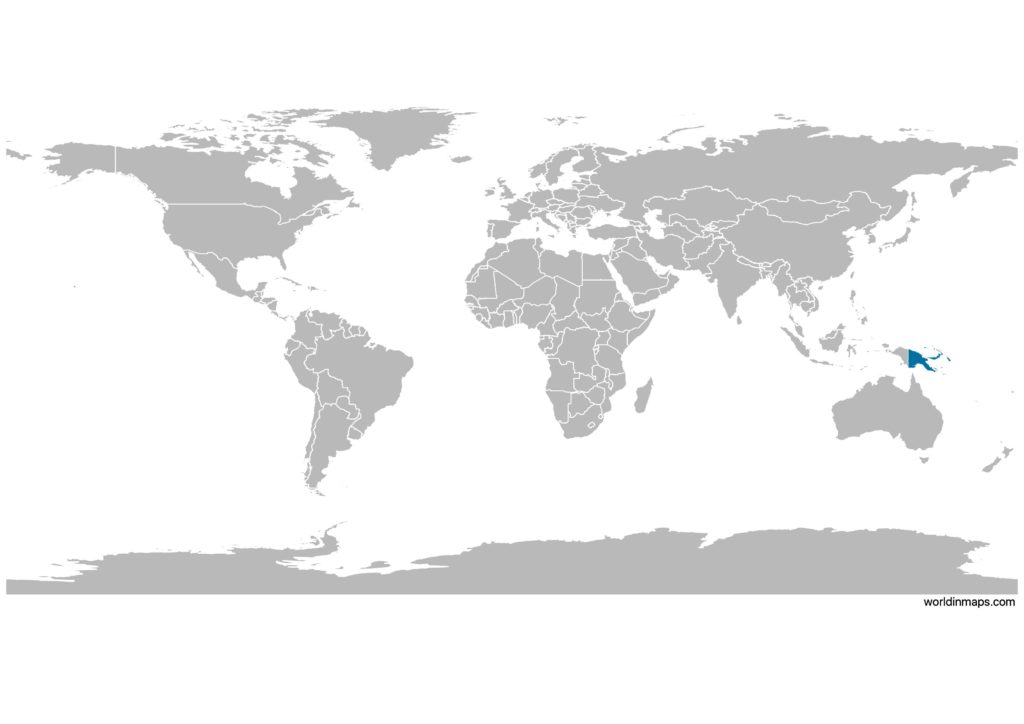 Papua New Guinea top 10 largest cities
Port Moresby (283,733)
Lae (76,255)
Arawa (40,266)
Mount Hagen (33,623)
Popondetta (28,198)
Madang (27,419)
Kokopo (26,273)
Mendi (26,252)
Kimbe (18,847)
Goroka (18,503)
Demography
Population pyramid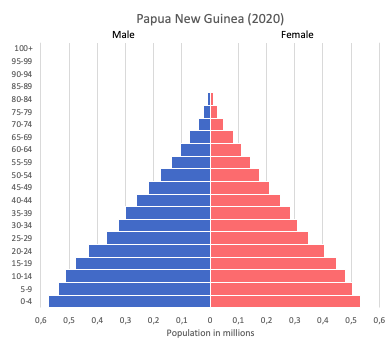 Age structure data
Estimate for 2020:
0-14 years: 31.98% (male 1,182,539/female 1,139,358)
15-24 years: 19.87% (male 731,453/female 711,164)
25-54 years: 37.68% (male 1,397,903/female 1,337,143)
55-64 years: 5.83% (male 218,529/female 204,717)
65 years and over: 4.64% (male 164,734/female 171,916)
Remark: the age structure of a population affects a nation's key socioeconomic issues. Countries with young populations (high percentage under age 15) need to invest more in schools, while countries with older populations (high percentage ages 65 and over) need to invest more in the health sector. The age structure can also be used to help predict potential political issues. For example, the rapid growth of a young adult population unable to find employment can lead to unrest.
Population from 1950 to 2020
Source: United Nations, Department of Economic and Social Affairs, Population Division (2019). World Population Prospects 2019, Online Edition. Rev. 1.

Evolution of the life expectancy from 1960 to 2018
Source: World Development Indicators, The World Bank
Economy
Agriculture:
coffee, cocoa, copra, palm kernels, tea, sugar, rubber, sweet potatoes, fruit, vegetables, vanilla; poultry, pork, shellfish
Industries:
copra crushing, palm oil processing, plywood production, wood chip production, mining (gold, silver, copper), crude oil and petroleum products, construction, tourism, livestock (pork, poultry, cattle), dairy products, spice products (turmeric, vanilla, ginger, cardamom, chili, pepper, citronella, and nutmeg), fisheries products
Exports – commodities:
liquefied natural gas, oil, gold, copper ore, nickel, cobalt logs, palm oil, coffee, cocoa, copra, spice (turmeric, vanilla, ginger, and cardamom), crayfish, prawns, tuna, sea cucumber
Imports – commodities:
machinery and transport equipment, manufactured goods, food, fuels, chemicals
Time zone and current time in Papua New Guinea
Go to our interactive map to get the current time in Papua New Guinea
Sources: